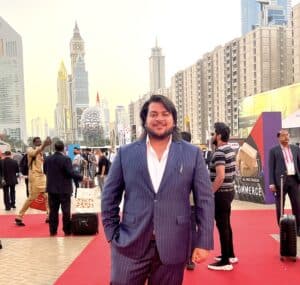 Meet Mr. Sameer a very hardworking and ambitious person. He hails from Uttar Pradesh. He belongs to a very business-oriented family background. And his family occupation is selling various types of meat. He completed his studies at Amity University. After his studies, he decided to help his family in their meat business. He was very interested in this business from his school time but at that time he didn't know how this works. And the main reason for his reluctance was that society doesn't consider this profession a respected one. So he also wants to remove the social stigma about the meat business.
When he decided to start lots of problems were there. He didn't have much knowledge about the meat export business. But he was dedicated and he studied the need of the market and of consumers. And he explored the market and made contacts. After this, he decided to expand his family business with his skills and knowledge. Initially, he was a bit worried but as the business started growing his confidence was boosted. Today in more than 40 countries his business is expanding. He is employing more than 5000 people and helping them to grow. He is contributing immensely to the economy.
Read More: Becoming a Better Egg: The EVO-lution of Shraddha Bhansali
His specialization is in buffalo meat. But he is trying to expand his menu with goat and chicken meat. His organization is three star rated and approved by FSSI. He helps many small vendors also so that they can also expand their business.
Today Sameer is living his dream life and working hard for his business to reach every country. He is an inspiration for every person who thinks that they can't do that work which society doesn't consider respectable.
He shares that work is just working no matter in which field it is. If you do it by your dedication you will definitely be successful. He wants people to change their views about meat business. Consider this as any other normal work so that more people can do this and help the country grow. He shares that this business has immense potential in it if we do it the right way.
Sameer is a successful entrepreneur today and is guiding a lot of people. If you too are entangled in your life, how to find and work on a new opportunity in this great time. You can message Sameer on his Instagram.