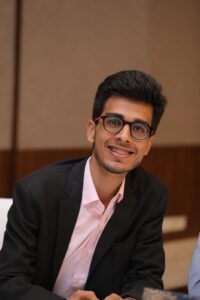 Meet Mr. Abhi Bhatia a very hardworking and intelligent person. He is 21 years old and he hails from Surat Gujarat. He belongs to a very decent family and wanted to fulfill their dreams.
Abhi understands one thing very well that taking no risk is the biggest risk. In his online journey, he realised that progress is better than aiming for perfection. The biggest lesson he learnt that you can't keep everyone happy at one time. He believes that to fulfill your dreams you must take action in the right direction.
He wants to become financially free by 30. His main goal is to help 10,000+ youngsters develop part-time income.
Today he is a successful Digital Entrepreneur & affiliate marketer. He helps individuals learn digital skills and generate income from the same.
Before starting the business, he thought that if he earn 10k in a month he will be happy but after starting the business he got very positive results. He hit 20k followers on Instagram in 6 months. He created an exclusive content partnership with MOJ (Short video platform). He helped fulfill the dreams of more than 50 students. Right now he is mentoring more than 500 people. He earned a revenue of 10 lakh from affiliate business.
But initially, when he started this business and putting content on the social media there were no results. For more than 3 months there was no income. But he faced all challenges with determination. And when he started getting results, there was no going back as it pushed him to work harder.
Read More: The Threads of Sisterhood That Built a Beautiful Apparel Brand: The Story of Suta
Abhi Bhatia wants to be a good public speaker and sales mentor. So that he can help as many people as he can in his lifetime.
Abhi Bhatia shares that we all have got just one life – Grabbing opportunities coming our way will make us successful.
If you are entangled in your life, reach out to Abhi Bhatia on Instagram for his guidance in entrepreneurship.