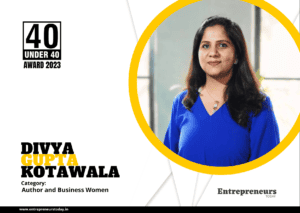 "My Dad's Daughter,' is a tribute to my father, whom I lost during COVID. As I was unable to find closure in my grief and say my last goodbyes, I decided to do something that could preserve his memories over the years."
During a freewheeling chat with Entrepreneurs Today, Divya Gupta Kotawala delved into the intriguing stories of her entry into both the world of writing and the jewelry business.
DIvya's background
An alumni of Modern School, Divya's journey began with a dream to become a fashion designer, eventually leading her to prestigious institutions like NIFT and St. Stephen's College. Her career started in fashion design, working with renowned designers. 
However, life took an unexpected turn when she married into a 300-year-old jewelry legacy in Delhi. She initially enjoyed life as a young bride and new mother but later joined the family business, recognizing its untapped potential. With their own manufacturing unit, they launched 'House of Kotawala,' transforming their family business into a prominent brand.
At the age of 40, she found her calling as an author. Divya's book, 'My Dad's Daughter,' was not just a literary endeavor but a heartfelt gift from her father in heaven. This moment marked a turning point in her life, leading her down a path she never knew existed. 
Divya's dual journey 
Divya's inspiration is deeply rooted in her family-owned business, 'House of Kotawala,' a collaborative passion project with Manish Kotawala, her husband. Together, they are dedicated to creating stunning jewelry for brides, adorned with high-quality diamonds and precious stones sourced from around the world. Their in-house manufacturing unit allows for customization and personalization, making every beautiful girl a stunning 'HOK bride.'
However, it was a profound personal loss that sparked her journey as an author. In 2021, she tragically lost her father to COVID-19, a loss made all the more painful by her inability to say a proper goodbye. In response, she channeled her grief into something powerful. Divya penned her emotions and gave birth to 'My Dad's Daughter,' a poignant book dedicated to preserving her father's memories and sharing her journey of transformation.
This act of writing not only aided her healing but also breathed new meaning into her life. It provided her with a purpose – helping others navigate the pain of loss and grief through her words.
About House of Kotawala
What sets Divya apart is her approach to both her jewelry business, 'House of Kotawala,' and her writing. In the world of jewelry, House of Kotawala distinguishes itself by not only offering beautifully designed pieces but also providing competitive wholesale prices. 
They cater to both B2B and B2C clients, and their in-house manufacturing unit gives them a competitive edge, ensuring a wide range of collections, variety, affordable pricing, and trustworthy dealings. 
With their in-house manufacturing, designers, and a network of reliable vendors, they can meet a diverse range of demands. While known for their stunning bridal jewelry, they offer a full range of solitaire, engagement bands and gifting jewellery.
About 'My Dad's Daughter'
Speaking of how Divya got into writing, she says, 
"I've always enjoyed writing, and it's my way of expressing my thoughts and emotions. However, I have never written publicly or on a platform. So this all came as a significant challenge and was emotionally draining."
During the 11-month journey of writing this book, Divya grappled with grief, initially consumed by anger, resentment, and a barrage of existential questions. However, as the writing process unfolded, a transformation took place. The book evolved into a source of healing, shifting her perspective from despair to gratitude and meaning. 
She came to understand the inevitability of death and the importance of celebrating and cherishing the memory of a loved one. Ultimately, the book became a powerful tool for healing, leaving her with profound gratitude for the 39 years shared with their father, a blessing not all are fortunate to have.
The book launch was held on Divya's father's death anniversary, a day that carried immense emotional weight. A year earlier, their family had faced a heartbreaking loss during the pandemic, marked by restrictions that prevented a proper farewell. On this anniversary, about 400 attendees who were initially under the impression that it was a prayer meeting or satsang were surprised, as Divya had kept her book project a closely guarded secret. Divya divulges,
"The day I revealed that it was a book launch, I received an incredible response from all my friends and family. Some even self-invited themselves to be a part of this beautiful event. Instead of a traditional prayer meeting where we would have sat down and mourned in front of my father's photo, everyone was smiling with silent and happy tears in their eyes."
Creating an impact
Divya's book has left an indelible mark on the lives of countless readers, resonating with them on a deeply emotional level. Her honest and heartfelt storytelling has helped her forge connections with people she has never met.
One poignant example involves a young woman from Maharashtra who was struggling with the loss of her father and had even contemplated suicide. A friend recommended Divya's book, which explores the complex and beautiful relationship between fathers and daughters. In just one night, the young woman devoured the book and reached out to Divya personally. She expressed her profound gratitude, revealing that the book had provided her with newfound hope and the desire to celebrate her father's memory, much like Divya had done.
Similarly, Divya's book reached across borders and impacted a young Indian-origin woman in Boston. She, too, had lost her father and was battling suicidal tendencies. Standard medical treatments had proved ineffective in helping her cope. Encountering Divya's story on Instagram, where she had shared her own experiences and collaborated with a group that shares real-life stories, the young woman found solace. She sent a heartfelt message to Divya, acknowledging how her book and her personal journey had helped pull her back from the precipice of despair.
Future plans and lessons learned
Determined not to be a one-book author, she is already planning her second endeavor, even though the specifics are still taking shape. 
Divya's life is a unique blend of two distinct worlds, each demanding its own set of skills and principles. Her ability to manage both is a testament to her versatility and adaptability.
As a jeweller, she emphasizes the paramount importance of trust in this industry. In the world of luxury, where high-value, precious products are at stake, establishing unwavering trust with clients is a non-negotiable foundation. Quality, another cornerstone, sets their Jewellery apart from the competition. Divya underscores the necessity of never compromising on the quality of one's craft.
As a creative writer, her journey has led her to appreciate the significance of intuition. Continuous learning and a keen eye on the evolving landscape are essential, as they provide insights into the mistakes and achievements of others, ultimately shaping one's own journey to become the best version of oneself.
Today, Divya gracefully juggles the roles of a homemaker, a loving wife, and the dedicated mother of her 16-year-old daughter, Manya. She's also a dutiful daughter to her mother and a loyal friend to those fortunate enough to know her. Embracing the art of multitasking, Divya is now venturing into new horizons, including podcasting and public speaking. Her goal is to continually expand her skills and knowledge, striving to make her father proud and carry his legacy forward with each passing day.