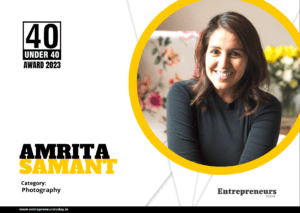 Mommy Shots is a pioneering child and baby photography firm in India, established in 2014, which has since evolved into a multi-faceted company with various verticals.
The photography firm is the brainchild of Amrita Samant, an artist turned entrepreneur with a background in computer science and management. After completing double master's degrees in Human Resources and an MBA, she spent nearly eight years in the corporate world before founding her own venture, Mommy Shots. 
Getting started
Amrita's inspiration to start Mommy Shots can be traced back to her lifelong passion for the performing arts. Although she initially aspired to become an actor, this career path was challenging to pursue over 20 years ago. She then transitioned into the corporate world but continued to engage in creative activities during her free time, dedicating her evenings to art-based pursuits for seven years. 
This dual pursuit eventually led her to realize the importance of aligning her career with her creative calling. The catalyst for her venture into photography was a chance encounter, which set her on the path to building Mommy Shots.
Till now, she has worked with numerous brands like Mamaearch, Johnson's Baby, Pampers, etc.
Services provided 
Mommy Shots offers a range of services across three distinct verticals:
B2C (Business to Consumer):
Family Photography: They work with families worldwide, capturing special moments and vacations, and documenting the growth and childhood of children in unique ways.
Educational App: Mommy Shots has developed an educational app where users can access pre-recorded videos and courses to learn photography and related skills, catering to aspiring photographers and individuals interested in the field.
B2B (Business to Business):
Commercial and Brand Services: Mommy Shots collaborates with brands from various industries to create marketing materials and collateral, serving the B2B sector by providing high-quality visual content for marketing and promotional purposes.
Creating impact
Her initiative, "Scars Are Beautiful," operates under the Mommy Shots Foundation, a non-monetized vertical. This foundation dedicates time to pro bono photography projects aimed at raising awareness about lesser-discussed issues. 
One notable campaign within this initiative focused on underprivileged children born with congenital heart diseases who received free surgeries. These children often bore emotional scars due to the surgeries, and the campaign conveyed a broader message about embracing life's challenges and scars. 
The campaign employed the Japanese concept of Kintsugi, adorning scars with gold foil to symbolize their beauty. Other projects undertaken include supporting acid attack survivors and raising awareness about breast milk donation for NICU babies. These initiatives aim to shed light on important social causes and empower those who have faced life's adversities.
"We keep this love in a photograph"
One profoundly inspiring moment for Amrita Samant was when she received heartfelt messages from families she had worked with. In two heart-wrenching instances, one of the spouses from these families tragically passed away. 
These families had been part of her extended photo shoot projects, spanning from the birth of a child to their fifth year, capturing various milestones along the way. 
The partner who had lost their loved one reached out to Amrita, thanking her deeply for the photos she had taken. They explained how these pictures helped them hold onto and cherish the memories of the person they had lost. 
Celebrating feats
Amrita Samant's entrepreneurial journey has seen several notable achievements, although she remains humble in acknowledging them. 
One of the key accomplishments of Mommy Shots includes establishing a complete business centered around child and baby photography. With approximately 15 employees, she has built a thriving company, a remarkable feat in a niche field with no established precedents to follow.
The company has also achieved impressive revenue figures, setting the stage for future growth and expansion. They are in the process of securing investments to expand into different cities.
Furthermore, Mommy Shots has garnered significant recognition in the press, both online and in traditional media outlets. Their work has been featured extensively. The company has received multiple international awards for their photography and related services, affirming the quality and impact of their work.
Lastly, Amrita's initiative has not only benefited her own business but has extended to a collective of photographers who have been trained to offer similar experiences. This has allowed Mommy Shots to expand across countries, with established operations in India and Singapore, and plans to expand into Dubai.
Challenges faced
Amrita Samant faced several notable challenges during her entrepreneurial journey. As a woman entrepreneur in a male-dominated field, Amrita encountered gender bias and stereotypes. Clients often questioned her capabilities and the seriousness of her business, assuming that baby and child photography was not a "real" job. The struggle to be taken seriously was a significant challenge.
Gender biases sometimes lead to missed opportunities. Even when Amrita's work was superior, male counterparts would secure projects or deals, highlighting the disparities she faced in the industry.
Working with children, especially babies and toddlers, introduced unique challenges. Child photography requires a deep understanding of child psychology and adaptable techniques, as each child's behavior and mood can vary significantly from day to day.
Future plans
Amrita's primary focus for the future is the substantial expansion of her three business verticals, including growing a collective of photographers across the country, expanding internationally, and making their educational app globally accessible. 
She also intends to raise awareness and secure funds for enhanced marketing efforts, underlining these goals as the core of her future plans.
Lessons learned
Amrita has learned valuable lessons on her entrepreneurial journey. Perseverance has been a key lesson, transitioning from a corporate background to an entrepreneurial mindset where she realized the need for self-motivation and personal responsibility. 
Another significant lesson is the importance of maintaining a healthy work-life balance and taking care of her mental health as an entrepreneur. She has also emphasized the importance of financial independence and aims to empower more women in the field to understand these principles.
Her team consists entirely of women who share her passion and commitment. She emphasizes the importance of financial independence and the freedom it offers for making choices without constraints. Her message to aspiring entrepreneurs centers on the crucial qualities of perseverance and patience. In today's competitive landscape, where many are pursuing similar goals, it's essential to push harder, maintain uniqueness, and stay true to oneself to succeed and stand out. Ultimately, determination and authenticity are key factors in finding one's voice in the entrepreneurial world.