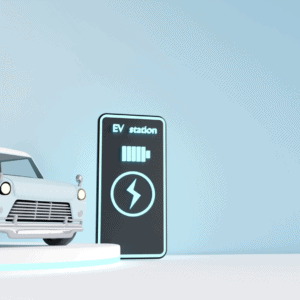 The number of EV vehicles on India's roads has surpassed 1.3 million as of August 2022. The Ministry of Road Transport and Highways of India predicts this figure will soar to over 50 million. This trend has sparked intriguing competition within India's startup ecosystem to produce cost-effective, cutting-edge EV vehicles. Notably, established players such as TATA motors and Hero motocop are entering the EV arena alongside well-known startups like OLA electronics and Aether Energies. Meanwhile, a slew of new and youthful players have joined the fray, many of which were founded during the pandemic.
Here are some new EV startups in India that you need to look forward to:
Revamp Moto 
Year Founded: January 2021
Founders: Pritesh Mahajan, Jayesh Tope and Pushkarak Salunke,
Website: https://www.revampmoto.in/
During Shark Tank India, Revamp Moto captured the hearts of investors Aman Gupta, Peeyush Bansal, Anupam Mittal, and Ashneer Grover and secured funding. The startup is preparing to release its RM Mitra and RM 25 electric bikes, which are designed to cater to micro-entrepreneurs. The company's mission is to make EVs accessible to individuals such as fruit-cart vendors by offering flagship vehicles starting at a mere Rs 50,000.
Dandera Ventures "OTUA"
Year Founded: 2020
Founders: Kshitij Bajaj and Kanav Manchanda
Website: https://danderaelectric.com/
One of the startups featured on Shark Tank India, Dandera Electronics, presented their leading EV vehicle, OTUA. The company secured funding from Ashneer Grover on the show and plans to make OTUA available for purchase in the market soon. The vehicle is specifically tailored for logistics and last-mile delivery firms and is a fully home-grown product, having been developed entirely in India as an electric car. All components, including the batteries, have been designed and produced domestically. OTUA is expected to retail at a price point between Rs. 3,50,000 to Rs. 5,50,000.
BGauss
Year Founded: 2020
Founders: Hemant Kabra
Website: https://www.bgauss.com/ 
India's market for two-wheeled EVs is larger than that for four-wheelers, and numerous companies are seeking to cater to this segment.
BGauss is focused on providing EV scooters for the Indian middle-class market. The company has introduced its flagship models, the BGauss B8 and BGauss A2, and will soon launch two additional scooter models. BGauss has an extensive global presence, with a footprint in over 85 countries, 25,000 retail outlets, and 13 production facilities.
The company intends to expand its operations to Tier 2 and Tier 3 cities, boasting a dealer network of 100 distributors throughout India. BGauss is part of the RR Global parent group, and is planning to export its EV vehicles in the near future.
ElectricPe
Year Founded: 2021
Founders: Avinash Sharma and Raghav Rohila
Website: https://www.electricpe.com/
Electricpe aims to bring India on Electric (Electric pe!). 
ElectricPe is a startup with a focus on expanding its charging station network throughout India. As a digital-led enterprise, the company operates through an app that allows users to easily locate and charge their EVs at partner charging stations. Payments can be made instantly through the app, streamlining the user experience.
ElectricPe stands out from other EV startups in that it does not concentrate on producing EV vehicles. Instead, the company seeks to expand the EV mobility ecosystem, promoting the widespread adoption of EVs across India.
Exponent Energy
Year Founded: 2020
Founders: Arun Vinayak, Sanjay Byalal
Website: https://www.exponent.energy/
Exponent Energy positions itself as an energy company that goes beyond the production of electric vehicles. Its founder, Arun Vinayak, who was previously the Chief Product Officer of Ather Energy, started Exponent Energy with the goal of creating a solution that would make it possible for any vehicle to become electric.
The company's primary focus is on providing 15-minute rapid charging for EVs. To accomplish this goal, Exponent Energy combines its battery and charging infrastructure. According to the company, its lithium-ion battery and charger set can charge an EV to 100% capacity in just 15 minutes.
Final Thoughts 
In addition to the aforementioned startups, several other new-age companies are also working towards building India's Electric Vehicle market. Some notable examples include goEgoNetwork, Kazam EV, kWh Bikes, and MoEVing.
The competition to capture a larger share of India's EV market is just beginning, and while some well-known companies, like OLA Electronic, have failed to launch their EV vehicles, many innovative ideas continue to emerge.
Read more: We work for a lot of billion-dollar International brands, taking care of their entire eCommerce operations: Ramesh Jhajharia, Co-Founder and CEO of Tradexa