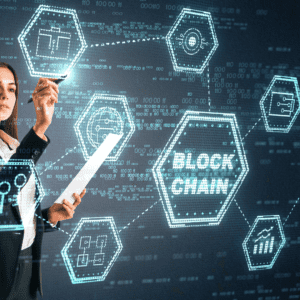 India has emerged as a prominent player in the web3 space, with new crypto and blockchain startups emerging daily, striving to develop innovative products in the digital realm.
The Indian crypto startup ecosystem has grown rapidly, with over 450 web3 startups operating in 2022, of which more than five are unicorns. These startups have collectively raised over USD 1.3 billion in funding.
Notable Indian crypto startups like Coindcx, WazirX, and Coinswitch Kuber have gained recognition, while several other exciting projects are also underway.
Here are some of the emerging crypto and blockchain startups in India:
Shardeum 
Founded: 2022
Founders: Nischal Shetty, Omar Syed 
Shardeum, a layer one blockchain based on Ethereum Virtual Machine (EVM), has been developed with the goal of enhancing smart contract scalability. The platform utilizes a shard system, making it the first blockchain to do so, in order to increase transactions per second. This Shard system divides ledger data into distributed parts, or shards, removing the need for high storage capacities. Ethereum and other blockchains have faced criticism for low transaction rates and high gas fees. Founded by Nischal Shetty and Omar Syed, the former being the founder of WazirX, India's largest crypto exchange, Shardeum aims to introduce a scalable solution for building decentralized apps and smart contracts.
Unmarshal 
Founded: 2021
Founders : Manohar Kolagondanahalli
Unmarshal, a Bangalore-based startup founded in 2021, is a multichain decentralized finance data network that supports various blockchains such as Solana, Ethereum, Polygon, XDC, and more. The platform has earned the trust of numerous blockchain startups, including Goswap, DePay, Oddz Finance, Polkastarter, Dfyn, Polygon, and others.
According to Manohar Kolagondanahalli, the founder of Shardeum, "We established Unmarshal with a vision to introduce composability into the vibrant and sustainable growth of web3."
Unmarshal is a leading data infrastructure that offers data and APIs for NFT, Defi, and Metaverse. The platform provides structured data, automated indexing, and democratized governance solutions for wallets, Defi protocols, exchanges, and investors.
Unreal Finance 
Founded: 2021
Founders: Ishan Garg
Unreal Finance, a Bengaluru-based startup, received its early-stage VC funding on June 17, 2021. It offers a decentralized finance solution for anyone interested, but yield farmers, derivative traders, and anyone wanting to earn passive income in the crypto and blockchain space will find it particularly beneficial. Unreal Finance operates on the system of yield speculation in defi protocols.
Users can tokenize the yield generated by prominent lending defi protocols, such as Aave and Compound, lock in their interest rate, and receive a fixed interest rate by tokenizing their yield. Users can instantly sell their unrealized yield, effectively locking their interest rate at a fixed price. Unreal Finance solves the yield farmers' problem of facing difficulties when interest rates drop, which many retail lenders encounter. However, on the Unreal Finance platform, users can lock in their interest rate by tokenizing the yield.
EPNS 
Founded: 2020
Founders: Harsh Rajat
EPNS, previously known as Ethereum Push Notification Service, has been rebranded as Push Protocol. This innovative product is a game changer for the Ethereum community and its users.
The Push Protocol is particularly useful for those who use NFT and Defi apps built on Ethereum. It is a blockchain-based push notification service, known as the communication protocol of web3.
Currently, the Push Protocol is available for both Ethereum and Polygon chains. It enables cross-chain networks and messaging for decentralized apps, crypto wallets, NFTs, developer tools, and other blockchain services.
With Push, developers can build on blockchains by utilizing the blockchain native communication service that the protocol provides for their projects.
The Push Protocol includes a Spam Score that monitors the behavior of any notification service to ensure it does not become malicious. If it does, the protocol's throttling mechanism is activated to penalize the service.
Instadapp 
Founded: 2019
Founders: Samyak Jain, Sowmay Jain
InstaDapp is a blockchain-based financial service founded by the Jain brothers in 2019. It offers lending and borrowing capabilities, as well as interest-bearing savings accounts, all through its blockchain-based platform. Both Samyak Jain and Sowmay Jain are college dropouts who won the EthIndia hackathon in 2018 with their project InstaDapp. The platform brings together lenders and borrowers in the DeFi community, and transactions take place in various cryptocurrencies like ETH, MANA, and USDC. InstaDapp provides grants to developers who build on the platform, and the platform is built with the highest level of security in mind to enable flexible use cases and models.