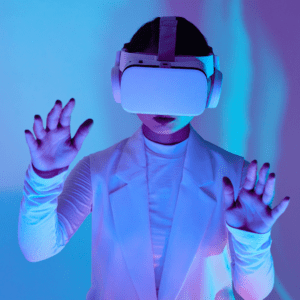 In a recent announcement, Reliance Company shared its Q2 2022-2023 results via RIL metaverse, making it the first Indian corporation to do so. The RIL metaverse was developed in partnership with GMetri, a no-code metaverse creation platform. This news is a testament to the rapidly expanding Indian metaverse market.
The increasing popularity of Metaverse and NFTs in India is undeniable. People from all walks of life, including those living in remote areas and metropolitan cities, are now actively engaged in discussions and gaining knowledge about these emerging technologies.
What is Metaverse?
The Metaverse is a digital realm or virtual space that goes beyond the physical universe. The term "Meta" signifies "beyond," while "verse" comes from "universe."
In the Metaverse, people can interact with one another through their digital avatars, which imitate the characteristics of the physical world. While the concept of Metaverse has existed in gaming for a while, it is now extending to other use cases, such as social interactions and business.
Furthermore, the Metaverse can also be seen as an expanded version of current social media applications, offering a more immersive and interactive experience.
What is NFT?
Non-Fungible Tokens, or NFTs for short, are digital assets that represent ownership of a physical or digital item. NFTs can establish ownership over anything from a physical real estate property to a digital JPG image.
NFTs are built on blockchain technology, which ensures that they are unique, tamper-proof, and cannot be replicated or copied.
India is at the forefront of the global web3 ecosystem, with over 450 web3 startups leading the way. The country is also witnessing a surge in the number of Metaverse and NFT startups such as LOKA and IKonz, contributing to the rapidly expanding Indian Metaverse and NFT markets.
Here are some new NFT and Metaverse startups of India to watch out for in 2023:
NextMeet
Founded – 2020
Founders –  Prashant Chandra, Pushpak Kypuram, Linda Nubani
NextMeet is a Metaverse platform designed for meetings and immersive experiences through both PC and virtual reality. The company is headquartered in Hyderabad, Telangana and has already raised over $200k from angel investor Sudhakar Reddy.
Nextmeet has revolutionized digital interactions and learning by offering a Metaverse platform for meetings, meetups, networking, and distance learning. The potential of the platform in the online learning space is vast, as it enables various forms of advanced education through the Metaverse.
The platform offers many features, including 3D spatial voice, Expo Halls with banner hosting stands, Walkable 3D avatars, a presentation screen in the conference hall, a networking lounge, a help desk, and universal chat.
Bullieverse
Founded – 2021 
Founder – Srini Anala and Murali Reddy
Noah Labs has developed Bullieverse, a play-to-earn Metaverse with its own native token, $BULL, which is available for trading on various cryptocurrency exchanges.
Bullieverse is a fantasy Metaverse island that allows users to play games, earn rewards, and create their own experiences. It is a Gamified platform that combines DeFi and Metaverse games through NFT asset trading within the game. To access the platform, users must own NFTs, which serve as entry passes to the Metaverse.
Users can earn rewards by playing other games or create their own games and experiences to monetize them. In Bullieverse, NFTs play a vital role, as they allow users to access the community and platform, and serve as a means to participate in the Metaverse's play-to-earn model.
Zionverse
Founded – 2021
Founders – Anshul Rustaggi
Zionverse, developed by Totality Corporation, is one of the most popular Metaverse platforms in the Indian startup ecosystem. It is known for its focus on representing Indian culture and historical characters, such as Mahabharat characters and Trimurti (Brahma, Vishnu, Mahesh). The platform's popularity is due in part to its Laxmi NFTs, which are highly sought after.
Zionverse is a decentralized Metaverse gaming ecosystem that revolves around the Trimurti NFTs, representing the three highest deities of Indian culture. Users who buy the Trimurti NFTs can then visit the gaming platform and transform their NFTs into playable characters.
Additionally, those who purchase the Trimurti NFTs can also access one of the three goddesses and Shakti tokens, which adds to the overall gaming experience on the platform. With its focus on Indian culture, historical characters, and the use of NFTs, Zionverse has emerged as a popular Metaverse platform in India.
FanCraze
Founded – 2021
Founders – Anshum Bhambri, Kushagra Kohli
FanCraze is a cricket-focused metaverse that offers fan NFTs for memorable cricket moments, allowing fans to collect, use, and engage with cricket through these NFTs. The platform was launched in partnership with the International Cricket Council (ICC) and allows fans to trade their cricket NFTs on its marketplace. FanCraze also provides opportunities for fans to interact with their favorite cricketers and use the apps and play-to-earn games to earn rewards within the metaverse. The company is headquartered in Mumbai and has received funding from reputable VC firms such as Tiger Global Management and B Capital Group.
Rario 
Founded – 2021
Founders – Ankit Wadhwa, Sunny Bhanot
Rario is a prominent NFT and metaverse startup with a focus on cricket. As one of India's top cryptocurrencies, Rario seeks to democratize fandom by allowing fans to trade cricket NFTs and engage in daily contests for a chance to win rewards. The startup's founding team comprises entrepreneurs from prestigious organizations such as McKinsey and Google, as well as alumni from esteemed institutions like IIT and IIM. Sachin Tendulkar, a legendary Indian cricketer, is among the investors backing Rario. The company is headquartered in Gurgaon, Haryana.
Final Thoughts 
Although the popularity of NFT trading and the metaverse has declined in 2022 compared to 2021, many experts and creators believe that they still hold enormous potential for the future. The current dip in the crypto market has led to a decline in sales of NFTs and interest in the metaverse, but as the technology improves and more real-life use cases emerge, their popularity is expected to rise again.
Read more: Newly Emerging Crypto and Blockchain Startups in India