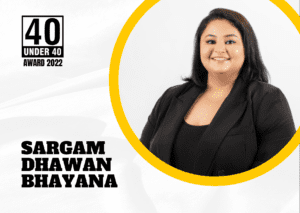 How to become a leader in the beauty industry?
Sargam Dhawan Bhayana belongs to a family of entrepreneurs, and knew from a very young age that she wanted to strike out on her own, following in her ancestors' footsteps, and create something unique. That independent creation turned out to be Tressmart, a beauty and hair care brand launched in 2016, which has collaborated with multiple different creators, fielding different products to the world.
As an entrepreneur and influencer, Sargam is a repertoire of experience and skill and has been instrumental in the consistent growth of her company. Alongside ensuring profit, and up-scaling her platform, she has also been vocal about social issues, including body shaming, something which she had her suffered from while growing up.
Sargam's contributions to the world of beauty and entrepreneurship have been motivated by a consummate concern for the world. Her work ethic and dedication have proved instrumental in her professional success, which she has carefully converted into cultural currency to help spread the message of acceptance and empowerment.
This is her story.
Starting Off
After completing her graduation from the State University of New York Buffalo in 2016, with a degree in communication and film making, Sargam returned to India with the dream of setting up a beauty and hair care brand. As the establishment of Tressmart was on its way, she was introduced to the creators and promoters of DAFNI changed the trajectory of her life. DAFNI was a ceramic hair straightening brush, and Sargam decided that her platform would launch with this inaugural product.
The rest, as they say, is history.
DAFNI broke the internet with its innovation, and became a runaway success. Not only was it a one of a kind product, but Tressmart employed innovative marketing strategies that ensured it received the attention it deserved from customers and media outlets.
The COVID 19 pandemic of 2020 proved to be slight stumbling block for the company. Being a brand of non essential goods, the availability of resources and labour was scarce. Because it was an ecommerce platform, there were logistical issues like a lack of inventory, and delayed delivery times due to the lockdown restrictions. They could prove devastating for the company as a whole. But Sargam quickly revised their marketing and functional approach.
The same year the company launched a new portal called Glow by Tressmart, which was dedicated to skin care and makeup. The advertising for it was influenced heavily by extensive market research about customer demands in the changed landscape of the pandemic affected world. Since it was more of a service based platform, the focus shifted to customer acquisition and satisfaction.
The effort was successful, and Tressmart saw a 138% growth in its statue, even as the workers adjusted with the shifting dynamics of working from home, and the hiccups that came with it. They simultaneously launched a new product called the MakeUp Eraser, the world's first reusable and sustainable make up remover kit, and it found success despite the stunted economic condition of the pandemic ravaged world.
Impact
Tressmart and Sargam have grown together, helping each other achieve their projected milestones.
The company launched StyleIdeas, a beauty products brand in 2021, which led to a whopping 1120% growth rate for the company. They were able to acquire Paul Penders, an internationally renowned vegan and cruelty free make up brand with unique luxury items like bottled water sources from the ice caps of Mount Everest.
On the other hand, Sargam has used her elevated platform to talk about the negative effects of beauty standards that lead people to embrace unhealthy lifestyles. Having suffered from body image issues and struggled with her weight since a very young age, she started speaking out against the standards imposed by the cultural gaze. She has been a featured TEDx speaker where she talked about the implications of this imposition on the psyche of young girls, and has advocated for better body type representation in advertising and marketing.
Sargam's work as a businessperson and a social influencer have been variously lauded and recognized for its wide ranging impact. She has won the Cosmopolitan Beauty Award, the Nykaa Femina Beauty Award, Garhwal Post Young Turk Award, the Shepreneur Award by Outlook India and India Today magazines, and many more. She also emerged as the Times Power Woman of 2020 in the of Young Entrepreneur in Beauty and Hair-care Category. Tressmart has won the Indian Achiever's Award for Emerging Company, while Sargam has been featured in multiple 30 under 30 and 40 under 40 lists, including our own.
The plans for Tressmart's future are stacked. The company will be venturing into baby products and the apparel industry with Glow Baby and Glow Fashion soon. They are also focusing on spotlighting smaller companies with innovative products that could use the boost in sales and credibility, while also making it easier for the customers through their product comparison mechanism.
Sargam has consistently striven  to be a socially conscious entrepreneur, trying to give back as much to the world as she receives in love and profit. While the pragmatism of running a business is never out of her sight, she keeps her fingers on the emotional pulse of the world, reaching out wherever possible with kindness and empathy, having learnt over the years that her resilience and tenacity is greater than she initially considered. But she is never averse to taking a break and relaxing either. As she says, sharks also tire out, eventually!