Yaari Nazir – You can always find Yaari with a paintbrush in her hand. She makes a few strokes on the fresh canvas and art is born! Yes, just like magic. No wonder she named her official Instagram account Art Ca dabra. It's a place where artworks of superlative quality are created with the magic spell of an artist!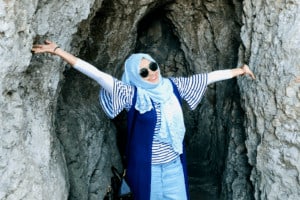 "I couldn't feel happier now that I have finally found my happy place, doing what I love the most. Who would have thought the Yaari they knew had an Artist inside her? I didn't know either. And now I'm here… a full-time artist by profession, selling paintings to people," says Yaari.
She pauses to tell her story.
Legends are normal people and it all begins with a dream. I am inspired by that very thought. Maybe the skill requires a little or a lot of polishing (like mine did), but that's our responsibility and you can't imagine the possibilities of what you will discover in time.
For quite some time my biggest influence has been Iris Scott, Priyanka Chopra, and Ellen DeGeneres. Each has created a mark in their respective field.
I'm grateful for a lot of things but foremost to have a very supporting family; my in-laws, my parents, and friends have been my greatest pillars. I'm extremely grateful to my husband who said "Be your own boss" and initially gave me no choice but to become with his constant support.
And I am forever grateful to my people on social media who appreciate all my efforts and motivate me on a daily basis and to people like you who really make me feel my existence counts.
I love traveling! I travel a lot in my head while I paint. I'm super crazy about being on different lands so I work really hard and save up with the intention of seeing the world.
So yes! When I get lucky, I unwind with an actual trip. Otherwise, I take some "me-time" and watch some good series/movie or read a book.