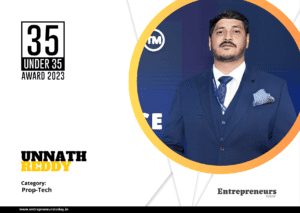 Unnath Reddy's entrepreneurial spirit and commitment to innovation have not only revolutionized the real estate investment landscape but have also paved the way for individuals to achieve their dreams of property ownership. With Fracspace, he has successfully eliminated the barriers of high entry costs, maintenance responsibilities, and geographical limitations, allowing investors to participate in the real estate market on their terms.
Entrepreneurs Today recently had the privilege of interviewing Unnath Reddy, the entrepreneur behind the groundbreaking venture, Fracspace. We delved into his remarkable journey and the transformative impact his innovative approach to real estate investment has had on the industry.
Unnath Reddy and Fracspace's vision
Unnath Reddy's vision for Fracspace extends beyond just offering fractional ownership opportunities. He envisions a future where individuals can seamlessly invest in properties across the world, diversify their portfolios, and experience the joys of property ownership without traditional constraints.
Through Fracspace, Unnath Reddy has created a platform that not only facilitates fractional ownership but also fosters a sense of community among investors. Fracspace members can connect with like-minded individuals, share their experiences, and even exchange their fractional shares, providing a dynamic and interactive investment environment.
Under Unnath Reddy's leadership, Fracspace has also prioritized transparency and security. The company employs rigorous due diligence processes to select properties, ensuring that investors can trust the quality and value of their fractional ownership. Additionally, Fracspace utilizes advanced technology and secure platforms to safeguard investors' interests, providing them with peace of mind and confidence in their investments.
Getting started with Fracspace
Unnath Reddy's inspiration for launching Fracspace stemmed from his experiences in the real estate industry, where he witnessed the common challenges faced by potential property buyers. He observed how budget constraints, concerns about timelines, and location issues often hindered individuals from pursuing their dreams of property ownership.
Motivated by the desire to overcome these limitations, Unnath saw the potential of fractional ownership as a solution. The concept of owning a fraction of a property instead of the whole unit not only reduced the financial burden for investors but also provided them with the flexibility to choose properties in desirable locations.
Unnath's vision was to create a platform that would bridge the gap between aspiring property buyers and their aspirations. By introducing fractional ownership through Fracspace, he aimed to democratize real estate investment and make it accessible, affordable, and flexible for a wider audience.
Etching a name for itself in the real estate investment landscape
Fracspace stands out in the real estate fractional ownership market due to several unique features and benefits that it offers to investors.
Investors in Fracspace properties have the opportunity to earn from the early stages of the investment. During the construction phase, investors earn a bank rate of interest on their investment, providing them with immediate returns even before the property is fully constructed. This early earnings feature sets Fracspace apart by allowing investors to start generating income right from the beginning.
Another distinctive aspect of Fracspace is the potential for rental yields. Investors receive a portion of the rental income generated by the property they have invested in. This ongoing rental income stream serves as a passive source of earnings, providing investors with additional financial benefits beyond the initial investment.
Fracspace also offers investors flexibility and liquidity through its no lock-in and market value exit feature. Unlike traditional real estate investments that may have lock-in periods or limited liquidity, investors in Fracspace can exit their investments at any time at the current market value. This flexibility allows investors to adapt their investment strategy according to their needs and take advantage of favorable market conditions.
Furthermore, Fracspace recognizes the importance of personal usage for investors. Investors are granted a specified number of days per year to enjoy their share of the property for personal use. This personal usage benefit adds a personal touch to the investment, allowing investors to experience and enjoy the property themselves, making their investment more fulfilling and meaningful.
Overcoming hurdles
When asked about the challenges faced, Unnath says,
"Fracspace, has faced various challenges while building their business. Operating in a conservative society where new ideas take time to be understood has been a significant hurdle. Educating newcomers about the concept of fractional ownership has also been a challenge."
To address these obstacles, Fracspace conducted extensive education and awareness campaigns, simplifying the concept and showcasing success stories. They focused on clear communication, personalized consultations, targeted marketing strategies, and industry collaborations to build market awareness. Despite these challenges, Fracspace has made significant progress in establishing itself as a prominent player in the real estate fractional ownership market.
Milestones so far
Fracspace has achieved several significant milestones since its inception. Firstly, they have successfully attracted a substantial number of investors who have embraced the fractional ownership model and joined the platform. This demonstrates the trust and confidence investors have in Fracspace's offering.
They have consistently expanded their property portfolio, offering a diverse range of properties in desirable locations. This expansion not only provides investors with a wider selection of investment opportunities but also showcases Fracspace's ability to curate and acquire high-quality properties.
Fracspace has also received positive feedback and testimonials from satisfied investors, which further validates the effectiveness of the fractional ownership model and the value it brings to investors. This positive feedback serves as a testament to the success and impact of Fracspace's approach.
Moreover, Fracspace has gained recognition within the real estate industry, including media coverage, participation in industry events, and collaborations with reputable organizations. This market recognition reinforces Fracspace's credibility and highlights its contribution to revolutionizing the real estate fractional ownership market.
A time of inspiration
One inspiring moment for Unnath Reddy and Fracspace was when they received an invitation from the US Consulate to attend a summit focused on expanding their business into the United States. This invitation served as a validation of Fracspace's innovative approach to fractional ownership and its potential for international growth. The swift process, with the invitation and arrangement occurring within just one week, made the experience even more remarkable.
Being recognized and invited by the US Consulate was a significant milestone for Fracspace. It not only affirmed the viability of their business model but also presented a valuable opportunity for expansion into a new market. This recognition showcased the hard work, dedication, and vision of Unnath Reddy and his team in establishing Fracspace as a pioneering player in the real estate fractional ownership industry.
Plans going forward
Fracspace has ambitious future plans and strategies to expand and enhance its business. These plans include the development of a model for primary homes, entering new markets domestically and internationally, and diversifying its property offerings. To achieve these goals, Fracspace will focus on research and development, strategic alliances with developers, increased marketing and outreach, and continuous improvement of its operations. By pursuing these initiatives, Fracspace aims to strengthen its position as a leader in fractional ownership and provide investors with a wide range of accessible and rewarding real estate investment opportunities.
Founder's note to budding entrepreneurs:
"Give yourself time, embrace failure, focus on customer value, build a strong network, be adaptable, and take calculated risks. Building a successful business takes time and patience."