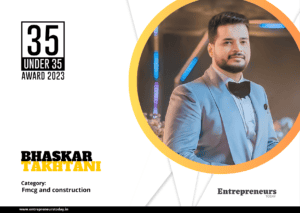 Bhaskar Takhtani is a thriving businessman who has a tremendous desire to start his own company. He was exposed to business from a very young age because he was born and raised in a joint family that ran a shared firm. Bhaskar heads the B.R. Takhtani Group, where he has two sectors, FMCG and Real Estate. Under FMCG, he has SKB Industries and S. RAJ &; and under Real Estate he has TR Constructions, KTR Constructions, TR Infra and RT Infra. Through his tireless efforts, devotion, and entrepreneurial drive, he has effectively elevated these businesses to new heights. 
A little something about Bhaskar's background
He originally wasn't a merit student and experienced obstacles in his academic career, but he didn't let that stop him. His failure in the fifth grade really served as a turning point in his life, as he later became the prefect of his school for three years in a row and excelled in both sports and academics.
Bhaskar pursued his graduate studies at Indore, Pune, and London after finishing his secondary education. He did it strategically because he is adamant that networking and forming trusting relationships are essential in the business world. He was able to develop culturally and have a more practical understanding of both the domestic and international business settings as a result of studying abroad.
Getting to know B.R. Takhtani Group
Under the FMCG sector, SKB Industries is a well-known and respected manufacturer and supplier of high-quality Sweet Supari. The company's manufacturing unit is located in Pipliya Rao, Indore, Madhya Pradesh. SKB Industries prides itself on using only premium natural ingredients and maintaining the highest standards of cleanliness during production.
The company offers a range of Sweet Supari products that are enjoyed by customers all over India. Some of the popular SKB Industries products include Aunty No. 1, Sweet Supari, Kabhi Kabhi, Chikni Gold, and Khazana No. 1. Additionally, SKB Industries offers a premium range of sweet supari called Aunty Premium, available in saffron and rose flavors.
Aunty Pop Lollipops, Aunty Mr. Paan Candy, and Aunty Candies in various flavors are just a few of the confectionery products that SKB Industries has recently introduced to the market. The company has expanded and gained new clients because of this diversification.
Bhaskar's entry into the entrepreneurial scene
Bhaskar returned to India after earning his degree in three separate cities (Indore, Pune, and London) and understood how critical it was to stay current with what consumers are buying today. Along with his launch in the confectionery sector, he entered into construction and real estate. 
Bhaskar entered the real estate and construction industries with the help of his father-in-law, Mr. Rajkumar Raichandani, who has more than 20 years of experience in the field. His ongoing projects include:
Unity One, a commercial and retail project in Indore,

 

Krishna Enclave, a residential 3 / 4 luxurious duplexes project in Bhopal
Casa Boho, a Bohemian theme, Portuguese apartments project in Calangute, Goa

 

A residential project in Dona Paula, Goa

 

Narvir Tanaji, a residential project in Shivaji Nagar, Pune • Megha Terrace, a residential project in Aundh Pune
What's different about SKB Industries?
"I am a firm believer in innovation and refuse to become complacent despite the low profit margins of the products I sell. My team and I continuously introduce new formulas and products to enhance the taste and quality. Our prices remain competitive despite the high quality of our products. We have an in-house research and development team that constantly gathers data from our distributors and sellers to gauge the performance of our products."
SKB Industries is exceptional in its dedication to quality and innovation, continually working to enhance its products and serve its customers with the finest quality and taste. 
In the real estate industry, we prioritize quality in all aspects of our operations, including the sourcing of raw materials, design, and development. Before setting up the project, we do thorough R&D and make sure all the relevant needs are met based on the demography. Our next-generation designs are future-proof and will contribute to raising the standards of the city. 
He truly believes that 'You don't build a business, you build people, and then people build the business.' His team, Rajesh Jaiswal, CA Kartik Makhija and Mohit Bajaj, helped him expand his business and make it a huge success. It is because of them; he describes himself as an entrepreneur.
What are the challenges Bhaskar faced?
Some of the challenges Bhaskar faced include:
Setting up a business from scratch after the family-owned business split.
Lack of skilled manpower and scattered ideas.
Failure of a brand he started.
The disruption caused by the pandemic in the real estate industry.
Managing two businesses with multiple products and projects simultaneously.
As an individual, he is committed to personal and professional growth. All the above-stated obstacles required organization and innovative solutions. He also personally oversaw the development of his construction and manufacturing facilities, and to keep up with industry trends, he invested in the confectionery sector. Positive effects of these developments included rising product demand and new financial investments in construction projects for real estate
What are the plans for the future?
Bhaskar appears to have grand ambitions for the future. He clearly wants to expand his company, as seen by his ambition to both domestically and internationally market his confectionery products. He also intends to work in the hospitality and education sectors, demonstrating his readiness to expand and look into new areas.
He intends to create new confectionery items, such as chocolates, jaljeera, soft drinks, and juices, in the near future. Additionally, he is working on a number of real estate and construction projects, including hostel, retail, and residential developments in Goa, Pune, and Indore, among other places.
Bhaskar is actively seeking out new opportunities to expand his business, as evidenced by the fact that he is in talks for another fascinating project in Goa. Overall, it appears that Bhaskar is devoted to launching new projects and growing his companies in the future.
To have a vision for the future, he relies on the support of his parents, Sonam and Rajkumar Takhtani, and his wife, Monika, who has always been a source of inspiration. He takes an active interest in the family's progress and makes sure that his son, Jishaan, imparts the same ethics as he has learned from his father. 
A note from Bhaskar to budding entrepreneurs:
We asked Bhaskar about some of the major lessons in his life. He shared his most striking lesson with us:
"My father once shared an inspiring analogy with me that has stuck with me. He said that if you buy a box of fruit for 30 bucks, you could resell it for 35 bucks and make a profit. However, if you invest a little time and money to transform those fruits into other edible products, you could create products worth 70 to 80 bucks and achieve a much bigger profit margin. To be a successful entrepreneur, it is important to develop the ability to provide end-to-end solutions. This advice motivated me to think beyond just buying and selling real estate and instead turn it into a profitable construction business."
Throughout his journey, Bhaskar has learned that it is important to take calculated risks, observe, and listen carefully before making decisions. He also believes in the power of embracing newer technologies to spur growth. His message to budding entrepreneurs is to never forget the importance of integrity and honesty and to never be afraid to try new things.