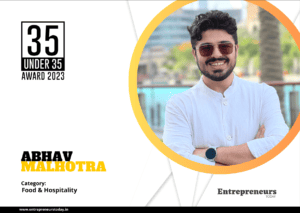 "One of the best memories I have as an entrepreneur and founder of Ovensay is the successful food tasting event we organized for our corporate clients. Seeing the joy on the faces of every customer as they tasted our creations and hearing their positive feedback was truly gratifying. It was a validation of the hard work and dedication we put into perfecting our craft at Ovensay."
In an interview with Entrepreneurs Today, Abhav tells us about one of the memorable moments from his journey that propelled him to push forward in his journey. 
Abhav Malhotra is a renowned chef, CEO, and Head Chef of Ovensay, a Bangalore-based restaurant that specializes in contemporary cuisine with a focus on local and sustainable ingredients. He graduated from the Culinary Institute of America (CIA) with a degree in Culinary Arts and a Bachelor's degree in Food Science. Abhav has extensive experience working in multiple hotels and with renowned chef Sanjeev Kapoor. He has also worked with Bon Appétit in Google, California.
Where Culinary Passion Meets Creative Entrepreneurship
Abhav is known for his innovative approach to cooking, using locally sourced ingredients to create unique and unforgettable dishes. His passion for food and nutrition has led him to obtain a certificate in food nutrition, enabling him to create healthy and flavorful dishes that cater to a wide range of tastes and dietary needs.
Apart from his role at Ovensay, Abhav is a creative entrepreneur currently working on a new product line of pickles, hot sauces, and other fermented beverages. He uses his expertise in food science to develop these products, emphasizing the use of locally sourced ingredients.
Ovensay, under Abhav's leadership, offers a unique platform for chefs and bakers to showcase their talent, grow their businesses, and learn new culinary skills. They provide services such as a collaborative workspace for culinary professionals, a comprehensive training center with hands-on courses, an artisanal retail store, a customizable event space, and a cafe serving delicious and healthy dishes.
Abhav says, "At Ovensay, I was fortunate to join the team during its inception when it was just an idea. Initially, the platform was aimed at kids who had a passion for baking. However, as we progressed, we realized that baking and cooking had become an activity that people of all ages were enjoying, especially during the pandemic lockdown. Many people were not just baking and cooking for fun, but they were also selling their creations. We recognized the need to provide a platform that would showcase the talents of these home cooks and bakers, and demonstrate how skilled they are in their craft."
Ovensay's Unique Approach
What sets Ovensay apart is its comprehensive approach to culinary education and support. Ovensay is the first co-working space for home cooks, bakers, and chefs, providing a platform for collaboration and innovation. The state-of-the-art facilities and experienced team of chefs and bakers offer tailored training programs and consultancy services to restaurants and hotels, helping them enhance their menus and culinary concepts. 
Ovensay specializes in a wide range of culinary styles and offers customizable programs to meet specific needs. Additionally, Ovensay provides cooking and baking classes for food enthusiasts of all skill levels in their advanced training center, covering various culinary styles and techniques. Their artisanal retail store offers fresh, high-quality baked goods, including breads and pastries. Ovensay also offers a corporate gifting service, creating custom gift baskets and packages that include artisanal baked goods, cooking classes, and other culinary experiences.
Navigating Challenges
The team at Ovensay faced several challenges during its journey. Firstly, understanding and adapting to the local business culture, regulations, and laws in India presented a significant challenge. The unique business style in the country required patience and a learning mindset to navigate effectively.
Another challenge was dealing with fraudsters and scammers. In India, there are individuals who may attempt to exploit entrepreneurs by offering fake business deals, making false promises, or providing subpar products or services. Ovensay had to be vigilant and conduct thorough due diligence and research before committing to any business partnership or deal.
Building a competent and dedicated team was also a challenge for Ovensay. Attracting, identifying, and retaining the right team members took considerable effort and time. Finding individuals who aligned with the company's vision, values, and goals was crucial to ensure long-term success.
Finding a reliable and trustworthy business partner was another hurdle. A great partner can bring additional expertise, support during challenging times, and share responsibilities. Ovensay had to carefully select a partner who shared their vision and values to establish a strong and collaborative working relationship.
Maintaining a work-life balance was an ongoing challenge for the Ovensay team. Running a business requires significant time and effort, often affecting personal relationships and individual well-being. Striking a balance between work and personal life was essential to ensure the sustainability and overall happiness of the team.
The team also had to manage the inconsistent workload that is common in entrepreneurship. Periods of high activity and busy schedules were followed by periods of lower activity. This fluctuation required effective planning for finances and resources, including the need for contingency plans to handle varying workloads.
Expanding Horizons
Ovensay also aims to diversify its product offerings and services in the future. One of the plans includes further developing their product line of pickles, hot sauces, and fermented beverages. By utilizing their extensive knowledge in food science and their commitment to using locally sourced ingredients, Ovensay intends to create unique and flavorful products that cater to the tastes and preferences of their customers.
In addition, Ovensay plans to continue enhancing its training programs and courses. They will expand their range of classes, covering various culinary styles, techniques, and trends. By staying up-to-date with the latest developments in the culinary world, Ovensay can provide valuable and relevant training to aspiring chefs and food enthusiasts.
Furthermore, Ovensay aims to strengthen its corporate gifting service, offering customized gift baskets and packages that include artisanal baked goods, cooking classes, and other culinary experiences. This service will cater to businesses and individuals looking for unique and thoughtful gifts related to the culinary arts.
Lesson learned
Abhav Malhotra, as an entrepreneur, has learned valuable lessons throughout his journey. He emphasizes the importance of staying passionate and persevering even during tough times. He advises entrepreneurs to stay focused on the end goal and keep the bigger picture in mind. Abhav recognizes the significance of surrounding oneself with a great team and partners who share the same vision. He encourages taking calculated risks and being open to pivoting the business strategy when necessary. Abhav also emphasizes the importance of embracing change and adapting to new trends and technologies. He highlights the need to manage risks proactively and take measures to prevent them. 
Abhav believes that success should be measured not only by financial growth but also by the impact on the community and the growth of individuals who learn from the entrepreneur. His message to future entrepreneurs is to never give up on their dreams, work passionately to bring their ideas to reality, surround themselves with supportive people, embrace setbacks as learning opportunities, stay curious, and be proud of the impact they make on the world.