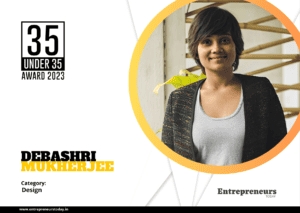 "One of our projects was finalized during the COVID-19 pandemic. It is located in the Dasrahalli area on the north side of Bangalore and is a private residence with a built-up area of 4500 sqft. The clients were a couple who were residing abroad at the time. We produced and delivered our best work to create a home that would bring them back to their hometown. We used technology to demonstrate our vision for the project and fulfill their requirements. Thanks to their trust in us, we were able to secure a project worth multi crores without meeting them physically."
The experience served as an incredible moment that Debashri still cherishes. In a conversation with Entrepreneurs Today, she mentions how this trust pushed her and the team to break boundaries. Now, let's get to know a little bit more about Debashri Mukherjee. 
Debashri Mukherjee is a highly skilled architect and the founder of THINKTANQQ, a creative design studio that specializes in architecture and interior design. She has been working in the industry for more than ten years and is renowned for her creative design methods. Her work focuses on building beautiful and useful spaces by expertly combining sustainability, aesthetics, and practicality. Debashri has an amazing sense of space, a strong eye for detail, and a thorough awareness of current design trends and technological advancements. She is admired by discerning clientele that expects excellent design solutions and leads a brilliant group of architects and designers at THINKTANQQ.
The Inception of THINKTANQQ
Debashri was inspired to establish her own company by her love of design and her goal to have a positive influence on the environment and future generations. She was keen on changing the way things were done in the sector since she believed that as an employee she had little freedom to speak her views and make judgements. During the COVID pandemic, she decided to take a risk and create her own creative design studio, THINKTANQQ, after identifying an opportunity in the industry. Her goal for the business was to produce custom designs that included innovative eco-friendly materials and a green approach to benefit the community and future generations.
What's unique about them?
Debashri's architectural firm, THINKTANQQ, has several unique features that set it apart from its competitors. The company has a unique approach to design that reflects its values and philosophy, which may involve specializing in a particular type of architecture, such as sustainable or modern design, or focusing on a specific niche market.
THINKTANQQ prioritizes its clients' needs and desires by providing personalized attention and excellent customer service, which differentiates it from its competitors. By understanding their clients' unique requirements, the company creates designs that are tailored to meet their specific needs. The company also has a young team that strives for excellence in a specific type of project, such as designing commercial buildings or residential homes, which often attracts clients looking for that specific type of expertise.
Moreover, THINKTANQQ leverages the latest technology and innovation to improve its design process, which sets it apart from its competitors. For example, the company uses advanced 3D modelling software to create realistic and interactive virtual designs, providing clients with a more immersive and engaging experience.
Overcoming challenges 
The challenges faced by Debashri's business include finding new clients in a highly competitive market, balancing creativity and practicality in architectural design, managing complex projects with multiple agencies and contractors involved, keeping up with the latest technology and design tools, and managing irregular cash flows in the industry. To overcome these challenges, the firm focused on networking, building relationships with existing clients, and showcasing their work through various marketing channels. They also developed a collaborative and iterative design process that involves input from clients, contractors, and other agencies to balance creativity and practicality. Strong project management skills, clear communication channels, and proactive risk management were also developed to manage complex projects. 
To stay competitive, the firm invested in new software, hardware, and other tools and continuously trained their staff to stay up to date with the latest trends and techniques. Additionally, they developed strong financial management strategies such as forecasting cash flow, creating contingency plans, and negotiating payment terms with clients and contractors.
Despite the challenges, they have come a long way, and some of their achievements include winning design competitions or awards for innovative and successful projects:
National Architecture and Interior Design Excellence Award, 2023

THINKTANQQ – Promising and Creative Architecture and Interior Design Firm of the Year, 2023

Top Rising and Trendsetter Designer India, 2023

Most Prominent Architect and Entrepreneur from Bengaluru, 2023 (Women Excellence Award, 2023)

Most Creative Architectural Design Firm – THINKTANQQ, 2023 (India Design Award)

Indian Glory Award – Dynamic Architecture and Interior Designer of 2023

35 under 35 (Entrepreneur Today)
The other feats include:
Growing the firm's client base and revenue over time.

Building strong relationships with clients, contractors, and other stakeholders in the industry.

Expanding the firm's geographic reach and diversifying its services.

Developing a reputation for expertise in a particular area of architecture, such as sustainable design or historic preservation.

Contributing to the community through pro bono work or involvement in civic organizations.
Lessons learned
Debashri has learned several lessons throughout their career in the architectural field. They have realized that persistence and resilience are critical traits to have when building a successful architectural firm. It takes a lot of time, hard work, and dedication to achieve your goals, and it's important not to get discouraged by setbacks or challenges.
Debashri has also learned that building strong relationships with clients, staff, and other stakeholders is crucial to long-term success. Trust is at the heart of any successful business, and as an architectural firm, clients rely on you to bring their vision to life. Therefore, it's important to build and nurture strong relationships with them.
Another key lesson Debashri has learned is the importance of embracing innovation and adaptability. The world of architecture is constantly changing, and firms must be willing to try new technologies, design tools, and approaches to stay competitive. This involves taking risks, experimenting, and being willing to adapt to changing circumstances.
Managing finances carefully is also critical to maintaining a healthy cash flow, covering expenses, and investing in growth opportunities. This involves developing and monitoring budgets, managing debt, and ensuring adequate reserves for unforeseen events.
Finally, Debashri has learned that investing in their team is essential for the success of an architectural firm. Providing training, mentoring, and opportunities for growth can help build a strong and motivated workforce that can deliver high-quality work and meet clients' needs.
Plans for the Future
According to Debashri, the company has goals for the future that include carving out a specialisation or niche in a particular field of architecture, including modern sustainable bespoke design. By focusing on new bespoke designs, creating new services, and cultivating connections with potential customers, they also intend to increase their clientele. Another important objective of the company is to create an outstanding workforce. To do this, the company needs to identify and retain exceptional employees, offer them opportunities for training and professional growth, and foster a collaborative and creative work environment.
To maintain its position as an expert in the ever-evolving area of architecture, the firm places a high premium on embracing new technology and design tools. They want to purchase new hardware, software, and other tools, as well as to train and support their workers in using them. The company also intends to boost income and profitability by enhancing productivity, controlling expenses, and developing new revenue sources. This might entail streamlining workflow procedures, securing more advantageous agreements, and diversifying offerings to provide complementing services.