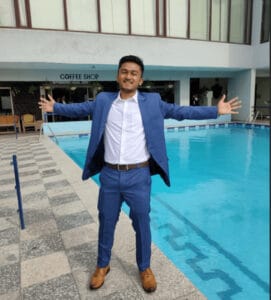 Subrajit Paul is a digital entrepreneur who belongs to a small village in Silchar, Assam. He did his schooling from JNV, Cachar and now he is a last-year mathematics student. He has been fond of doing business since childhood but due to lack of opportunity, he could not do anything but where he saw an opportunity he would not leave. He did his first business in 5th class which was sticker selling. He used to sell up to ₹ 50 with a sticker of ₹ 5 in his school, this was his first profitable business. When he was in the second year of college, he got a business opportunity from his junior, then he entered Entrepreneurs World. He worked hard, built a great team but unfortunately it didn't work well within 10 months the team got collapsed, as he had no accurate information and strategy, this business was shut down soon due to Lockdown.
His father is a normal shopkeeper and there was always tension in the house about money, but he wanted to get his family out of these troublesome lives, then he got information about Affiliate marketing business in lockdown which he learned and started doing. Due to which he started getting income soon and in a very short interval of time, he made his name in the Affiliate Marketing to the top and today he has trained more than 25000 people.
Subrajit Paul felt that in today's time there are many people whose life is like his life, so he decided that he should help those who are living a poor and stressful life without opportunity and then he decided to help more people so that all the needy people can start their online business journey with him. Today his vision become reality. Now Subrajit Paul has a mission that by the coming 2022, he will give personal mentorship to 10000 people.
The pages slugged 'Brand Connect' are equivalent to advertisements and are not written and produced by Entrepreneurs Today journalists.