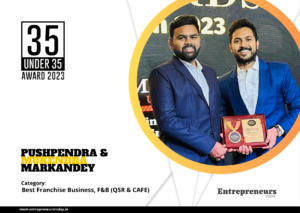 Sandwich Junction, the brainchild of Mukendra Markanday and Pushpendra Markandey, has rapidly emerged as a thriving food destination for young people from diverse backgrounds. With multiple locations spread across India, the brand celebrates a decade of culinary excellence. This remarkable achievement is a testament to the entrepreneurial spirit and unwavering commitment to quality food displayed by the Markanday brothers.
In an exclusive interview, we had the pleasure of exploring the ingenious minds behind this trailblazing venture.
The First Generation Entrepreneurs
Meet Mukendra Markanday and Pushpendra Markandey, the self-made first-generation businessmen who revolutionized the food industry. They established Sandwich Junction in 2012, starting with a single outlet in Mumbai. Mukendra's driving force behind starting SJ was to earn a living while pursuing his passion for music.
Driven by their profound love for food and a keen observation of the disorganized nature of Mumbai's iconic sandwiches, the brothers embarked on a journey to bring a new level of organization and unparalleled quality to India's sandwich industry.
A Cut Above the Rest
What truly distinguishes Sandwich Junction from its competitors is its unyielding commitment to food quality. Mukendra, in his quest for authenticity, ensures that every sandwich preserves its genuine flavors and integrity. The meticulously crafted menu offers an array of flavors and organic masalas, catering to a diverse clientele. Furthermore, the pocket-friendly pricing ensures accessibility to a wide range of customers.
A Day in the Life
Pushpendra's bustling schedule begins with an operations call, overseeing all the outlets and their performance. He then directs his attention towards product development, employee welfare, meeting sales targets, and fostering relationships with esteemed chefs and stakeholders. His frequent travels provide invaluable insights into new opportunities.
Admittedly, the brothers acknowledge the ongoing challenge of striking a balance between business and personal life. Although they strive to prioritize mandatory vacations each year, the demanding nature of their schedule sometimes draws complaints from their family.
Overcoming Challenges
The most formidable challenge faced by Sandwich Junction was during the Covid-19 lockdowns, which necessitated a transition to a cloud kitchen model. Despite this hurdle, they successfully maintained their brand image and ensured that their staff faced no pay reductions.
Risk Analysis and Innovation
At the core of Sandwich Junction's operations lies a specialized team proficient in risk analysis. Pushpendra brings in his IIM expertise and approaches challenging territories with meticulous evaluation and calculated decisions. His strategy involves taking risks based on thorough research and industry insights. Regular participation in national and state-level food events and conferences keeps them at the forefront of industry trends, while their dedicated R&D unit continuously evolves the menu.
Success and Milestones
The success of Sandwich Junction is epitomized by the loyalty of their customers, who have been savoring their sandwiches for an impressive 7 to 10 years. Each sandwich boasts consistency and universal appeal. Additional milestones include the development of their proprietary software, an outstanding track record of over 10,000 reviews, and the remarkable feat of serving over 2 crore sandwiches and beverages.
A Memorable Triumph
A truly memorable and inspiring moment for the Markanday brothers and their team was their triumph at the prestigious Times Business Award in 2023. This accolade served as a resounding recognition of their unwavering dedication and tireless efforts over the past 10 years.
Future Aspirations
Looking ahead, Mukendra envisions expanding Sandwich Junction to encompass 250 outlets by 2025, a goal they pursue meticulously, respecting monthly targets and conducting regular reviews with stakeholders. Additionally, they are exploring the potential of a city franchise model to extend their presence to nearby areas.
The Markanday brothers firmly believe that success is the outcome of consistent hard work. Their message to aspiring entrepreneurs is to stay focused and persistent.