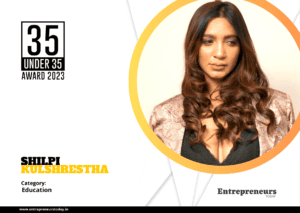 In an exclusive conversation with Entrepreneurs Today, Shilpi walks us through her professional journey till now. With everything she has achieved till now, Shilpi's accomplishments thus far make her a true trailblazer for women in leadership roles in the Indian startup industry. Her unwavering dedication, hard work, and exceptional leadership skills have not only inspired many but also demonstrate her incredible perseverance and determination in achieving success. 
This is about Shilpi Kulshrestha, a successful businesswoman, who currently holds the position of Vice President at Byju's, India's largest edtech startup, at the young age of 32. Shilpi outlines her career growth at Byju's in an exclusive interview with Entrepreneurs Today, including how she joined as a Business Development Associate and gradually rose through the ranks meritoriously to become the VP. Shilpi has been working at the company for the past 8.5 years and has helped it expand from a small startup with only 30–40 people to a business with between 20,000–25,000 staff members. Shilpi has made substantial contributions to the company's success by not only playing a crucial part in the establishment of new business models but also in market expansion.
As one of the Vice Presidents, Shilpi's job responsibility entails handling the entire business of the company. Shilpi shares that she is one of the few female leaders at Byju's apart from the co-founders. 
What led her to this profession? 
Ever since Shilpi was pursuing her degree, she wanted to bring about a positive revolution in the education industry. So, after she got done with her engineering degree, it only made sense for her to join Byju's since the goal of the company aligned with hers. Shilpi believed there was a general gap in the education system in terms of providing children with the necessary tools and access to education for students regardless of the economic background they come from.
Shilpi has always been dedicated to challenging conventional teaching techniques by coming up with new, creative methods for instructing. Thus, ever since she started working at Byju's, she has perceived it as an opportunity to bring about that change and has worked very hard to reform both the policies and practices of the education system and Byju's.
What does a typical day look like for Shlipi?
As the Vice President of Byjus, Shilpi Kulshrestha's daily routine is jam-packed with meetings, planning, and coordination with different departments. She begins her day at 9:30 am and spends the first few hours catching up on current happenings and meeting with people. Managing over 1500 employees requires efficient time management, so a significant portion of her day is dedicated to dividing her time effectively. 
During the second quarter of her day, Shilpi strategizes to ensure profitability and works closely with various teams to align her business goals with the company's overall objectives. In the third quarter of her day, she connects with different parts of the company to stay informed and coordinate operations effectively. In the last quarter of her day, Shilpi motivates her team, addresses their concerns and believes in empowering them to achieve their goals for the company's success.
We asked Shipli about her yardstick to measure success. 
To Shilpi, success means more than hitting professional milestones – it's about leaving a positive impact on people's lives and making her family and mentors proud. She finds fulfilment in motivating and inspiring her team to achieve their goals and contribute to positive changes in India's education system. External recognition and accolades are not her sole measure of success – she also values personal growth and overcoming doubts and challenges, such as creating a successful business model. Shilpi recognizes that smaller, internal successes along the way are crucial for building confidence and ultimately achieving external success. Seeing her company overcome obstacles and succeed is a source of pride and accomplishment for her.
What holds in the future for Shilpi?
Shilpi has three main objectives in mind for both her professional and personal lives. Her first career goal is to be among the top 100 women in business globally. By fostering opportunities exclusively for female entrepreneurs, she hopes to close the gender gap in the startup scene in India.  By bolstering their confidence and inspiring them to follow their dreams, Shilpi seeks to empower women, especially those who did not attend prestigious universities. Her second objective is personal; she wants to visit every one of the countries she hasn't yet visited to learn about new locations and cultures. Lastly, a few years down the line, Shilpi envisions founding her own company with sustainability and environmentally-friendly products at its core owing to her commitment to building a socially responsible company that has a positive impact.
Some takeaways from Shilpi's professional journey

Shilpi has learnt that failure need not be feared and can really teach us important lessons that can help us succeed in the future. She also thinks that taking chances and facing obstacles head-on can help one improve both personally and professionally. She began her profession later than some others, but this setback helped her to become more determined to achieve and showcase her skills. Shilpi implores budding entrepreneurs to work towards their dreams without the fear of failure. 
Shilpi is a huge advocate of finding a work-life balance. For general well-being and long-term productivity, she believes that finding a balanced balance between personal and professional goals is crucial. She prefers to indulge in new experiences and pursue her interests, always aiming to be a creator, rather than spending her weekends scooped up inside her house and watching TV. Shilpi understands the value of having various interests since she thinks that being diversified guards against being unidirectional. She is aware that work cannot be the only priority because a single setback could alter one's entire life.  Lastly, she reminds everyone that they have around 100 days in a year where they can be completely free to do whatever they want, which is more than enough to build their own company on the side or start a hobby and excel in it.
Shilpi is also a creator, you may check out her handle at shilpilll.