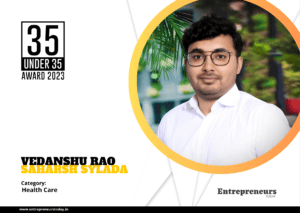 Vedanshu Rao has been the founder and CEO of the healthcare organization Aurogix Private Limited since 2021. The staff at Aurogix presently has more than ten years of collective industry expertise. With a focus on offering premium products in the nutraceutical, enzyme, and probiotic industries, the business has raised the bar for the sector with its exceptional attention to detail and dedication to innovation. Vedanshu's vision and leadership have helped Aurogix become a market leader in the healthcare sector.
The team at Entrepreneurs Today got in touch with Vedanshu to get a glimpse of his journey. 
The Founding of Aurogix Private Limited
We asked Vedanshu about the reason he founded this company. 
He shares that Vedanshu has always wanted to leave a positive influence in the healthcare sector, and that's the very foundation of Aurogix Private Limited. It was during the COVID-19 outbreak that the circumstances indicated the need for natural and immunity-boosting medications. Vedanshu saw it as a window of opportunity during a moment of crisis. Moreover, he had the knowledge and resources required to start his firm owing to his father's years of expertise in the same domain. With everything at his disposal, Vedanshu was able to transform his dreams into something tangible.
Today, he owes it all to his innovative spirit and risk-taking attitude.
"With a thorough market understanding and the unique needs of customers, we are very much focused on customer value, which will remain our USP (unique selling point)." We do not just focus on the price alone; unlike other manufacturers, we also focus on quality and value. We are giving the best quality product at a competitive price."
Challenges Faced by Aurogix Private Limited
Aurogix Private Limited had to face a number of challenges in order to manufacture its products, one of which was finding trustworthy manufacturers with whom to collaborate and have faith. Delays in deliveries and clientele losses were the results of this. To resolve these challenges, the company chose to lease a location and assume control of the entire production process. They were able to properly organize their production and give their clients appropriate schedules as a result.
Along with dealing with supply chain issues, testing and quality issues, regulatory challenges, and adapting to the market's ongoing changes, the organization also had to cope with these issues. Notwithstanding these challenges, Aurogix Private Limited has invested significantly in research and development to create its own technology. As a result, the business is able to provide a range of high-quality products at competitive prices.
We asked what success means to Vedanshu personally,
To them, success means building a trustworthy reputation in the market and gaining the confidence of the customers. Up until now, one of their major accomplishments has been fulfilling a large order within the agreed timelines for an esteemed client, which led to gaining the client's loyalty. It was the satisfaction of holding the big cheque in hand that made all the hard work and effort from the Aurogix team worthwhile. Ultimately, the road to success for Aurogix Private Limited is built on the foundation of providing high-quality products, meeting their customers' needs, and earning their trust and loyalty.
Handling Risks at Aurogix Private Limited
Aurogix Private Limited handles risks by carefully studying market trends in order to keep their business adaptable and sensitive to the market's ongoing change and re-examination of presumptions. Also, they prepare for conceivable changes in the future in their business environment, such as changes in economic trends.
Some of the best ways they can lower risk include setting priorities, setting boundaries for their responsibilities, taking part in long-term planning, and putting together the right team. Setting priorities enables Aurogix Private Limited to concentrate on its core objectives and shield them from other influences. By limiting their liability, they may protect their money and property from any unforeseen disaster. They are better equipped to anticipate and prepare for any problems and disruptions when they plan for the future.
Time of inspiration and keeping up with the trends
At a meeting where he met a well-known industrialist, Vedanshu Rao had a moment of awakening. 
"Success is not final; failure is not fatal; it is the courage to continue that counts." 
This saying has served as a source of inspiration and direction for Vedanshu, serving as a reminder to maintain his fortitude and endure in the face of difficulties. 
At Aurogix, keeping up with business developments and trends is an integral part of the company. So, to stay abreast, they make it a point to sign up for various business insights and go to healthcare conferences. This enables them to stay ahead of the curve and adjust to market changes by implementing fresh concepts and technological advancements as well as enhancing the products and services. They also use the knowledge they obtain to advance our businesses.
Work-life balance
Vedanshu acknowledges that it gets difficult to strike a balance between personal duties, business expectations, and other commitments. He further reveals that, currently, he doesn't have a lot of personal life balance because he is entirely focused on Aurogix. He notes,
"To build a successful company, I think the initial push and struggle are essential. As we grow, I intend to give our skilled team members more jobs and responsibilities so they may have a better work-life balance."
Future plans for the company
With the purpose of continuing to be dependable and sustainable even in the future, Aurogix Private Limited wants to lead the industry as a manufacturer and supplier of probiotics, enzymes, and nutraceuticals. Building its own, largest manufacturing plant in the healthcare industry is one of the company's future objectives. They are now negotiating with several venture capitalists and investors to bring their fantasy factory to life. By making an investment in its own manufacturing facility, Aurogix Private Limited hopes to increase its market penetration, guarantee the quality of its products, and boost its production capacity.
What are the lessons he has learned?
"Don't do business just to create wealth or status, find a solution and create impact. Once we find that, business and wealth will automatically grow. Also, to hold the perspective 'allow the competition to inspire you rather than derail'".
Vedanshu further adds,
"You don't need to have a business plan or a 100 people company to start a business. Only a great idea that can create an impact is enough to accomplish anything."