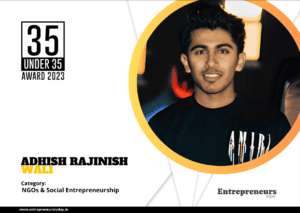 Entrepreneurs Today got in touch with Adhish Rajinish Wali, an overnight internet sensation who went viral garnering 20 million+ views for unfurling the Kannadian state flag during his graduation ceremony at the City University of London as a tribute to his grandfather, Shri Shivasharanappa Wali, Chief Editor, who launched the first Kannada Daily newspaper – Uttar Karnataka in Bidar District and is the founder Chairman of Wali Group
Getting to know Adhish Rajinish Wali
At just the age of 24, Adhish has gained recognition for his many contributions to social causes and technological innovation and achieved many impressive feats.
Adhish co-founded the Wali Foundation as the Executive Director at the Wali Group of Companies in Bidar, which is a shining example of his commitment to giving back to the community. Adhish helped thousands of households during the COVID-19 pandemic by supplying them with crucial food supplies through the foundation. 
"At Wali Group, I oversee operations under the guidance of my father, Dr. Rajinish Wali, who is the CEO of the group with a diversified portfolio of businesses that includes telecom, petroleum, travel, healthcare, media, real estate, food and beverages, hotel, and CSR," shares Adhish.
Adhish, who possesses an entrepreneurial spirit, is also a co-founder of Keshya Tech, a leading IT business. Adhish provides cutting-edge technology advice, support, services, and maintenance to clients through Keshya Tech, all the while keeping a close eye on budget-friendly strategies that maximize productivity and profitability.
He is also the first Indian to be appointed as a member of the London Youth Council and the first Kannadiga to be selected for the ParliaMentors Leadership Award- UN Award Winning Programme, honored by a Member of Parliament at the Houses of Parliament. 
Adhish's dedication to leadership and service is also demonstrated by his prior accomplishments. Adhish set a precedent by becoming the first Kannadiga to win student union elections in the UK at Coventry University while serving as a member of the Societies Board and Student Union Leader at the City University of London. 
Wali foundation
"With a vision from a young age to start a not-for-profit organization under the Wali Group of Companies as its CSR arm, I co-founded the Wali Foundation with a primary goal to serve those in need," says Adhish. 
The Wali Foundation distinguishes itself by its unique approach to community service and corporate social responsibility. The foundation gains access to a variety of companies as a member of the Wali Group of Companies, which enables it to provide a wide range of services to the community. It differs from other non-profit organizations because of its distinctive focus on giving impoverished kids access to education, healthcare, and career counseling.
Adhish reveals, "The organization also launched an exclusive free ambulance service for the cremation of COVID-19 patients as per their respective religious practices and beliefs, which is a unique and commendable initiative."
Through the Wali Shree Hospital, the Wali Group of Companies has pioneered unique services, such as the #ShreeEmergencyVahini service, which features four fully equipped ambulances and an ICU on wheels. ambulance equipped with a dead body freezer, a bipap defibrillator, and a ventilator. The ambulance is run by a full-time anesthesia specialist, which is unusual for the Bidar District. With the opening of the Wali Shree Kasturi COVID treatment center during the second wave of the COVID-19 epidemic, the foundation's dedication to providing crucial treatment and community assistance was further proven. 
Keshya Tech
Keshya Tech differs in a number of ways from other IT businesses. First off, the client-centric strategy prioritizes the client's needs and puts them at the center of all they do. They work hard to fully understand their needs in order to provide them with specialized IT solutions. This strategy encourages cooperation, openness, and trust, which results in long-lasting partnerships with our clients.
Second, Keshya Tech emphasizes the importance of scaling agile digital solutions. In order to assist customers in achieving extraordinary performance and client happiness, they make use of the most recent technology and processes. Our team of qualified experts is committed to providing outcomes that enable our clients to prosper in the ever-evolving digital environment.
Operating in both the USA and India gives Keshya Tech a global footprint and access to a range of cultural and technological perspectives. No matter where the customers are located, they can fulfill their specific demands by offering creative solutions owing to our global perspective.
Tackling challenges as a young entrepreneur
Adhish has had to deal with a number of difficulties, such as financial challenges while establishing the Wali Foundation and Keshya Tech, time management issues as a result of his involvement in numerous activities, juggling professional and personal obligations, and managing various projects at once.
Adhish reveals, "I managed to overcome this challenge by creating a balance and setting aside time for personal life. Managing multiple projects was also a challenge for me. I overcame this challenge by setting clear goals, timelines, and milestones for each project, delegating tasks to my team, and monitoring their progress."
Milestones as of the date
Adhish has been the recipient of several awards, including the Mr. Times Fresh Face 2020 Happy Skin Award at Hyderabad Times Fresh Face, Course Rep of the Month 2018 at Coventry University, Best Student of the Year 2015 at Swaminarayan Gurukul, Bidar, Best Outgoing Student of the Year 2016-17 at Christ Junior College- Residential, Bangalore, and Best CAS Student of the Year for two consecutive years, 2015-17, at Christ Junior College- Residential, Bangalore. Adhish completed his primary schooling at Holy Shepherd School, Bidar.
A bright future ahead
Adhish has several plans for the future. As a member of the London Youth Council, he aims to elevate the Youth Interfaith Summit to new heights globally by implementing innovative initiatives. He also intends to inspire and motivate the youth of India to take on leadership roles and serve society while promoting the Kannada language, heritage, and values.
As an entrepreneur, Adhish is determined to generate ample employment opportunities for the citizens of Bidar and the entire state of Karnataka. With the Wali Group and Wali Foundation spearheading this mission, he aspires to establish world-class industries in Bidar, turning it into an industrial hub in Karnataka.
The Wali Foundation is also committed to establishing top-notch educational institutions and healthcare centers in Bidar and Karnataka to serve the community's needs. Adhish plans to diversify the Wali Group's business portfolio across various sectors to become the top-ranking business entity in Karnataka.
A note to budding entrepreneurs from Adhish
"To budding entrepreneurs, my message would be to believe in yourself and your ideas, take calculated risks, learn from failures, and always stay focused on your customers. Building a successful business takes time, patience, and hard work, but with perseverance and a growth mindset, anything is possible. Moreover, embrace failures, take calculated risks, build a strong team, and be adaptable to changes."