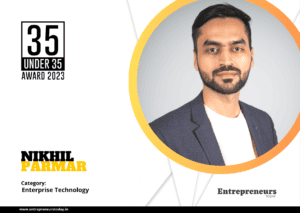 According to global statistics, over 305 million businesses are founded annually, with most of them failing within the first few years. A multitude of reasons, such as discovering a market, competing with established businesses, and earning a profit, contribute to startup failures. Moreover, securing funding for startups is an arduous task that requires significant effort and experience to navigate the competitive venture capital market. 
But what if we told you that generative AI can help by automating the process of creating a pitch deck?
It's true, and Nikhil Parmar is making it possible with his upcoming product at Impactful Pitch. By studying data on successful pitch decks and investor preferences, this technology can generate an investor-specific pitch deck, ultimately increasing the likelihood of securing funding. Not only does this technology enhance the chances of securing funding, but it also saves founders a considerable amount of time and money
At Impactful Pitch, a variety of services are offered to assist startup founders in achieving success. These services include pitch deck design, financial appraisal, business plan preparation, founder grooming, fundraising/investor contact, and mentoring.
In addition to these services, Impactful Pitch has recently introduced a new offering aimed at assisting founders in creating video pitches. Nikhil explains, "If you are a founder, you'll have to pitch to at least 40 investors. This is where we come in; we create the video pitches for these founders, and they just have to show up during the question and answer sessions."
But now, without further ado, let's get to know the founder.
The Brain Behind Impactful Pitch
Nikhil Parmar earned his undergraduate degree in mechanical engineering in Gujarat, his place of upbringing. Following over two years of work experience in the manufacturing sector, he pursued further education at IIM.
Subsequently, Nikhil accepted a corporate placement and worked for three years at ICICI Prudential Life Insurance Company. During this period, he realized the difficulty founders faced in securing funding when the vast majority of their pitches were rejected, as high as 99 percent. Upon observation, he discerned that many entrepreneurs were ill-prepared to secure financing due to inadequacies in their business model, outlook, and market opportunity within their industry.
Many founders experience obstacles resulting from inadequate documentation that fails to adequately represent their business. To address this issue, Nikhil Parmar collaborates closely with founders to develop a marketable company model and a growth-oriented mindset.
Currently, he advises founders on the documentation required to effectively market their businesses and raise capital.
With extensive experience in diverse fields such as fundraising strategy, investments, start-ups, manufacturing, finance, product development, marketing, operations, and growth, Nikhil Parmar has closely monitored the evolving start-up ecosystem since 2016. He is committed to contributing to the upliftment and empowerment of founders in every possible way. This passion has led him to embark on his angel investment journey, where he has played a significant role in the success of numerous start-ups, including Fitspire, Hesa, Stylework, Tyke, ALYF (formerly Sharenest), Algobulls, and Zypp Electric.
Throughout the journey, Nikhil has contributed to the journeys of more than 5000 start-ups which have eventually raised 50 Mn USD.
Generative AI To The Rescue
According to Nikhil's studies, the usual cost of building a pitch deck ranges from INR 40,000 to as much as INR 2 lakhs. Moreover, the turnaround period for these pitch decks is typically four to six weeks. To address these issues, Nikhil devised a solution that automates the process through AI.
Recently, Impactful Pitch launched the first phase of its product, which allows startup founders to create pitch decks. The team is continuously working to improve the accuracy of their AI product.
"Currently, we are a mix of a product and service company. The product that we have created is in similar lines to the services we provide. We are also the first ones in India to have introduced this product."
During an interview with Entrepreneurs Today, Nikhil explained the advantages of using generative AI. He used the example of the time and scrutiny it takes to create the perfect CV, and how errors can still be found even after multiple drafts. Nikhil highlighted that AI can help with the extensive process of proofreading a CV.
Given this, Nikhil considered introducing a product that would address issues in the investment process for founders and provide quicker results, similar to the benefits of using AI in CV proofreading.
A Day In The Life Of A Startup Founder: Insights From Nikhil Parmar
As the founder, he tells us that he has to work with his team closely monitoring and guiding them on what needs to be done. There is also the tech team that requires his attention in terms of product architecture. His day is primarily devoted to mentoring startup founders and assisting them in understanding the realities of their sector and place in the market. Furthermore, he helps them come up with strategies since entrepreneurs are often preoccupied with running their businesses and may not have time to concentrate on building their mission and vision.
Nikhil's Nuggets: Lessons Learned In The Entrepreneurial Journey
"It all starts with a thought"
Nikhil Parmar, the visionary founder of Impactful Pitch, shares a powerful lesson that transcends the world of entrepreneurship: to achieve success, one must have a clear vision of their destination and set their sights on ambitious goals. It all begins with a mere idea, but with dedicated effort and strategic action, that vision can become a reality.
However, for Nikhil, success isn't just about personal gain; it's about creating a positive impact on society. He believes that entrepreneurs have a unique opportunity to effect change and influence the masses, and thus their ultimate goal should always be to add value and contribute to the greater good. And for those aspiring entrepreneurs out there, Nikhil's advice is simple: follow your passion, and the universe will conspire to make it happen.