Ritu Kumar, a trailblazing Indian fashion designer and a driving force behind the boutique fashion movement, has left an indelible mark on the industry. Founding Ritika Private Limited, a conglomerate encompassing four distinct fashion brands, Kumar's journey is one of craftsmanship and heritage.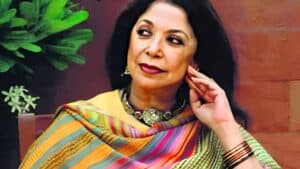 Where it all started
Kumar's career trajectory was an unexpected one, rooted in happenstance. Armed with a degree in art history with a European focus, she took a museology course in Kolkata, driven by a thirst to explore India's rich artistic heritage. 
It was during her ventures into archaeological sites, particularly the village of Serampore, that changed the course of her path. The villagers there possessed an exquisite skill in hand-block printing that lay dormant due to a lack of opportunities. This encounter stirred something within Kumar, prompting her to initiate a small-scale enterprise.
What transpired was that she provided them with designs to breathe life back into the traditional art form. The result was a collection of reimagined block-printed and embroidered saris. These creations found their initial home in a humble Kolkata grocery store, marking the genesis of Kumar's journey. Gradually, her enterprise expanded its footprint, gaining momentum as she introduced her distinctive designs to the bustling streets of Delhi.
Ritu Kumar's narrative is one of symbiosis – a convergence of her unexpected foray into the fashion world and her commitment to revitalizing traditional handicrafts. Through her pioneering efforts, Kumar not only carved a niche for herself but also played a pivotal role in the resurgence of Indian fashion, showcasing the beauty of indigenous craftsmanship to the world.
The challenges
At the outset of her entrepreneurial journey, Ritu Kumar confronted a desolate retail landscape in India. The British colonial era had cast a long shadow over the nation's crafts and textiles sector, subduing it for well over a century. Designs were confiscated, replicated in Britain, and then reintroduced into the subcontinent for commercial gain. Despite India's emergence as an independent nation in 1947, the industry's resurgence remained sluggishly dormant by the time Kumar inaugurated her first store.
Kumar laments the erosion of sustenance, patronage, and ancestral craft heritage. A formidable obstacle stood in her path as she unveiled her saris to a public infatuated with Parisian rose-printed chiffons, relegating indigenous designs to the realm of outdated relics. Unfazed, Kumar judiciously employed a modest sum of 5,000 rupees, a strategic investment that nurtured the curation of premium fabrics destined for the skilled hands of village artisans. This pragmatic venture infused vitality into her enterprise, igniting a cycle of revitalization that saw her initial capital flourish.
With mounting momentum and the expansion of her enterprise, Kumar's unwavering determination bore fruit. Once reluctant financial institutions now extended loans against her burgeoning shipments. Through her adept navigation, Kumar ignited a transformative process, steering the course of a revival that reverberates through the corridors of India's contemporary fashion sphere.
Ritu Kumar's fashion odyssey finally took an international turn after fulfilling a substantial 1,000-scarf order for Australia-based NGO Trade Action. This milestone catapulted her into the global arena, prompting stalls in Paris and New York during the early 1970s.
Read more: Abhiraj Bhal Empowering the Gig Economy in India With Urban Company