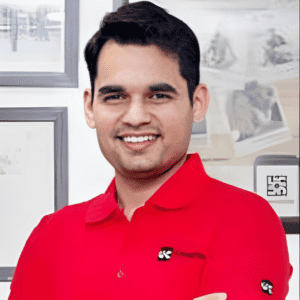 Founded in 2014 by Abhiraj Bhal, Varun Khaitan, and Raghav Chandra, Urban Company has redefined how Indians access essential services. Headquartered in Gurugram, this digital platform connects customers with vetted professionals, spanning cleaning, pest control, plumbing, beauty, and more. With a user-friendly app, over 30,000 trusted practitioners, and operations in 22 cities, Urban Company streamlines service booking, tracking, and payment. 
A rigorous screening ensures top-notch expertise, and this has earned Urban Compan the "Most Innovative Start-up of the Year" award in 2019 and $110 million in backing from investors like Ratan Tata. 
Urban Company's driving values, according to Bhal: customer-centricity, ownership, transparency, and innovation. By putting customers at the forefront, taking responsibility for their work, operating transparently, and perpetually innovating, Urban Company strives to simplify lives and elevate user experiences.
Getting started
Bhal, driven by an entrepreneur's spirit, aimed to streamline lives through Urban Company. The platform's mission was clear: curate a comprehensive hub for household services, sparing people time, energy, and funds. The essence was linking consumers with dependable professionals, offering a gamut of services.
Yet, scaling Urban Company wasn't devoid of challenges. Bhal highlighted team building as a crucial hurdle. Crafting a shared vision, fostering a positive work environment, and attracting top-tier talent was pivotal in overcoming this obstacle.
Enhancing the user experience was another trial. Bhal's solution involved heavy technological investment, ensuring a seamless, user-friendly interface accessible to all.
Etching a name for itself
In a recent interview, Bhal shed light on what sets Urban Company apart from its contemporaries in India's home service landscape. He emphasized the company's unwavering focus on quality and dependability. A meticulous selection process ensures that service professionals meet rigorous quality benchmarks. Bhal also underscored the platform's user-friendly experience, simplifying service booking and request tracking.
When it comes to user safety, Bhal reaffirmed Urban Company's commitment. Rigorous background checks are conducted on all service professionals prior to their inclusion. Further enhancing transparency, the platform furnishes user-driven ratings and reviews, enabling informed choices based on others' experiences.
Bhal highlights Urban Company's pivotal role in bridging service professionals with a larger consumer base, thus opening avenues for broader market access and enhanced opportunities. Notably, the platform has become instrumental in cultivating service professionals' brands and reputations, leading to increased work opportunities and improved earnings.
Future plans
Peering into the future, Bhal outlined Urban Company's ambitions. The company seeks to expand its services and extend its footprint to untapped markets. With aspirations to be the definitive home service platform not only in India but globally, Urban Company is committed to enriching its user experience through innovative technology.
In anticipation of the future, Bhal foresees substantial growth within the home service sector. The burgeoning demand for home services coupled with the expanding gig economy is expected to drive the emergence of more accessible and cost-effective platforms and technologies.
Offering counsel to budding entrepreneurs, Bhal underscores the importance of nurturing a resilient team, unwavering commitment to one's vision, and an attitude of continuous learning and adaptation. The entrepreneurial path is riddled with challenges, yet its rewards are substantial.
Read more: From Foodiebay to Food Tech Giant: The Evolution and Impact of Zomato and Deepinder Goyal