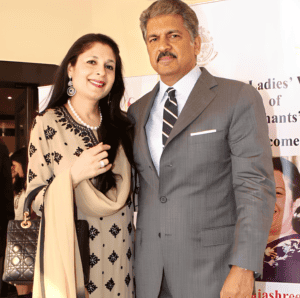 Anuradha Mahindra's remarkable journey from a college student to a prominent figure in luxury and lifestyle is an inspiring story of creative pursuit. As the co-founder of Man's World magazine and the founder of Verve, a benchmark of sophistication, she has earned her place alongside the illustrious Anand Mahindra, one of India's celebrated industrialists.
Born and raised in Mumbai, Anuradha's path crossed with Anand Mahindra during her days as a psychology student at Sophia College. Their fateful encounter set the stage for a life that would become a symbol of love, passion, and creativity in the world of luxury and lifestyle.
Anand, a young and ambitious student in Indore, was captivated by Anuradha's charisma and intellect. Love knew no boundaries as their affection blossomed, and Anand took a bold step, pausing his studies to be with Anuradha, showing that love and commitment are the foundation of success.
In a classic romantic gesture, Anand proposed to Anuradha with his grandmother's ring. Anuradha cherishes this heirloom as her most beloved possession to this day.
Anuradha's ventures
From the U.S. to India, Anuradha's passion for communication flourished at Boston University, setting the stage for her impressive career in journalism and publishing.
Anuradha's creative genius co-founded 'Men's World' magazine, which captured hearts nationwide with iconic Bollywood figure Shah Rukh Khan gracing its debut cover. The magazine set a high standard for men's lifestyle publications in India.
In the luxury lifestyle space, Anuradha launched 'Verve' magazine, epitomizing sophistication. As editor-in-chief of Rolling Stones India, she continued to shine, guiding the magazine to greater heights.
Delving beyond the glitz of publishing, Anuradha finds solace in the works of literary giants like Murakami and García Márquez, showcasing her deep appreciation for creative expression. Anuradha's passion for creative arts shines through her involvement in initiatives like ARTISANS' and The India Story's Advisory Board, promoting sustainable indigenous art, crafts, and contemporary Indian design on a global stage.
Anuradha's philanthropic Endeavors
As a trustee of the K. C. Mahindra Education Trust, Anuradha actively contributes to providing educational and financial aid to underprivileged children, uplifting lives, and fostering potential.
Anuradha is a pillar of strength, providing unwavering support to one of India's celebrated industrialists. Her journey from a college student to a prominent figure in luxury and lifestyle exemplifies the power of love, determination, and creativity.
Read more: Ritu Kumar's Unexpected Foray Into the Fashion and Entrepreneurial World