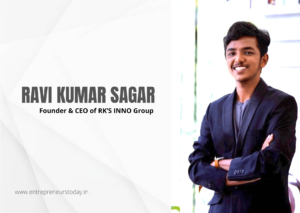 In conversation with Ravi Kumar Sagar, a name quoted by every next-door aspiring Young Entrepreneur in the Telugu Twin states. At 21, he achieved Rs.2 crores turnover amidst of pandemic in 2020. And at 22 years old, he became the Founder & CEO of RK'S INNO Group, consisting of RK'S INNO Technologies Pvt Ltd, INNO Businesses Pvt Ltd and Achieve Entrepreneurs Academy Pvt Ltd.
Early life and childhood
Ravi was born on 14th April 2000 in a small town called Gudur near Kurnool in Andhra Pradesh. Even though he belonged to a middle-class family, his father had provided every best thing within his capacity. In school, he was average in his studies but very active in dance and extracurricular. A small family, father, mother, sister and him. But soon when he was in 6th standard at the age of 12, he lost his mother due to cancer and the family got in to deep financial struggles. A lot of money was spent on the treatment. After the cancer was diagnosed there were only 3 months left, knowing that she could not be saved, still their father tried his best to save her life with good treatment till her last breath. Things had changed, he and his sister were shifted from private school to Govt school and their father went to multiple works to meet their financial needs, and brought back some stability. After his 10th standard instead of going to Intermediate, he was very keen to join the 'Diploma in Agriculture' and convinced his father, and joined the college in 2016.
Teenage challenging situation turned in to a lesson of inspiration
In the Agriculture college, he became more studious as he chose Agriculture with his own interest and started scoring high marks and topping among boys. Ravi said, "from when I was 17, I had many thoughts about different businesses and I used to talk to my friends about the same, and I used to think of doing something big in business after completing the college studies". But peer pressure made him go out of the focus and pulled him to join them for chilling out, so the pocket money given by the parent was no longer enough. So he joined for the silly college cricket betting along with other boys. Initially it was all fine and got Rs.2000 to 3000/-, but soon after he started losing and got in to debt of Rs.10,000/-, which he owe to his fellow peer group, who were also his own childhood friends, and when those boys forced him to pay back that money with a threat that they would inform to his father, Ravi said " for that tender teenage that felt like end of road for me, I was scared to inform my father, didn't know what to do, I decided to end up my life and sourced out some sleeping pills. But before having them, I wanted to at least talk to one of my friend, and want to confide, so I rang up and explained everything to her over the phone. At that moment she said only one thing "please be alive till I come to the college tomorrow morning, until then don't do any harm to yourself" and she took a promise. Next morning she came to the college and spoke to me, she asked me, how can I think of ending up my life just for the sake of Rs.10,000/- debt?? You can even borrow from 2 other places for time being, but thinking to end up? Is it the justice you are doing to yourself or to your father, who grew you up all through your life till now with love and with all his hard struggles?? Instead, reduce your expenditure now and aim to earn well after completing your studies, and she helped me to repay to them. Ravi said, good friends will save life, but beware of the wrong friendships. I realised ending up the life is not the solution for anything. The life and death situation for the 10k made me to get the roaring passion to earn money and here I am today as an achiever at 21, who won the "YOUNG ENTREPRENEUR OF THE YEAR -2021" award.
Freshly out of the college with "Diploma in Agriculture" and straight in to the harsh reality of the traumatic salary system. "That is when the passion for business and the fire for money, ignited me to earn more and more with my determination and hard work besides doing smart moves in fetching the opportunities" said Ravi in the most empowering tone.
He continued saying….It was year 2018, I completed my Diploma in Agriculture and joined in a Soil testing Lab for a monthly salary of Rs.5000/- as a fresher at the age of 18. That salary was not sufficient even for a minimal survival. But still I continued over there for 6 months. I had ideas but no guts to leave the job as any other youngster with fear of losing the job security. Finally at the end of six months I quit that 9 to 5 job and took up a freelance soil testing survey project for the crop insurance from Mr.Narendra Reddy through a friend's introduction. Here I was paid Rs.250 for doing one soil testing for one field. Initially I was asked to do testing for 2 fields per day, So I started earning 2X250=Rs.500/- per day which made an earning of Rs.15000/- per month straight after 5000/- per month. Ravi said " I understood I can do more than this, now I aimed to earn Rs.5000/- per day not 500 per day any more. And then I asked Mr.Narendra Reddy, if he can give me more field surveys even if they are far away. Then he said he got a contract from Nellore, but I have got to travel all through the areas over there, I said I am ok to go. Till then I was using my father's vehicle, but now I needed an other bike to go to an other town and to work there. So I asked my father for Rs.25,000/- as I always give my earnings to him. So the same day I bought a second hand (pre-owned) bike and left to Nellore along with my boss Mr.Narendra Reddy. After reaching there they said, it will take an other 10 days to take the fields for survey. Then Mr.Narendra said, the fields are ready for survey in Prakasam, so from there I alone went to Prakasam and Mr.Narendra went back from Nellore. Prakasam is a very rural area, no lodges to stay, so a person from the local area gave me the shelter to stay, but I struggled a lot for getting proper food. There are days when I used to eat one Dosa in the morning and a slice of watermelon at night, in this way I have even struggled for food for a week and I felt very home sick, as I was away from my home for the first time in life, I silently cried for 3 days and wanted to go back home. But I decided not to go back until at least I earn back Rs.25,000/- which I spent on buying the bike. Then I stabilised myself and started working hard. Later in few days the Nellore fields were ready for soil testing survey, so I went to Nellore and started my work in a full fledged way and even reached my Rs.5000 a day goal on few days, and I always thought and planned about maintaining that 5000 consistently. At one time I even wished I should earn Rs.50,000/- per day. I successfully worked on this Nellore project for 2 years from 2018 to 2020. I recruited more than 100 employees covering 5 districts of Andhra Pradesh to carry out soil testing surveys. I am humble to say that all of them are much more experienced than me, but I earned the command and success in that field of work to lead them.  My work in Nellore was going on well until the Covid Pandemic has started in March 2020 and we all went back to our homes and spent at home for months during the lockdown. But I have got a humble memory to share from Nellore, I got a new friend over there, and he offered me to stay at his home, all the while I worked in Nellore. During my stay even his parents treated me like their own son, they even gave me bed coffee, which I never got even at my home (he smiles…..).
"He became an Entrepreneur at the age of 20 amidst of the covid pandemic and made a turnover of Rs.2 crores in the year 2020, where even the Business Giants saw the down fall globally".
His Entrepreneurship journey……….in the lockdowns while the whole world was stagnant and sitting at home and trying to pass the time, mobile phones with the Tik Tok occupied a big space of entertainment in most of the people's lives globally. Ravi said, he saw a Tik tok video from a PPE manufacturer saying that he sells sanitizers and masks for the whole sale rate and his mobile number also was given in the tik tok . This video caught the attention of Ravi, after thinking for about a whole day, he contacted the manufacturer and took the details. He felt very confident in the way that person explained about the PPE business, he is Rakesh he acts in the TV serials. Though Ravi had no practical idea about how can he sell these, but still he decided he should do this sanitizer business based on the prospects. Next day when he was travelling to Karnool on bike with his father, he saw a man parked his car and selling the sanitizers and masks. He asked his father to stop the bike, and he went to the seller and asked for how much he was selling, then he asked for how much he was buying the sanitizer. Initially the seller refused to reveal the buying price, but Ravi convinced him that his known people are manufacturing the sanitizers and he said he also knows the distributors, so I can give you for much lesser than your buying price, at least by 20 to 30% lesser. Then the seller gave his visiting card and told him to meet them in the office next day. Ravi went to the seller's office next day along with a friend who looks more bigger as Ravi used to look like a teenage kid those days, as he just turned 20, and the big businessmen may not take him seriously (he laughs…. while saying to me). They placed an order for Rs.10,000/-, whatever money Ravi had from his earlier earnings he spent during the lockdowns, though remaining was with his father, he didn't want to ask him, as this sanitizer business was only a trial at that time. So Ravi along with his friend arranged for the 10k amount and they got the stock and delivered. Later Ravi borrowed from his aunt Rs.40,000/- and bought a huge stock of sanitizers and masks and hired a godown for Rs.2000/- and kept the stock over there. And he went on marketing to Medical stores and Hospitals and distributed the stock from his godown. So gradually the goal of earning Rs.50,000/- in a day is fulfilled. Within 4 months during the first corona wave he made a turnover of Rs.90 Lakhs through these corona protection product related business and made a profit of Rs.8 Lakhs. The intensity of the first wave decreased as the covid cases reduced. But again after 4 months the second wave had started and the demand for the PPEs once again started shooting up, and this time he aimed for Rs.1 Lakh in a single day, and achieved that with the smart work by doing a turnover of Rs.85 Lakhs in a single month. So for the entire 2 Cr turnover, his investment was only the initial Rs.10,000+Rs.40,000/-=Rs.50,000/-. And he somehow could not or perhaps did not want to invest more, so he took a smarter and unique way of taking huge orders from the Hospitals and made commission based agreements with the manufacturers to supply the stocks directly to the Hospitals. In this way he generated Rs.2 Cr turnover with just Rs.50,000 investment along with the direct commission based agreements with zero investment. The young entrepreneur now proudly yet humbly says…..I proved that, 'I made a huge turnover with a small investment'; and also proved that, 'I succeeded with smart work with zero investment'.
At the young age of 21, Ravi Kumar Sagar became an Author for his book "YUVATHA VYAPARAM" (YOUTH BUSINESS), where he explains about business in  5 days.
Within weeks after publishing this book he was selected for few awards,
GLOBAL BUSINESS ICONS
YOUNG ENTREPRENEUR OF THE YEAR-2021
INDIAN ICON AWARD
INDIAN BOOK OF RECORDS
ACHIEVERS BOOK OF RECORDS
FUTURE KALAM'S BOOK OF RECORDS
Watch him at ICON TALKS by PMC TELUGU a Youtube Channel
And look for "Ravi Kumar Sagar exclusive Interview @ the Youtube Channel Money Wallet"
Also watch him at Josh Talks Telugu / Ravi Kumar Sagar
An over view in to his Businesses and Services
RK'S INNO Technologies Pvt Ltd – As the name states deals with Innovative & Creative ideas and Technologies.
INNO Businesses Pvt Ltd – Here they deal with creating & supporting small home based businesses to huge MNCs
Achieve Entrepreneurs Academy Pvt Ltd – Here they train and empower the Young Entrepreneurs to follow their passion and creative ideas of Business potential.
His Aim
His aim is to create 100 Young Entrepreneurs in the coming years
And to fulfil the hunger of 100 needy people every day.
His Message
Encourage your Young children to choose their profession based on their passion and support them as parents, then you can see many more Ravi Kumar Sagars.