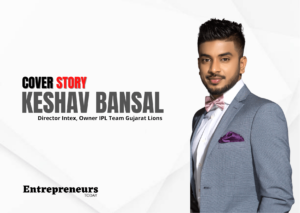 While most of us struggle with connecting our passion and profession, Keshav Bansal had little trouble with that question.
An inveterate sports enthusiast, Keshav joined Intex Technologies as a member of the Logistics department. Owned by his father Narendra Bansal, Intex is one of the largest producer of electronic goods in India. Keshav worked his way into the marketing department first, before ascending the company and family hierarchy into becoming the director of the company.
While he was busy running the company, he also decided to invest in a new IPL team in the 2016 season. The suspension of Rajasthan Royals and Chennai Super Kings. Thus, with the purchase of the Rajkot based team Gujarat Lions he became the youngest owner of an IPL team in the history of the tournament.
Early Days
Keshav Bansal had been involved in multiple sports, having represented Delhi at the state level in Table Tennis tournaments, played football for the school team, and being a national level squash player. However, in terms of his career, Keshav decided to follow in his father's footsteps, and become a businessman.
He studied management in Alliance Manchester Business School for a year, before completing the course in IILM Institute for Higher Education in New Delhi.
Business Life
He joined Intex Technologies in 2012, and swiftly rose through the ranks to become the director of the company by 2013. An young and enthusiastic professional, he dreamed of making the brand an international presence. To promote its products, Keshav contracted popular actors like Farhan Akhtar, Mahesh Babu, Suriya, Sudeep, etc, to represent the company as ambassadors of the brand. He was barely in his twenties then.
Under his tutelage, Intex reached the height of its success in India. It became the second largest producer of mobile phone handsets in the country, along with Micromaxx, Lava, and Karbonn. From 2015-2017, they dominated the market with innovative products and extravagant marketing campaigns.
Gujarat Lions
As a two year vacancy opened up for two IPL teams, Keshav became interested in owning one. The persuasive young man took all of twenty minutes to convince his father that it would be a sound investment for the brand. And with that, at the age of 24, he became the youngest owner of an IPL team.
Guajarat Lions, in its first year, boasted the likes of Dale Steyn, Suresh Raina and Brendan McCullum in its line up. Its performance was also enviable. Under Suresh Raina's captaincy, the team led the leader-boards into the qualifier playoffs before being unfortunately disqualified.
This indeed ended up being a vital investment decision as well, as the association with the Indian Premier League allowed Intex to maintain their hot streak in the electronics market till early 2018.
Personal Interests
Despite having had an active business career from his 20s, Keshav makes sure to keep time for himself and his family. Although not an obsessive fitness freak, he works out as consistently as his schedule allows, and remains ever attached to sports activities. Playing squash is his stress busting activity, away from the number crunching micro management of his professional life.
He also makes time for his family, and often takes his mother along on trips, both business and leisure, to enjoy her company.
Read More: Iconic Wealth Manager (USA) Ankit Yadav To Enter Into The List Of Big Bull Of Market The Beginning Of Investment Journey
A spiritually inclined individual, he knows not to let his ambition and work engulf him, and keep a more holistic approach to the act of living. It is an advice he happily mete out to other business enthusiasts with sincerity.
Felicitations and Future Plans
Keshav has been variously recognised for his business acumen. In 2013, right after ascending to the position of Intex's director, he was awarded the Young Entrepreneur of the Year award of 2013 from NCN. With the purchase of Gujarat Lions, he was listed among GQ's Top 50 Most Influential Young Indians in 2016. It was also the year he was awarded Amity Education Group's Leadership Award for Business Excellence, and Times Now's Extraordinaire Award for the Dynamic Young Leader.
Although Intex lost its mobile handset market to the arrival of several new Chinese companies, losing a ton of revenue in the process, Keshav has since re-strategized the brand's approach. They have shifted to accepting outsourced work from Chinese manufacturers, while organizing an expansion into AI based products like smart home and office solutions, as well as security surveillance products.
While the future is never available to us before it arrives, when it comes to Intex, we can safely assume that with Keshav Bansal as the leader, it is indeed in safe hands.