Passion drives us everyday , understand your passion, and understand what is that you want in your life because the moment you start doing what you love the most, you'll start celebrating the process – Manoj Yadav.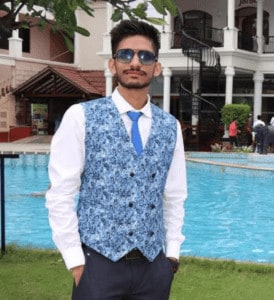 Meet Mr Manoj Yadav, a very ambitious and hardworking person. He is a dynamic personality. He hails from a rural area in Gurugram Haryana. His age is just 24 but what he achieved at such a young age is very commendable. He is doing his post graduation from Delhi University. He dreamt of becoming the top business person of the country. But as every middle class family face money problem same goes with him. But he firmly believes that if he wants to live his dream life he has to do business.
He tried various work to earn money. Like a year back he started his own YouTube channel. He is a gamer person so he creates various gaming videos. And he did very well there but at that time he did not have proper knowledge about that platform. So he started learning about it. Then he switched his focus on studies. But during Covid-19 lockdown he wanted to do something in free time. He started searching for some sort of work. Then one day he came across with affiliate marketing platform. Though he did not know about the business but he decided to start this business. Firstly he studied and researched about the business. After that he decided to start. He wanted to fulfill his dreams and give his family financial freedom And now it is time to work hard and fulfill dreams. He did the same he worked very hard and in just 3 months time he earned a six figure income. He earned more than 250k rupees from affiliate marketing business in just 3 months. He made his parents feel proud by achieving huge success. Everyone in his family supported him a lot during this journey. And now he is working even more hard to fulfill his dreams.
He helped more than 140 people to start their online business with the help of instagram. He is personally mentoring more than 50 people by guiding them and giving education and training to them. He also guide his team mates and new member with his experiences. So that they can also achieve their dreams by starting their own business. Recently he completed his Hall Of Fame.
Manoj shares that it is not necessary that we should have a government job to be successful. We can do much more in private sector just we need to identify and follow our passion.
Manoj Yadav is a successful digital entrepreneur today and is guiding approximately thousands of people. If you too are entangled in your life, how to find and work on a new opportunity in this great time. You can message Manoj Yadav on his Instagram.