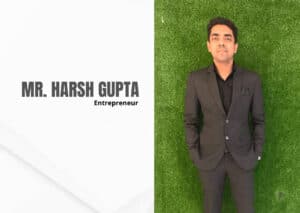 Harsh Gupta 's dreams and aspirations were always a little separate from the crowd. Born and raised in the city of Valsad Gujarat, he pursued a degree in Mechanical Engineering from Parul University in Vadodara, before dedicating himself to cracking UPSC and becoming a servant of the public.
To that effect, Harsh had moved to Delhi to prepare for the exams, when the COVID 19 pandemic interrupted the world's flow. All the education and training institutes in Delhi were closed for the time being, and exams were indefinitely postponed. This threw a proverbial wrench into Harsh Gupta's plans for the future, and disheartened, he started looking for a job that would help him survive.
His demand was not for an expensive high profile position. As a young man of twenty four years, he only wanted a job that could help him subsist through those difficult times. His search found an answer in the suggestion from an old school friend, who directed him towards iX Global.
In their own words iX Global is a self betterment platform. Their goal is to address the gaps in formal education around the world. Harsh joined the company in the capacity of a financial advisor and teacher, and swiftly rose through the ranks.
What is it that he does?
Harsh likes to identify himself as a teacher and an influencer. He has teams of people he addresses and advises on matters of the financial market, and how to begin their investing journey.
He gushes about his experience as a teacher.
It is an incredible honour to be communicating with such bright young minds and help them figure their path to financial independence. Most of his cohort of students are in their twenties. They come from all educational and economic backgrounds. He mentions a particularly favourite student who had drop out of high school due to circumstantial necessity. With his and iX Global's help, that man is currently earning a monthly income of 2.5 lakhs.
As a man in his twenties himself, Harsh's advice to his cohorts is refreshingly honest. He is quick to point out that money is an essential part of survival and existence, and we need to be aware of its movements and character. But he also states that everything is not figured out at such an early age, and warns against despair. As an example he reminisces about his situation at the beginning of the pandemic, when his plans for the future had been brutally crushed under the pandemic's weight.
Living through that period, he became aware of the value of time, and the need for sacrifices on the path to realizing long held dreams. He encourages everyone to take charge of their own destiny and work through the hardships that life throws their way. But he also stresses on the need to celebrate and enjoy the little things that make life worth living.
Do not forget the joy of living in the present, while hustling for the future.
His words are wise beyond his tender years, and his teacher persona breaks through in moments of our conversation.
Where does he see himself in five years?
He is already five years ahead of what he had previously planned. His answer is confident, but also full of wonder. He earns a respectable monthly income of about 6 lakhs, and is currently satisfied with it. He plans to focus on asset creation for the next few years, as the building blocks of a family legacy.
He doesn't want his successive generations to have to worry about earning money for their daily sustenance.
Read More: His Excellency Dr Nabhit Kapur: A Diplomat and Psycho-praneur, out to Heal the World
I ask him about the volatile world and market situation. Isn't it difficult to imagine such ambitious futures when the world is in such tumult?
He considers the question for a while.
Indeed it is. However, as a financial advisor he conceded that this is the best time to begin investing in the market. The prices are low and fluctuating, and stocks may be purchased at prices lower than the average demanded. In his classes he has consistently asked his students to use this opportunity to break in their financial careers. His voice is a little deflated by the reality of this strange world, but his pragmatic personality overrides that cynicism.
At iX Global, a native AI is used to predict market movements and help people figure out their investment patterns. When asked about his vision for India in over the next few years, he stresses on the proper incorporation of technology in the market ecosystem.
NFTs and Blockchain currencies have already overtaken global financial discussion, and Harsh thinks that it is high time that India joined the conversation with affirmative actions towards better techno-financial integration.
The youth are the future of the country, he stresses. And it is up to them to bring about the change Harsh envisions. The speed and movement of the market would be significantly enhanced, and utilizing the volatile economic climate, India might rise through the ranks of international powers and ascend to the top.
Through the several ups and downs of his life, Harsh Dinesh Gupta has fostered a fertile imagination and a stubborn ambition. Speaking with him gave me the impression that he was intent on carrying the rest of the world into the future he wanted for himself, making it safe from the inevitable vagaries of fate that afflict everyday lives.
As we end the interview, I wish him luck. He chuckles an appreciation. Very characteristic of his firm and to the point way of holding conversations. I imagine him speaking with the same confidence, addressing a room full of enthusiastic young people, yearning to find stability in such difficult and disillusioning times.
There's a bit of solace in that image that I try to hold on to.