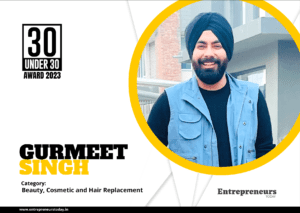 Gurmeet Singh had gathered sufficient experience in various different fields when he decided to launch his latest venture, Hair Wig House Pvt Ltd in 2018. With a transparent and confident business process, Gurmeet was quickly able to establish himself as a dependable alternative to surgical hair replacement services, with his quick, easy, and customizable human hair wigs. Over the five years of its existence, his business has already become the primary option for non surgical hair replacement services.
Identifying a Gap
Hair fall and baldness is a common everyday problem that has fostered its own industry. From various applicant solutions, like oils, creams and shampoos, to complete hair treatment options that attempt re-growth through lifestyle changes, the market is flooded with choices for anyone looking to combat hair fall. Then there are the surgical hair implant treatments available to the brave and rich.
Gurmeet knew that in order to break into this particular business, he had to provide an unique and effective solution. While experimental hair re-growth practices could attract curious customers, it would not be enough to sustain a viable business. So he chose to work with an old and well known option, and worked to make it more accessible to the interested people.
Growing from Scratch
Like many other aspiring entrepreneurs, Gurmeet comes from a business family. Having grown within the confines of its jargon, he knew that providing a service was not enough, he needed to market it well to reach customers. This is especially true in the current age of constant connectivity and screen addiction, where all our information comes from the different social media platforms. Advertisements and news are interchangeably expressed, and one is hard pressed to differentiate between the two.
Gurmeet knew to capitalize on this digital media trend, but was also acutely aware that his communication with his prospective customers needed to be simple and to the point in order to capture their imagination. For that, he needed a product that spoke for itself.
Wigs, hair patches, and toupees have been a part of history since times immemorial, probably as long as hair fall and baldness has afflicted the human race. As a producer and retailer of such ubiquitous items, he had no need to convince his customers of its viability as an option. So Gurmeet chose to simply demonstrate the effectiveness of his products through the brand's YouTube and Instagram profiles.
Hair Wig House's current social media following exceeds more than 1 lakh people, who are exposed to the different kinds of hair pieces that are available. Prospective consumers are educated about the different methods used to apply wigs, and how they may be customised to their needs and wants. The products options available range from clip based frontless patches, to tape based patches that may be removed and applied at home.
This marketing strategy worked wonders for the brand, and Hair Wig House had soon become an effective solution to cover baldness. The comprehensive demonstration videos that covered all the minutiae of the application, customization, and maintenance process in detail, helped convince many people to try it out.
Hitting a Rough Patch
Gurmeet's brand saw exponential growth over the first few years of its existence, such that in 2020 they were vying to open a 4000 sq foot outlet, which would have incidentally been the largest hair replacement salon in the country till date. But the year's plans fell on uncertain ground with the advent of the COVID 19 pandemic. The complete lockdown of the non essential commercial services ended up being a huge hindrance to the business. But Gurmeet kept faith in his vision and his team. As an experienced and savvy business person, he knew that hurdles were part and parcel of running a company, and the only way to tide through such difficult times was to keep an open mind.
Sure enough, as the first wave of the pandemic settled down, Hair Wig House was once again back on track with their plans. By the end of 2020, despite the major setback at the beginning of the year, Gurmeet's brand had opened two new outlets across India.
With unwavering faith in his team, Gurmeet had simply continued running the part of his business that hadn't been hindered by the lockdown. His brand's social media remained consummately active, and he continued to educate his followers on the ways of effectively availing non surgical hair replacement practices. This made sure that the company's services remained in public awareness, and the business could pick up as soon as the sanctions of the pandemic were lifted.
Mapping the Future
As of January 2023, Hair Wig House boasts of over 10000 satisfied customers across India. The brand has a whopping 6 major outlets in Delhi, Mumbai, Jaipur, Indore, Chandigarh, and Lucknow. Their work has been endorsed by noted character actor Sumit Gulati, who is himself a satisfied customer of the brand, and awarded the title of The Most Popular Hair Replacement Centre by superstar Sonu Sood.
Gurmeet, of course, has no plans of slowing his progress. His aspirations are driven by his philosophy of growth, where stagnancy equals death. In fact, his business ethic has been successful largely because he has focused so heavily on customer satisfaction, rather than profit motivation, knowing full well that effective service would ensure customer retention and good business by itself. So his lively demeanour envisions a future full of good hair days, and great customer service.