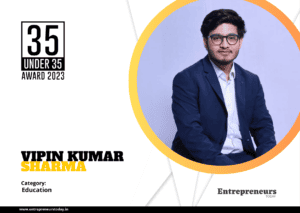 Dr. Vipin Kumar Sharma is an accomplished academician and entrepreneur with a diverse educational background. He has been actively involved in the field of education and is currently serving as the Director of Growth at Physics Wallah, a prominent ethics company.
Entrepreneurial spirit
Dr. Vipin Kumar Sharma has had a successful career in entrepreneurship, having previously founded and operated several startups in the education sector. His prior experience in running these ventures has provided him with valuable insights and expertise that he brings to his current role at Physics Wallah.
In terms of his educational background, Dr. Sharma holds a Bachelor's degree in Biological Sciences. He further pursued his academic interests and earned a post-graduation degree in Biochemistry, where he excelled and was honored with a gold medal by the esteemed Education Minister of Haryana.
Driven by his passion for knowledge and continuous learning, Dr. Sharma pursued additional academic qualifications. He got his doctorate degree in Education and he's pursuing PhD in Biochemistry (Cancer Biology) along with learning various disciplines like Business and Psychology by urge, further expanding his expertise across scientific disciplines. He aspires to learn 20+ Disciplines throughout his life.
This prestigious recognition highlights his dedication and significant impact in the realm of teaching and learning.
The aligned vision of Vipin Sharma and Physics Wallah
Dr. Vipin Kumar Sharma was inspired to join Physics Wallah due to the alignment of its value proposition and target audience with his own vision and mission. Physics Wallah focuses on catering to students from tier two and tier three cities who may lack resources and come from modest financial backgrounds. These students face challenges in preparing for competitive exams and striving for academic excellence. Driven by a shared commitment to empowering such students, Physics Wallah aims to provide them with the necessary resources and support to level the playing field and succeed in their educational pursuits.
Dr. Sharma, having previously been involved in startups in the education sector, understood the importance of accessible and affordable education for all students, regardless of their background. Physics Wallah's vision resonated with him, as it shared a common goal of reaching out to those who face resource constraints but aspire to excel academically and secure promising opportunities.
The mission and values of Physics Wallah, coupled with its focus on tier two and tier three students, touched Dr. Sharma's heart and connected with his personal beliefs. He recognized the significance of supporting these students and providing them with a platform to bridge the gap and compete on an equal footing with their peers.
A leg over competitors
The unique selling proposition (USP) of Physics Wallah lies in its disruptive pricing strategy, which sets it apart from its competitors. As compared to other players in the market, Physics Wallah stands out by offering online courses at a significantly lower cost. While competitors may charge around 50,000 to 1 lakh rupees for similar online courses, Physics Wallah offers its courses for only 4000 to 4500 rupees.
This disruptive pricing strategy enables Physics Wallah to reach a larger audience, particularly students from tier two and tier three cities who may have limited financial resources. By making the courses more affordable, Physics Wallah aims to bridge the gap and provide equal opportunities for students who are unable to access expensive education platforms.
Furthermore, despite the lower cost, Physics Wallah ensures that students receive maximum resources and high-quality content. The company prioritizes delivering comprehensive study materials and resources to its students, allowing them to prepare for examinations effectively and efficiently. By maintaining a balance between affordability and content quality, Physics Wallah provides a competitive advantage in the market.
Overcoming hurdles
The initial challenges faced by Physics Wallah revolved around scaling up and expanding their offerings beyond its initial target audience. Initially, Physics Wallah focused on catering to the needs of students preparing for Class 11, Class 12, NEET, and JEE examinations, which are highly competitive and popular in India.
However, as the demand for their courses grew and the disruptive pricing model proved successful, it became necessary for Physics Wallah to scale up and diversify their offerings to cater to a broader range of examinations. This presented a challenge in terms of expanding their team and resources to meet the demands of different categories like UPSC, GATE, IIT JAM, SSC, TET, K-8, CUET, CAT and many more.
To overcome these challenges, Physics Wallah had to invest in recruiting additional educators and subject matter experts to develop high-quality content for the new categories. It was important to ensure that the expansion into different examination categories maintained the same level of excellence and comprehensive resources that students had come to expect from Physics Wallah.
Additionally, as Physics Wallah expanded their reach and offerings, they faced the challenge of building a strong and knowledgeable community of students. This involved fostering a sense of belonging and engagement among the students and providing them with a platform to connect, share knowledge, and learn collaboratively.
Major milestones
Vipin Kumar Sharma has achieved numerous accolades, including being ranked among the top 25 YouTube channels for Biology globally, winning the Silver Creators Award as the youngest biologist with over 100k subscribers, receiving the Young Teacher of the Year Award and Content Innovation Award, being honored with several Young Scientist Awards, receiving Honorary Doctorates from various universities, and being recognized as one of the 100 Influential Indians and Top-100 Emerging Authors by Fox Story India. He has also been a panelist and guest of honor at prestigious events such as the EFI Entrepreneur Conclave. He was also a TEDx speaker and guest of honor twice, and represented himself and his company in hundreds of speaking events. He is also currently writing his first fiction book, Womb Twelve, which is about to be released in coming month.
Maintaining work-life balance
To manage his workload effectively, Vipin Kumar Sharma maintains a tracker and schedule for his tasks. He schedules meetings and personal interactions to streamline his work and ensure efficient use of time. He plans his tasks a day in advance and regularly checks on their progress throughout the day. He also dedicates weekends to his family and takes time off to maintain a work-life balance.
What holds for the future?
In terms of future plans, Vipin Kumar Sharma aims to continue expanding his knowledge in various subjects, including Psychology, Philosophy, Economics, and Geography. He plans to take on new challenges and risks, working closely with leaders and founders to develop effective problem-solving strategies. He also envisions contributing to the welfare of students through his teaching and aspires to handle larger responsibilities and a significant profit and loss (P&L) portfolio at Physics Wallah. He seeks continuous learning and growth throughout his professional journey.
Lessons learned
One of the key lessons Vipin Kumar Sharma has learned is the importance of being gritty and knowing when to quit. While persistence is important, it is equally crucial to recognize when to quit certain endeavors and focus on goals. He emphasizes trusting one's ideas and not worrying about others' opinions, taking risks based on strong conviction. Additionally, being data-driven is essential, as numbers have the power to speak and guide decision-making more effectively than mere gut feelings.