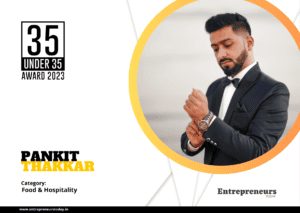 "One fine day, I received a call from Times of India for an interview. I was wondering why, but when I was told that Laa Unico had been awarded as the most popular and trending vegetarian restaurant in Pune, I was on cloud nine. I had been putting in my efforts with pure intentions and love for the work I do, but I felt so grateful when the world recognized and awarded my efforts. It was all worth it! I could see the pride in my parents' eyes, and the reason was me."
In an interview with Entrepreneurs Today, Pankit shares one of the most inspiring moments from his journey. Let's get to know him a little bit better. 
Pankit Thakkar is an Entrepreneur with 12+ years of experience in the hospitality industry. He holds a postgraduate degree in computer applications from Symbiosis College, Pune. He is the founder of a restaurant named 'Laa Unico,' which offers a wide range of unique cuisine from Continental to Indian to Italian to gastronomy chat, along with a superb selection of 50+ unique Mocktails from their Mocktail bar. The restaurant provides exceptional customer service and a dining experience that is both memorable and enjoyable. Pankit Thakkar is also the founder of Social Heroes NGO, which aims to give back to society. He has received several awards such as Times Hospitality Icons award, Youth Icon award, and much more. The restaurant is located centrally in Pune near Swargate.
Inception of Laa Unico
"Laa Unico" is an Italian name which translates to "The Unique One". The restaurant aims to offer unique dishes to its customers and create a space where people of all ages can come together and enjoy. They have dishes that cater to all age groups, including non-alcoholic fruit juice shots for adults to start their meals.
Pankit Thakkar was inspired by his passion for the hospitality industry and the need in the market for pure vegetarian food with a unique touch that people from all generations could enjoy under one roof. He wanted to create something that would provide a unique value proposition and set his restaurant, 'Laa Unico,' apart from its competitors.
His goal was to be a trendsetter in the hospitality industry and create some unique dishes that were not found in other restaurants' menus. After conducting extensive research and planning, he decided to take the leap and start his own restaurant. Pankit Thakkar created a detailed business plan that outlined his mission, vision, and strategy for success. He also gathered a team of professionals who shared his vision and had the necessary expertise to help bring it to life.
The Unique in Laa Unico
What makes Laa Unico, unique is its focus on providing a memorable dining experience that engages all of the senses. The restaurant offers a carefully curated menu that showcases the best of the cuisine with unique presentations and tastes. The menu features a lot of Fusion & Modern Indian dishes like Shev puri Tacos, Dabeli Pizza, Paneer Sushi, and much more, which are not found anywhere else in the city/India. The restaurant also boasts a gastronomy Mocktail bar with 50+ unique mocktails. Additionally, the restaurant caters to all generations, from small children to teenagers to grandparents, with food that suits their tastes. Laa Unico has a warm and welcoming atmosphere, designed to make customers feel like family, and the service is attentive and professional. Pankit Thakkar's focus on hospitality and innovation sets his business apart, and he is always looking for new ways to improve and serve the community.
Laa Unico's marketing strategy is in line with its unique name as they focus solely on digital promotion, rather than traditional methods. They promote their restaurant through social media platforms like Facebook and Instagram, showcasing their ambience, unique dishes, and festivals. Festivals such as Navratri and Ganesh Chaturthi are particularly significant for Laa Unico, given their Marwari and Gujarati customer base. During these occasions, the restaurant staff wears traditional costumes known as Kedia, and the ambience is decorated accordingly. The restaurant films the videos of these events and shares them across social media platforms.
In addition, they value their customers and maintain strong relationships with them by regularly taking feedback. This helps them understand their patrons' preferences, improve their services, and maintain a loyal customer base.
Challenges Encountered
As with any entrepreneur, Pankit Thakkar has faced challenges in his business. One of the biggest challenges he faced was starting from scratch again after the lockdown, which had a significant impact on the hospitality industry. Another challenge he faced was finding and retaining human resources, which is a common challenge in the hospitality industry. Additionally, being from a computer science background, the hospitality industry was initially a big challenge for him. However, he leveraged his strengths in networking and online and offline marketing to overcome this challenge. Pankit's creative touch and willingness to do things differently helped him design a unique menu and ambiance that sets his business apart. He also made sure to give the best possible service to his staff and treated them like family, which helped him build a team of talented and motivated staff who helped take his business to the next level.
Milestones Achieved
"It's one thing to get inspired by others, but it feels the best to see that you have been an inspiration for people. It is for something that you have created, which is seen as a benchmark by new generation entrepreneurs."
Pankit Thakkar has been recognized for his achievements as an entrepreneur in the hospitality industry. He has been awarded the Icons of Pune and Youth Icon awards, and his restaurant has been recognized as a Popular & Trending Restaurant and Best Veg Gastronomy Restaurant. Laa Unico has also been covered by various media publications such as Times of India, Indian Express, and Femina. Additionally, Pankit measures success through customer feedback and retention, which has helped him build a loyal customer base and attract new customers.
Future Plans and Lessons Learned
When asked about his plans, Pankit says,

"I have already taken a step towards my future plan by creating a banquet hall for small celebrations. After all these years, I have realized that I enjoy my work when it involves watching people have fun. Therefore, I plan to expand into any areas that allow me to focus on Laa Unico and expand simultaneously."
Pankit believes that patience and hard work are crucial to achieving success. Secondly, he thinks it's essential to listen to your heart and apply your mind to plan and execute your dreams. Finally, Pankit emphasizes the importance of building relationships and connecting with people. He believes that individuals cannot accomplish great things alone and that adding people to your team is crucial for success. As a result, he has become known as a "People Magnet" amongst his friends.
Pankit has also learned the fact that life will always be demanding, and that we have limited time on earth with many things to do. Balancing family and friends, along with running a business, requires care, attention, and focus. Pankit has found spiritual guidance in Guruji, Sri Sri Ravi Shankar, who has taught him to maintain his sanity in this chaotic world. Kriya and meditation help clear Pankit's mind and prevent him from dwelling on the past, leaving him with more space to focus on the present and future work-life balance challenges. Additionally, Pankit enjoys playing cricket, which serves as a form of happiness therapy for him. He believes in celebrating life and living it to the fullest since life is short. To balance everything, setting priorities is essential.