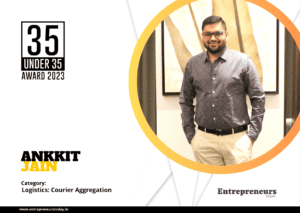 "It's best said that your own experience is your best teacher- Having worked across e-commerce platforms and understanding how money can quickly and silently slip away with unmanaged logistics was one of the key factors that laid the foundation for Bigship."
But who are they, and what does Bigship do?
BigShip is a revolutionary shipping aggregator powered by artificial intelligence (AI) that provides streamlined logistical solutions. They specialize in giving organizations in the B2C, B2B, D2C, and cross-border segments hassle-free logistical services. The company has a significant presence in India, serving over 29000 pin codes, and provides both commercial and non-commercial shipping to clients in over 150 countries.
The groundwork for Bigship was created with a dedication to providing excellent customer service and bringing selected carriers from all over India to one platform. At Bigship, they believe in going with the flow because their team of more than 80 specialists knows that change is the only constant in life. 
Ankit Jain, the founder, believes that "to have a sustainable business model, studying the market and bringing solutions best suited to the change is the key."
Bigship's team of over 80 specialists, who are dedicated to addressing client needs and adjusting to market changes, is at the core of its success. The business firmly believes that in order to give customers the greatest service possible, it is crucial to be adaptable and agile.
What sets Bigship apart?
BigShip is a company that specializes in B2B, B2C, D2C, and cross-border aggregation. As a leader in B2B aggregation, BigShip was the first to integrate a variety of carriers that handle B2B shipments onto their technological platform. Although B2C aggregation is a widely used service in the industry, they have set themselves apart by also taking care of B2B shipments.
For companies of all sizes, their streamlined software has made logistics operations exceedingly simple. They also handle cross-border shipments, a particularly intricate and difficult area of logistics for the typical user.
BigShip places a high priority on the security of their customers' shipments. To protect the client's financial interests in the event that their shipments are lost or destroyed, they provide insurance services.
Moreover, the company caters to small, big, and heavy shipments and provides real-time tracking and COD facility. BigShip has PAN India coverage and accessibility across 150 countries with industry-best rates. They also offer door-to-door services and dedicated account managers to their clients. Next day remittance is available on request, and the company provides 100% third party insurance. Customers can avail themselves of these services through the user login panel on the website or get in touch with one of their associates directly via call, mail, WhatsApp, or any of the social media platforms.
Behind the Scenes of Bigship
BigShip was founded to meet the shifting demands of the market. The business initially focused on e-commerce shipments, but it quickly expanded into large shipments and became a pioneer in the aggregation sector. BigShip learned to stay up with market changes and modified its offerings to cater to different classes of business owners.
The move towards reducing the distribution channel has been one of the major industry trends. To boost profit margins, decrease inventory, and manage cash flow, many manufacturers are switching to a direct-to-consumer (D2C) model. Due to the rise in multi-box shipments made directly to retailers as a result, B2B logistics have become more necessary.
Given the significance of safe logistics, BigShip provides insurance coverage as a value-added service. Ankit explains that before, insurance coverage was a big issue for logistics, as some carriers didn't offer insurance or claim services. The supply chain became more dangerous as a result, especially for MSMEs who lacked access to an insurance service provider. BigShip has filled this vacuum by offering third-party insurance to its clients as a value-added service, protecting their businesses and offering a secure and loss-proof shipping option. 
Today, BigShip is a dependable logistics partner for companies of all sizes because of its efficient, secure, and guarded shipping solutions.
Bigship's milestones so far
In the fiscal year 2021–2022, Bigship Logistics saw a 10x increase in revenue and a 4x expansion of its personnel. In addition to offering worldwide shipping to more than 150 countries, the organization offers shipping services for more than 29000 Indian pin codes. For their supply chain solutions for Big Giants like Amazon, Nykaa, Myntra, and Metro Cash and Carry, Bigship has partnered with Indian SMEs, offering specialized appointment-based deliveries. Recent door-to-door delivery services for heavy products provided by the company in partnership with Indian Railways have helped to expand business and increase operational capacity. 
Finally, Bigship's partnership with Indian Railways represents a critical milestone in reaching the National Logistics Policy's ultimate goal of reducing the logistics cost from 13–14% of GDP to single digits.
Scaling Up Operations and Expanding Services Globally by 2024
By 2024, Bigship Logistics expects to have multiplied its current 10,000+ clients by 200 times. The business intends to launch international services, including cross-border services and a franchise network, in order to grow its operations and revenue. In addition to extending its reach to the USA and the Middle East, Bigship will establish additional office branches in Gujarat, Mumbai, Surat, and Ahmedabad. In order to expand its operational capability and raise the caliber of its services, the company will also hire 200 specialists at various levels across a range of verticals, including supply chain, technology, and logistics operations. Bigship Logistics anticipates making progress in FY 2023–2024.
Additional thoughts by the Founder:
We asked Ankit about the impact of artificial intelligence and other emerging technologies on businesses in the era of accelerated digital transformation. He responded,

"Accelerated Digital transformation has been one of the biggest challenges nowadays. Artificial intelligence (AI) is already starting to augment all of our businesses, and that trend will continue to accelerate next year. At the same time, other technologies like 5G, blockchain, the cloud, and the Internet of Things (IoT) are building and speeding up AI, and all of them are enhancing each other. This is rapidly creating a world of ever-faster technological developments. In response, every business must think of itself as a tech business. We understand we need to re-design the processes and ensure that people have the skills needed for a world where we increasingly collaborate with and work alongside capable and intelligent machines."
What steps can businesses take to attract and retain top talent in the current competitive job market?
"Speaking about the War of Talent is another threat coming up. We've been hearing about the 'War for Talent' for years, but now it feels like the war is deepening. It's the need of an hour to take on the onus of training talent by taking steps like hiring people straight out of school, employing low-code or no-code software for critical needs, and instilling cultures of continuous learning. To attract top talent, employers must offer a working environment that is appropriate for the new world of work, including job flexibility, authentic leadership, diversity, etc."