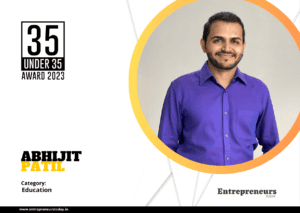 The multi-talented Abhijit Patil has made a name for himself as a pioneer in hardware creation and 3D printing. Abhijit is an inspiration to many people as the COO of AjnaLens because of his passion for technology. He is paving the way to turn India into a talent hub with his vision and tenacity. However, his journey did not begin with AjnaLens.
"It began in the dormitory at IIT-Bombay. Back then, I was studying mechanical engineering while simultaneously working to build solutions that could solve real-life problems. During that time, I built low-cost 3D printers and affordable 3D printing services which gave my entrepreneurial journey a kick-start."
Getting to know Ajnalens and its COO
AjnaLens is an Indian company launched in November 2014 with the purpose of establishing a skill-first world with equal economic opportunities through reinventing learning and human development. The company has a unique vision of transforming the way people upskill and making them job-ready, curbing the unemployment rate in India. The company, which develops wearable technology powered by AI to improve the ecosystem for skill development, is a pioneer in XR in India. AjnaLens has built state-of-the-art AR/VR glasses and immersive learning solutions to help governments, defence, education institutes, and enterprises in their digital transformation journey.
The company was co-founded by Abhijit Patil, who is currently serving as the COO. Abhijit started his entrepreneurial journey in his final year of college at IIT Bombay. Initially, he tested his product and business skills on campus and began generating revenue. Being successful in his early days, he gained the confidence to forgo the lucrative job opportunities and instead walk on the path of building his career as an entrepreneur. Before founding AjnaLens, he worked as a lead hardware developer at MIT Media Labs, as an intern at Godrej Aerospace, and innovator in the Innovation Lab of IIT Bombay.
What's the story behind the inception?
Abhijit's patriotic spirit sparked the creation of AjnaLens, driven by the belief that certain groups such as politicians, government officials, administrators, economists, innovators, and businesspeople can change India's destiny. By utilizing cutting-edge technology to transform India's grassroots-level education, Abhijit hopes to reduce the country's unemployment rate.
What sets AjnaLens apart is its mission to address the employment crisis in India. The team is committed to equipping young people with the necessary skills to enter the workforce and secure gainful employment. With a longstanding issue of skill shortages in India, AjnaLens seeks to bridge this gap with immersive learning solutions.
In a day of an entrepreneur
As an entrepreneur, Abhijit starts his day by prioritizing tasks and planning his schedule. He meets with his colleagues and relevant teams to discuss and align work goals. Abhijit dedicates most of his day to achieving his daily targets. Typically, he concludes his workday at 8:00 pm and finishes for the day around 11:30 pm.
Initial challenges faced by the company
AjnaLens encountered a range of hurdles throughout its early years, spanning from product development to technological integration. Limited financial resources and the difficulty in assembling the ideal personnel to advance the company added to these difficulties. Nonetheless, despite these initial challenges, the team persevered and eventually surmounted them.
The team worked hard to make the product suitable for the market during the subsequent innovation phase. This endeavour brought forth a new set of challenges, including attracting market interest, raising capital, entering the business segment, and expanding the team. Once more, the team rose to the occasion and overcame these obstacles with tenacity and diligence, enabling AjnaLens to become a key player in the XR market in India. Abhijit notes,
"Now as we are growing, we face issues in scaling, managing our team, becoming a brand, etc. If you see, challenges never end. They are a part of the journey and like always, this time we will overcome all and be stronger and better than we were yesterday."
An inspiring moment for the company was when their team hit the 100 mark. Beginning with just three employees, they have created work opportunities for India, and every new employee fuels their desire of providing additional job opportunities.
Some of their achievements till now
The AR/VR hardware company AjnaLens has accomplished a number of significant milestones and has plans for even more success in the future. Their focus on using technology to solve real-world issues and enhance people's lives has resulted in notable successes, such as the deployment of the largest Metaverse for Vocational Training in the world across 300+ industrial training institutes in India, changing the lives of 50,000+ students annually.
What about the plans for the future?
They want to grow their company to dominate the AR/VR eyewear market, turn India into a global technology hub, and stop importing new technology and start exporting it. They are also developing subscription-based software solutions for learning and development and intend to lower hardware costs to make it available and affordable for everyone.
Abhihit's thoughts on mitigating risks and keeping up with the trends
Managing risk is essential to their success, and proper planning is key. However, sometimes unforeseen issues arise, and they mitigate them by working on root causes.
Staying up-to-date with industry trends and advancements is critical, and they achieve this by reading and discussing recent trends with their co-founders. Balancing the demands of running a business with personal life and other obligations is a lifetime engagement for them, and they keep Sundays free for themselves and their families.
From ideation to market: lessons learned and advice for budding entrepreneurs
The lessons learned from their journey include patience, perseverance, and responsible. Their message to budding entrepreneurs is to solve a real-world problem, validate it, create an MVP, reassure it with actual customers, take suggestions, innovate, develop a final product, test it, and market it.