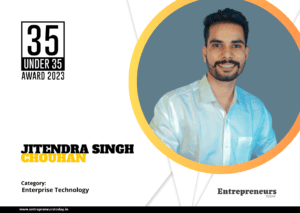 Entrepreneurs Today recently had the opportunity to connect with Jitendra Singh Chouhan, the visionary entrepreneur behind Jbhunt Technologies Pvt. Ltd. and Vsecure Technologies LLC. In our interview, Jitendra shared insights into his ventures and how he helps businesses thrive in the digital age. 
Jitendra Singh Chouhan is a seasoned entrepreneur with a passion for technology and innovation. He is the co-founder of Vsecure Technologies LLC and Jbhunt Technologies Pvt Ltd, two technology companies known for providing high-quality software solutions and services to clients in different industries. With over 5 years of experience in the technology industry and a background in mechanical engineering, Jitendra has worked with numerous clients in the United States and India, helping them build and scale their businesses with cutting-edge technology solutions.
Jitendra is a visionary leader who prioritizes building strong relationships with his clients. He believes in the power of collaboration and closely works with his team to understand the unique needs of each client, ensuring that the solutions provided are tailored to meet their specific requirements. 
In 2014, Jitendra crossed paths with Balashish, and they soon discovered a shared vision after completing their bachelor's. Recognizing their aligned interests, they transitioned from being colleagues to co-founders of Vsecure. Inspired by their collaboration in a previous job, they embarked on a journey to create something unique and independent.
Under Jitendra's leadership, Vsecure Technologies LLC and Jbhunt Technologies Pvt Ltd have become trusted partners for businesses seeking innovative and cost-effective technology solutions. The companies maintain a strong focus on quality, collaboration, and customer satisfaction, committed to helping their clients achieve their goals and foster business growth.
Vsecure Technologies LLC 
Vsecure Technologies LLC is a software development and visa filing company headquartered in Cheyenne, Wyoming, USA. Specializing in custom software development, web development, mobile application development, software maintenance, and testing, the company boasts a skilled team of experienced developers and designers proficient in various programming languages and technologies. Committed to delivering superior software solutions, Vsecure Technologies LLC caters to a diverse clientele, including renowned tech giants such as Apple, Google, Capital One, and JPMorgan Chase. The company prioritizes building enduring relationships with clients and continuously seeks ways to innovate and enhance its services to meet evolving needs.
In addition to its software development expertise, Vsecure Technologies LLC offers visa filing services to individuals and businesses seeking travel or work visas. Their visa experts guide clients through the intricate visa application process, ensuring accurate and timely submission of all required documents.
As a trusted and dependable partner, Vsecure Technologies LLC serves businesses and individuals seeking top-notch software solutions and visa services not only in Cheyenne, Wyoming but also beyond.
Jbhunt Technologies Pvt Ltd
Jbhunt Technologies Pvt Ltd is a technology services company based in Indore, Madhya Pradesh, India. Specializing in software development, web development, mobile application development, enterprise application development, cloud services, and digital marketing, the company offers innovative and cost-effective solutions to clients across various industries. With a team of experienced professionals and a commitment to collaboration, Jbhunt Technologies Pvt Ltd delivers tailored solutions that meet the specific needs of its clients. The company's focus on excellence and customer satisfaction is evident in its high-quality work, and it strives to stay ahead of industry trends to provide cutting-edge solutions that help clients surpass their competition. As a trusted partner, Jbhunt Technologies Pvt Ltd assists businesses in achieving their goals and fostering growth from its location in Indore, Madhya Pradesh, India.
Venturing out on an entrepreneurial journey
Jitendra Singh Chouhan was inspired by the immense potential of technology to transform businesses and improve lives on a global scale. His passion for innovation and the desire to shape the future of the IT industry according to his own vision motivated him to start his own business. With a dedicated team, a comprehensive business strategy, and a relentless pursuit of excellence, he successfully launched Jbhunt Technologies Pvt. Ltd. and Vsecure Technologies LLC, driven by the goal of delivering innovative software solutions and making a positive impact in the digital realm. His ongoing commitment to pushing boundaries and embracing emerging technologies continues to fuel his entrepreneurial spirit and drive digital growth for clients and partners.
When asked about the challenges he faced, Jitendra says,
"In my entrepreneurial journey, I faced challenges such as previous failed attempts and a betrayal by a business partner. These setbacks tested my resilience, but I refused to be defined by them. I learned valuable lessons about due diligence, trust, and effective partnership selection. Through careful selection and a commitment to building strong alliances, I regained confidence and overcame these challenges. Each setback has driven me to cultivate a supportive work culture, establish robust systems, and foster transparent communication. Starting from zero again has been an opportunity for personal and professional growth, and the lessons learned have laid a strong foundation for the success of my companies."
Setting themselves apart
At Jbhunt Technologies Pvt. Ltd. and Vsecure Technologies LLC, we differentiate ourselves through several key factors. Our unique business strategy focuses on delivering best-of-breed solutions and consulting services, forging strong partnerships with clients, and offering customized solutions that align with their specific needs. We stand out by embracing innovation and staying ahead of the curve with emerging technologies. Our talented and diverse team of professionals, coupled with our global experience, enables us to provide comprehensive solutions tailored to clients' requirements. Our commitment to excellence and reputation for delivering high-quality solutions within agreed timelines and budgets further distinguishes us in the industry.
At Jbhunt Technologies Pvt. Ltd. and Vsecure Technologies LLC, some of their achievements include steady revenue growth, high client satisfaction, repeat business and referrals, successful project delivery, innovation and thought leadership, and employee growth and engagement. These achievements reflect their commitment to delivering value, executing projects effectively, staying innovative, and nurturing a thriving team.
Future plans
At Jbhunt Technologies Pvt. Ltd. and Vsecure Technologies LLC, their future plans involve geographic expansion in the US, UAE, and UK by the end of 2023. They are looking forward to portfolio diversification, technology innovation, a client-centric focus, talent acquisition and development, and strategic partnerships. They aim to extend their global footprint, diversify their service portfolio, leverage emerging technologies, prioritize client success, nurture their team, and forge strategic alliances. By employing a multifaceted approach, they are committed to driving innovation, delivering exceptional value, and achieving sustainable growth.
Lessons learned
Throughout the entrepreneurial journey, valuable lessons have been learned that have shaped the approach and contributed to growth. Key lessons include perseverance in the face of challenges, adaptability to changing landscapes, building strong partnerships, and embracing failure as a learning opportunity. The message to budding entrepreneurs is to embrace challenges, learn from failures, surround themselves with a supportive network, stay committed to their vision, and seize opportunities with dedication, resilience, and a growth mindset.