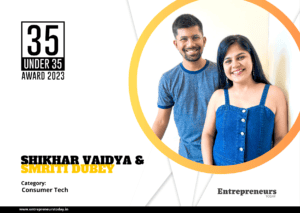 "In January 2021, just as ReDesyn was gaining momentum with a promising vision and positive numbers, the pandemic dealt a significant blow to our operations. The second wave of COVID-19 was especially challenging and life-changing for us."
In an insightful conversation with the Entrepreneurs Today team, Smriti Dubey and Shikhar Vaidya candidly shared the intricacies of their shared journey and the hurdles they encountered along the way. They delved into the nitty-gritty details, providing a firsthand account of the challenges they faced during their entrepreneurial journey.
The Synergistic Journey
Smriti Dubey joined forces with her partner Shikhar Vaidya to revolutionize the way creators connect with commerce. Together, they founded ReDesyn, an ingenious platform that empowers content creators to effortlessly launch their own e-commerce stores in a matter of minutes, completely free of charge. With a deep-rooted passion for fashion, Smriti's journey led her through prestigious institutions like DU and NIFT Mumbai, where she honed her skills and worked alongside renowned designers post-graduation. Shikhar, a Campion School alumnus from Bhopal, immersed himself in the world of apparel production at NIFT Mumbai. Their shared experiences in extracurricular activities at the institution, such as dance and hosting fests, opened their eyes to the challenges designers faced in monetizing their creations beyond college projects.
Driven by their unwavering determination, Smriti and Shikhar decided to take a leap of faith, leaving behind their well-paying positions to embark on a groundbreaking fashion-tech entrepreneurial journey. Originally known as SINS, their brainchild transformed into ReDesyn, a platform-as-a-service (PaaS) offering creators an all-in-one solution for their e-commerce needs. This remarkable platform enables designers to showcase their designs and merchandise, including branded products and shoppable videos/pictures, all conveniently accessible in one place. Fuelled by their desire to bridge the gap between creativity and commerce, Smriti Dubey and Shikhar Vaidya have paved the way for a new era of creator-led entrepreneurship through ReDesyn.
Inception of ReDesyn
"We embarked on this entrepreneurial journey using our own funds, working from a modest 2 BHK apartment in Santacruz, which we shared with a few of their college friends."
Smriti says that transforming their ideas into something tangible has not been easy. But what inspired them to set out on this journey?
Smriti Dubey and Shikhar Vaidya drew their inspiration from a shared vision of empowering talented designers and artists. Their college collaboration on a virtual fitting room project sparked their curiosity about the untapped potential at the intersection of technology and fashion. As they witnessed numerous remarkable designs created for graduation projects that remained confined to college walls, they felt a deep sense of concern.
Driven by their passion and determination, Smriti and Shikhar embarked on a journey to bridge this gap and provide a platform for designers to showcase their creations. Despite the daunting challenges ahead, they displayed remarkable resilience and perseverance. Coming from middle-class backgrounds, they understood the value of hard work and diligently saved money while working in their respective jobs, all with the intention of bringing their entrepreneurial aspirations to life.
This shared inspiration led them to establish ReDesyn, a fashion-tech platform that would revolutionize the way designers connect with the market, enabling them to launch their own e-commerce stores and unleash their creative potential on a broader stage. 
Etching a name for themselves
What sets ReDesyn apart from its competitors is the seamless and inclusive nature of its business model. Unlike other platforms that cater exclusively to established artists or influencers, ReDesyn embraces a diverse range of users, without discrimination. Their belief in the potential of every user's engaged audience allows them to create an inclusive space where everyone can participate and thrive.
ReDesyn's uniqueness extends to its user-friendly approach, allowing anyone to launch their own e-commerce store within minutes. With just a few simple steps, users can log in, enter an OTP, and instantly launch their store. This accessibility empowers individuals to unleash their creativity and showcase their unique designs on a broader stage. Furthermore, ReDesyn goes beyond offering a marketplace for fashion products. Influencers can curate their favorite brands within their stores, providing an opportunity to sell directly to their fans under the "shop my looks" feature. This deeper level of brand collaboration sets ReDesyn apart and fosters a dynamic and mutually beneficial relationship between creators, influencers, and their audiences.
Navigating troubled waters
Shikhar and Smriti encountered significant challenges while establishing their business. One major obstacle they faced was the implementation of print-on-demand, which proved difficult in the Indian market where bulk production practices are prevalent. Convincing the traditional Indian apparel manufacturing ecosystem and karigars to adapt to their unique model of smaller quantity production required considerable time and effort.
On a personal level, they confronted the challenge of introducing their entrepreneurial aspirations to their families, knowing that entrepreneurship is not always widely embraced in middle-class backgrounds. Overcoming initial skepticism and gaining their families' support was a crucial hurdle they had to navigate. Additionally, in the early stages, they faced difficulties in sales and fundraising as newcomers in the market, having built their venture from the ground up. 
Achievements so far
Shikhar expresses that the achievements of ReDesyn are rooted in the satisfaction and success of its community. Building a strong customer base and fostering meaningful relationships with content creators, influencers, and users have been instrumental to their accomplishments. ReDesyn prioritizes exceptional customer service, with Smriti and Shikhar personally engaging with customers and valuing their feedback. The happiness of creators, satisfaction of brands, and loyalty of returning customers are the true measures of achievement for ReDesyn.
In addition to the community's appreciation, ReDesyn has been honored with several prestigious awards. Smriti has received notable recognition, including Women Entrepreneur of the Year 2022, Young Achiever of the Year 2019 by Ramoji Film City & Startup Tech Enabler of the Year 2023 by Billennium Divas Women Power Awards. Shikhar has also been recognized for his contributions, earning accolades such as Best FAAD Portfolio's Entrepreneur for ReDesyn, Best Graduation Project for the Virtual Fitting Room, and the Distinguished Speaker Award at the Retail Tech Conference 2022. These achievements serve as significant milestones for the company, demonstrating their progress and impact. However, ReDesyn continues to strive for further success and growth in the pursuit of their vision.
A bright future ahead
ReDesyn's future plans revolve around solidifying its position as the go-to platform for content creators, focusing on enhancing their e-commerce capabilities and brand collaborations. A key aspect of their strategy involves developing a dedicated app that will feature a shoppable feed, showcasing content from creators and brands. This app will offer users a seamless and immersive experience, enabling them to browse, shop, engage, and participate in the ReDesyn community.
By fostering a thriving community of over 1 million creators and brands, ReDesyn aims to provide a collaborative space where individuals can expand their monetization opportunities and product offerings. They envision users spending endless hours interacting with shoppable content, liking, commenting, and curating their favorite items. Through these future plans, ReDesyn is poised to revolutionize the way content creators connect with their audience and monetize their creations, further establishing itself as a leading fashion-tech platform.
Note from the founders:
"We continue to embrace the mindset of perpetual students, recognizing that there is always something to learn in the ever-evolving fashion-tech industry. From staying updated on new app launches to exploring novel features and understanding overseas market players, our journey has taught them the importance of perseverance. Moreover, never abandon your instincts and passions. Be prepared for a roller coaster ride when launching your venture, and acknowledge the difficulties, as the journey can ultimately be life-changing and rewarding"