In a nation like India, where entrepreneurs are establishing new businesses in droves and revolutionizing the business landscape on a daily basis, startup incubation—also known as startup accelerators—holds a huge amount of significance. For those who are unfamiliar, startup incubation programs or centers offer resources, mentorship, and support services to individual entrepreneurs or business setups.
This makes it possible for them to obtain all the professional counsel and technical direction they require to thrive for a longer period of time, in contrast to the majority of other entrepreneurial endeavors that fail after a few months of operation.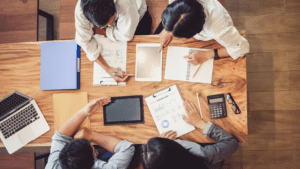 Here are the top six startup incubators you should be on the lookout for:
IIT Bombay's Society for Innovation and Entrepreneurship (SINE) is an umbrella group for promoting entrepreneurship and supporting digital start-ups. It manages a business incubator that offers "Start to scale" support for technology-based entrepreneurship and makes it easier for research activity to be turned into company initiatives.
It was one of the first academic incubators to be established in 2004 and has the ability to develop businesses that are centered on social relevance, economic growth, and strategic value. It awards funds for prototyping, assists tech entrepreneurs with incubation, and also manages accelerator programs through corporate partnerships.
A persistent lack of funding and assistance for rural businesses has been brought to light during the past few years. This gap is been filled in a substantial way by the Start-up Village Entrepreneurship Program (SVEP). The goal of the SVEP is to aid in the establishment of businesses and ongoing support once such businesses have stabilized in order to assist the rural poor in escaping poverty.
The Deendayal Antyodaya Yojana-National Rural Livelihoods Mission (DAY-NRLM), a federally funded program that has been in place since June 2011, includes SVEP as a part. The SVEP is a budget-announced program that was approved as a sub-program under the NRLM in May 2015, and the program's rules were released on June 15 of the same year.
Indian Angel Network is a network of angel investors eager to fund start-up companies with the potential to generate excessive value. Due to their extensive operational expertise as CEOs or a history of starting and running successful businesses, the Network's members are leaders in the entrepreneurial ecosystem. They both have a passion for building growth and value for start-up businesses.
In addition to financial support, the Indian Angel Network, which was founded in April 2006, offers continuous access to excellent mentoring, extensive networks, and suggestions on both strategy and execution. The Network members are more qualified to evaluate possibilities and hazards at an early stage due to their backgrounds.
With cooperation from the governments of India and Gujarat, IIM Ahmedabad launched the Centre for Innovation, Incubation, and Entrepreneurship as a program to assist early-stage enterprises.
Faculty from IIMA, Alumni, and their partners who share their values make up CIIE. Funding, mentoring, and networking opportunities with alumni and subject-matter experts are some of the advantages.
Amity Innovation Incubator, a registered "non-profit" society, was founded to assist entrepreneurs in realizing their aspirations through a variety of infrastructure, business advisory, mentoring, and financial services. It is supported by an advisory body made up of industrialists, venture capitalists, technical specialists, and managers.
The Amity Innovation Incubator's core staff has years of experience guiding businesses through venture capital funding and incubation. Amity Innovation Incubator provides a variety of incubation services, including business planning, company creation, legal and intellectual property support, managerial support, and technology support, to nurture entrepreneurial talent.
The only non-academic organization in India, iCreate, is focused on helping tech-based entrepreneurs grow into profitable companies. The government of Gujarat and the government of India both fund iCreate, which was established in 2012 with the goal of fostering "Next Generation Entrepreneurship." This goes beyond merely supporting tech firms to help empower young people in India. As a result, more young people would pursue their own aspirations and turn them into profitable software businesses rather than looking for employment.
Every startup is unique, and to be successful, each venture needs a different kind of program.  The six institutions on this list are fiercely competitive and only admit a small number of applicants each batch. So, don't become disheartened if you are not chosen right away.
Read more: Importance of Innovation in Entrepreneurship