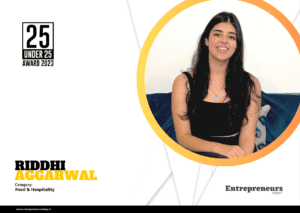 In the crowded Indian gin market, Spaceman Spirits Lab has taken bold steps to stand out and carve its own path. They have introduced India's first Pink Gin, 'The City of Pink,' under their New World Experiments series, capturing attention with their distinct offering. 
Entrepreneurs Today had the privilege of getting in touch with Riddhi Aggarwal to delve deeper into her remarkable journey.
Riddhi Aggarwal, the Co-Founder and Creative Director of Spaceman Spirits Lab (SSL), is making waves in the Indian alcoholic beverages industry with her innovative approach and captivating brand storytelling. 
About Spaceman Spirits Lab
Spaceman Spirits Lab, led by Riddhi Aggarwal and her two co-founders, is a pioneering company aiming to put India on the global AlcoBev map. 
With a focus on blending traditional elements with a global perspective, Spaceman Spirits Lab is committed to crafting high-quality spirits that embody the essence and showcase the diverse flavors of India's rich cultural heritage. 
Through innovative approaches, collaborative efforts, and a community of visionary distillers, mixologists, and brand experts, they strive to create unique offerings that captivate the world. Their spirits proudly carry the label "Made in India, For the World."
Finding inspiration
"We were inspired by the untold stories and flavors of India."
The COVID-19 pandemic became a catalyst, propelling their seed of an idea into a thriving business. They began by conceptualizing and launching Samsara Gin. Riddhi says,
"Drawing on my love for storytelling, I tried to encapsulate a touch of enchantment in Samsara's visual identity and marketing strategies. It has been truly fulfilling to captivate consumers and convey the essence of our brand through compelling visual narratives."
Through careful research and experimentation, they handpicked botanicals sourced locally to evoke specific aspects of our country's vibrant tapestry. From the refreshing notes of Indian citrus to the subtle hints of spice, every sip tells a story and invites drinkers on a sensory journey through the enchanting landscapes of India. 
The goal was to challenge the preconceived notions of gin and introduce a new generation of drinkers to the wonders of Indian botanicals. As Riddhi reveals,

"We aimed to redefine the gin experience, offering a unique and captivating taste that truly stood out in the market."
A leg up over the competition
Breaking away from conventions, they redefine the boundaries of craft spirits, delivering captivating narratives through their libations. 
With meticulous attention to detail and a profound understanding of flavors, they curate immersive experiences. What truly sets them apart is their remarkable ability to seamlessly blend traditional elements with a global perspective, offering an unparalleled sensory journey.
Furthermore, their acclaimed 'The Secret Orchard' series introduces a range of flavored sipping gins, imbuing drinkers with a delightful fusion of botanical essences. This carved a distinct niche for Spaceman Spirits Lab and positioned them as pioneers in the Indian craft gin market.
An immersive journey through flavors
Understanding the desire for a deeper connection with brands, Spaceman Spirits Lab goes beyond crafting exceptional spirits. Their approach extends to incorporating captivating visual designs and captivating narratives into their labels and brand identity, fostering an added layer of emotional connection for consumers. 
Meticulously crafted, each label serves as a visual storyteller, encapsulating the spirit's essence and the rich cultural narratives intertwined with it. 
Navigating troubled waters
Spaceman Spirits Lab encountered a multitude of challenges on their entrepreneurial journey. As newcomers in a fiercely competitive market, they faced the arduous task of carving out a distinctive niche for themselves among established industry players.
However, their entrepreneurial journey took an unforeseen turn when the COVID-19 pandemic struck in 2020. With nationwide lockdowns and restrictions on alcohol sales, their meticulously crafted plans were abruptly derailed, compelling a comprehensive reevaluation of their strategies. 
Nevertheless, rather than succumbing to despair, they seized the situation as an opportunity for growth. The additional time afforded them the chance to refine their product offerings and hone their marketing tactics, ensuring that when market conditions improved, they would make a profound impact.
Navigating the rigorous regulations governing the Indian alcohol industry proved to be one of their most formidable challenges. As outsiders to the realm, the labyrinthine bureaucracy posed a daunting obstacle, particularly for a small startup. However, their determination and tenacity were bolstered by the support of well-wishers who provided invaluable guidance and assistance. 
Celebrating feats
"When we embarked on our journey in October 2020, we started with humble beginnings, producing an initial small batch of just 100 cases. To our astonishment and sheer delight, the response exceeded our wildest dreams. Even in our early days, without a distributor, we managed to sell out those 100 cases within a remarkable span of 3-4 weeks, receiving additional orders for more cases."
Riddhi's commitment to innovation and customer satisfaction has led to the growing recognition of the Spaceman Spirits Lab brand. 
One notable achievement is the expansion of the product portfolio, which now includes four additional SKUs within a span of less than three years. 
Moreover, her efforts have been recognized by the industry through prestigious awards, further validating the impact of her work. Additionally, Riddhi has gained the trust and support of investors who believe in her vision and ambitious expansion plans. She further added.
"At the heart of it all, it is the meaningful connections and captivating stories that truly fuel our passion and motivate us to keep pushing boundaries in the craft spirits realm."
Future looks bright
With a clear vision in mind, the primary mission is to position Samsara Gin as a beloved brand that transcends borders, captivating hearts not only within India but on a global scale. The focus will be on introducing a diverse portfolio of craft spirits under the Spaceman Spirits Lab banner.
To achieve this, Riddhi plans to forge strategic partnerships, conduct extensive market research, and expand production capabilities and distribution networks. The ultimate goal is to become a beacon of innovation and quality in the AlcoBev industry worldwide.
Lessons learned
In the face of a swiftly evolving market, they have come to recognize the profound significance of resilience and adaptability. Embracing failures as catalysts for achievement has emerged as a pivotal lesson, inspiring them to incessantly challenge the frontiers of innovation. 
When asked about advice for emerging entrepreneurs, Riddhi imparts the virtues of audacity, the pursuit of passions, and the cultivation of a nurturing support system. Firmly rooted in a belief in one's vision and an unwavering commitment to lifelong learning, these principles are, in Riddhi's opinion, "the key to exploring new avenues for growth."
More from one and one with Riddhi Aggarwal:

Q: How do you ensure that you stay up to date with industry trends?

Riddhi: "Industry events like Bar Takeovers and conversations with peers from the industry offer great opportunities for knowledge sharing and gaining fresh perspectives. We also utilize social media as a powerful tool to keep track of everything happening in the industry, both within the country and globally. We try to create immersive events for our consumers and find new ways to give our consumers unique experiences."
Q: How do you manage to strike a work-life balance?

Riddhi: "It is hard to create a concrete divide between your personal life and your business. But a key to managing a successful work-life balance is to have a supportive team that is informed and motivated. Moreover, truly enjoying what you do makes it a little easier to manage the demands of running a business because then work doesn't feel like work."