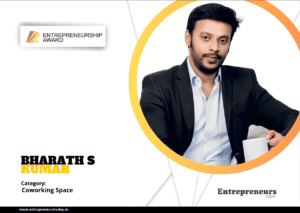 Over the past few years, we have seen how increasingly popular co-working spaces have become, and for obvious reasons. Not only are these shared spaces an effective solution for remote work, but they also provide flexibility and foster a sense of collaboration and community within the workspaces. 
With the same concept in mind, Bharath Kumar set out on his entrepreneurial journey in 2014 to found Sierra Cartel. Currently 33 years old, it has been ten years since he began his business. As a testament to their growing success, they have also expanded to around 6,000 square feet and two centers, with a new center in Indiranagar. Not only that, but they have also expanded to around 123 training rooms. 
Some of the key services that Sierra Cartel provides are workstations, cabins, workstations, and hotdesks. They also offer franchise models for spaces of all sizes, ranging from 500 to 5000 square feet, providing them with the infrastructure needed to establish a co-working space.
"We also offer virtual offices where people can register their businesses, and assist with GST and form registration. In addition, we provide training rooms, meeting rooms, and team rooms, which are frequently utilized by our clients," revealed Bharath Kumar, founder of Sierra Cartel. 
Bharath holds a degree in BBM from Jain University and an MBA from Welingkar University. After completing his studies, he even worked for corporations like Goldman Sachs and Target. 
From inspiration to fruition
In terms of the inspiration to start something of his own, Kumar says that he has always had it in him to pursue an independent endeavor where he can explore his ideas and bring them to fruition. Owing to his true determination and without any prior background in running a business, Kumar's long-held aspirations are now realized with his venture, Sierra Cartel. 
"The inspiration came from the concept being implemented elsewhere, and slowly, there was some demand here as well. However, at the same time, I realized that there had to be something different from what the others were offering. Some of them were high-priced or based in the premium segment, which may not be acceptable for everyone, especially in our country and economy. Our products and services, particularly co-working spaces, are something that people take on a monthly basis, not a one-time purchase. Most of them take it regularly for a decent amount of time," added Kumar.
The initial investment for two of their very first centers was around 25 to 30 lakhs. 
A leg up over the competitors
Even though Sierra Cartel has competitors like StartupHuts, and WorkShala, what truly sets them apart from them is their pricing and location. "We're providing affordable service, and the pricing is customized and negotiated based on various factors and requirements of the clients," added Kumar. 
Kumar shares, "Over the years, we have expanded the number of seats and training rooms. Additionally, we have opened a new location, which is a significant milestone we have achieved. Besides, we are pleased with the occupancy levels and the clientele we have attracted to these locations. We have also been able to acquire a decent amount of clients in the new locations, which is another notable achievement. The first milestone was the expansion to another office in HSR layout, and the recent milestone is the expansion to Indiranagar."
Challenges one can expect in this domain
On a personal note, Bharath says that there are several challenges they face, including marketing, human resources, finding the right employees, training them, and ensuring a positive work environment. They also face client retention challenges since most of the clients are startups and freelancers who may not stay for an extended period. Typically, they either shut down or move to a larger space in another location. 
To address these challenges, one needs to continuously focus on regeneration and develop new marketing techniques.
Entrepreneurs Today asked Kumar about his day-to-day responsibilities and whether he has to shoulder most of the work.
Kumar says, "Not necessarily. One of the key responsibilities I have is to assign agreements for virtual offices and office spaces. Apart from that, most of the other tasks are being taken care of by the team, as they are quite experienced and have been working in their roles for more than two years. However, since it is not a large team, I manage most of the payments. The team takes care of operations, marketing, lead generation, and follow-ups."
A bright future
A major risk they face is high competition and pricing, which may not be an issue everywhere but could arise in some key locations where supply may exceed demand. To mitigate this risk, Kumar and his team are exploring a franchise model that allows them to expand to multiple locations.
As co-working spaces are opening up everywhere, there may come a point where demand is less than supply. However, Kumar believes this concept is the future and can be implemented through the franchise model. This will enable people to start their own co-working spaces in various parts of the country and mitigate this risk.
Kumar's current goal is to start franchising and expand more in new and prime locations. "We are developing a franchise model that will allow people from other cities to purchase a franchise and establish a co-working space there," Kumar revealed.  
Words of wisdom
As one would expect, in the span of ten years since the time he began his business, Bharath Kumar has acquired a lot of lessons.
"One of the key things I learned is that if you really want to achieve something, you must focus your mind on regular feedback that comes from your surroundings. This includes the changes you need to implement in yourself and your business based on feedback, claims, observations, or additions to existing systems. These things require introspection and not just a business perspective. Fixing bottlenecks and loopholes in systems and processes is crucial, especially for companies with small teams. It's important to ensure that every individual they work with is contributing to the team," shares Kumar. 
Learn more about Sierrs Cartle's services here.