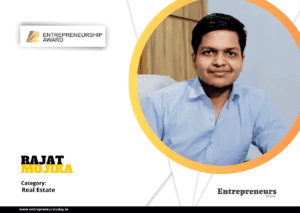 Rajat's remarkable reputation for setting ambitious targets and pioneering novel concepts precedes him. Renowned for his entrepreneurial prowess, Rajat Mojika, the visionary founder and Director of multiple thriving enterprises such as Real Estate Dekho, Mojika Foods, and Kabadi Becho, walked the team at Entrepreneurs Today through his journey as an entrepreneur. Born in Jaipur, he later relocated to the United Kingdom to pursue his education.
We asked him about how it all began. 
In 2021, Rajat established Real Estate Dekho with the noble objective of democratizing the rental market. And he made it possible by focusing on affordability and accessibility. 
"I was inspired to start my business with a desire to create user-friendly and aesthetically pleasing technology products. There are many ways to rent a property, and I noticed that many people struggle with this process, particularly financially with tenants. As a result, we set up a system that includes credit checks, background screenings, and rental agreements between tenants and landlords. I focus on rental properties in areas that attract ideal clients."
What sets Rajat's venture apart from the others in the market?
By offering a platform that helps tenants find a rental property without paying a brokerage fee and aids landlords in finding the ideal tenants for their rental properties, Real Estate Dekho stands at the forefront of the business.
The company sets itself apart from competitors in a number of ways. First of all, it is a fledgling brand with strong customer loyalty. By amending conventional approaches and incorporating technology into the platform, it is unique in its approach. Thirdly, it concentrates on a certain market sector or niche, namely the lower and middle classes. Last but not least, the business works hard to provide a remarkable client experience, which is essential to setting itself apart from other players in the sector.
What challenges did Rajat face on his journey?
On his entrepreneurial path, Rajat Mojika faced a number of difficulties in terms of hiring and retaining talent, regulatory compliance, running day-to-day business operations, and dealing with competition from other industry players.
How did he overcome these challenges? According to him, resilience, persistence, and a readiness to learn from difficulties and failures are the keys to running a successful business, and that is exactly what he did. Through his tenacity and creative solutions, Rajat faced these difficulties head-on and overcame them, paving the way for him to succeed as an entrepreneur today.
"In our entrepreneurial journey, we often encounter a range of risks in our business, including operational and legal risks. In order to mitigate these risks, we take several common steps, such as conducting risk assessments, creating risk management plans, managing the company's finances effectively, being mindful of the company's reputation, and optimizing the company's operational management."
Rajat's very own metric of success
We were curious about how Rajaj measured success in his day-to-day life as an entrepreneur. This is what he had to say,

"Customer satisfaction is a crucial factor in the success of any business. If customers are content with the products or services provided by a business, it is likely to thrive in the long run, and I strongly believe in that.
As a startup in the rental market, we have managed to disrupt the traditional rental industry in a short period of time."
What are some long-term goals for the company?
As per their goals in the future, they are looking forward to increasing revenue, expanding their client base, offering new products or services, breaking into new markets, developing brand awareness, and improving operational efficiency. Additionally, Rajat adds that they have a number of tactics to accomplish these goals, including funding R&D, enhancing marketing initiatives, collaborating with other businesses, employing and educating staff, streamlining supply chain management, and utilizing technology to streamline procedures.
Some lessons Rajat would like to share with budding entrepreneurs
Rajat has gained a great deal of knowledge along the way that prospective businesspeople can use as inspiration and guidance. These lessons include, among others:
Failure is part of the journey: One major lesson Rajat has learned throughout his journey is that failure is not always a bad thing and that it serves as a valuable learning experience and an opportunity to grow and improve. Rajat implores budding entrepreneurs to not be afraid of failure and to keep pushing forward till they reach their destination.
Innovation and creativity are essential: "We succeed by introducing innovative ideas and creative solutions to problems." As another crucial lesson, Rajat encourages budding entrepreneurs to think outside the box and challenge the status quo.
Building relationships is important: "We at Real Estate Dekho have learned the value of building strong relationships with customers, employees, partners, and investors." Rajat also advises budding entrepreneurs to prioritize building relationships and communicating openly and honestly.
Learn from others: "Successful entrepreneurs have often learned from mentors, advisors, and peers." Finally, he asks budding entrepreneurs to seek out mentors and to learn from the experiences of others.
The entrepreneurial journey of Rajat Mojika with Real Estate Dekho has been motivating. With his unconventional strategy, he has not only upended the conventional rental market but also directly addressed several difficulties. Overall, his experience serves as proof that anyone can realize their entrepreneurial dreams with hard work and perseverance.