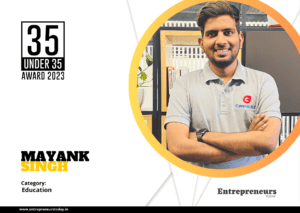 In today's digital age, the education industry needs urgent transformation that can meet the ever-changing needs of institutions. To address these needs, companies like Campus 365 are at the forefront of creating innovative solutions each passing day that are not only empowering educators but also learners. In an interview with Entrepreneurs Today, Mayank Singh walks us through how he navigates the challenges of the 21st century as an entrepreneur, as he makes his way towards a brighter future. 
Campus 365's tech-enabled, end-to-end SaaS platform
Mayank Singh is nothing less than a visionary leader who is working towards taking Campus 365 to new heights of success. His eight years of experience in developing cutting-edge products and solutions for extended deployments have been invaluable in creating a tech-enabled, end-to-end SaaS platform that paves the way for a revolution in the education industry. Singh's dedication and passion for improving the learning experience have been the driving force behind Campus 365's success. 
Regarding the achievements of the company, its commitment to delivering high-quality, tech-enabled solutions has helped them expand its presence globally, across institutions in the United States, United Kingdom, South Africa, Nepal, Ghana, Nigeria, Zimbabwe, Bangladesh, and Australia. When it comes to the products, Campus 365's customization is unparalleled which sets it apart from its competitors, making it the go-to solution for educational and corporate institutions all across.
What was the market gap that led to the inception of Campus 365?
When asked about what was the inspiration behind founding the company, Mayank reveals that he saw a significant gap in the market for a comprehensive technology solution for educational institutions. Following this, he had an epiphany that almost all institutions were struggling in terms of their administrative, academic, and student management. This lack of streamlined management systems is what led him to found Campus 365. 
How did Mayank identify the need for a comprehensive technology solution?
When inquired about the process behind coming up with ideas to address these solutions, Mayank shared that the team at Campus 365 conducted extensive market research that helped them in analyzing the needs of educational institutions. It was through such extensive research that they recognized the growing demand for a comprehensive technology solution that could help manage several education systems in just one place.
Mayank shares that they began by assembling a team of experts in various fields to develop their technology solutions. Their initial focus was solely on building a robust and user-friendly learning management that would tackle academic operations seamlessly.
Since the inception of the company, they have expanded its offerings to education, including administration, HR and payroll, communication, finance, as well as student management. 
What's unique about Campus 365?
The team's dedication to giving each institution a custom and tailored experience distinguishes them from the competition. They provide unmatched flexibility and adaptability, enabling customers to modify the platform to suit their needs. Their deep regional expertise and global reach ensure that the platform is customized to meet the unique requirements of each market or institution while also placing a high priority on seamless integration with several third-party apps and tools. Above all, according to Mayank, the customer-centric strategy is what fuels constant innovation within the company. 
What are some of the challenges he faced and how did he tackle them?
"Catering to the diverse needs of educational and corporate institutions across different regions was a significant challenge. We overcame this by conducting extensive research and working closely with local partners to understand the specific requirements of each market. This collaboration enabled us to tailor our platform to meet the unique needs of institutions in different regions."
Mayank faced challenges in building a SaaS tech company in education. This meant scaling while also maintaining quality, staying ahead in tech, complying with regulations, and managing cash flow. More or less, he overcame these obstacles by investing in research and development, building robust systems and processes, hiring regulatory experts, conserving cash, and securing strategic partnerships. 
Mayank measures the success of his business, Campus 365, using a combination of quantitative and qualitative metrics, including financial performance, customer satisfaction, market share, product innovation, and impact on the education sector. Some of his major achievements till now include rapid customer growth, high customer retention and satisfaction, industry recognition and awards, technological innovation, expansion into new markets, positive social impact, and a strong company culture.
Mitigating risks at Campus 365
Upon questioning about how they manage risks at Campus 365, Mayank reveals that it through proactively by conducting regular assessments, diversifying their customer base and revenue streams, implementing robust data security and privacy measures, creating business continuity plans, managing their finances prudently, investing in the workforce, complying with regulations, and monitoring market trends and competitors.
A time of inspiration
Reminiscing about one of the most inspiring times at Campus 365, he tells us about a particular time when they received feedback from a struggling rural school that had been facing challenges with management and communication processes. The school adopted their platform to improve overall efficiency and streamline day-to-day operations. After a few months, they received a heartfelt letter from the school's principal expressing their gratitude for the transformative impact Campus 365 had on their institution.
According to the principal, the school's performance saw a significant improvement in terms of higher student enrolment, better academic results, and parent satisfaction. This feedback was a powerful reminder that their goal of working towards providing an ultimate solution in the education industry is of the utmost importance seeing the positive impact their platform brought to educational institutions they worked with.
What are their future plans?
As per the future plans of Campus 365, Mayank tells us that he envisions a global expansion and looks forward to enhancing platform features, incorporating emerging technologies, fostering a strong community, and strengthening customer support, all the while promoting sustainability and social impact.
What are the lessons he has learned in his early 20s?
Some of the important lessons Mayank has learned in his journey are the importance of adapting to changing circumstances, building a strong team, prioritizing customer success, maintaining a long-term vision, developing a growth mindset, as well as nurturing relationships with partners and peers.
A message from Mayank for emerging entrepreneurs:
"Believe in your vision and stay persistent in your pursuit of success. Embrace challenges and setbacks as opportunities to learn and grow. Surround yourself with a supportive team, prioritize customer success, and remain adaptable in the face of change. With hard work, dedication, and resilience, you can turn your dreams into reality"