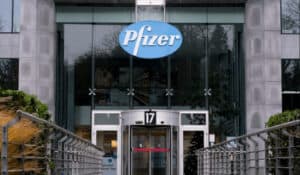 Pfizer is a multinational biotechnology and pharmaceutical company. The company was established in New York in the year 1849. The company is working on producing medicines and vaccines for immunology, oncology, cardiocology, endocrinology and neurology In March 2020, as the Covid-19 pandemic became apparent, Pfizer partnered with BioNTech to develop Covid-19 vaccine. By early May 2021, Pfizer and BioNTech manufactured at least 430 million vaccine doses. The company was supposed to produce almost 3 billion vaccine doses by 2021.
The company has decided to acquire the shares of Arena Pharmaceuticals, a clinical-stage company for $6.7 billion. This shows it's investment and growth potential for cannabinoid-based medical research. Arena area of research is focused upon developing new treatment options for immune-inflammatory ailments and has a business dedicated to cannabis-based therapeutics. It is also focused to develop a cannabinoid type 2 receptor(CB2) to reduce the visceral pain with is a symptom associated with gastrointestinal disorders.
The investments made by Pfizer will support the research associated in Inflamation and Immunology, the Pfizer innovation engine aids the development of therapies for patients with immuno-inflammatory diseases.
The cannabis drug market have seen top shot companies invest in medical marijuana. Leading pharmaceutical companies have made research units to commercialize cannabinoids for medical use. Research is being conducted by Canadian firm Avicanna for Johnson & Johnson, and by Vapium for Greno Science.
Cannabinoids are naturally occurring substances which is part of the Cannabis sativa plant. The plants has over 480 different compounds, out of which only 66 are cannabinoids. Cannabinoids shows it's effect on cannabinoid receptors present on the surface of cells. These receptors are found in different parts of the central nervous system and the main types are CB1 and CB2. " The proposed acquisition of Arena complements our capabilities and expertise in Inflammation and Immunology, a Pfizer innovation engine developing potential therapies for patients with debilitating immuno-inflammatory diseases with a need for more effective treatment options," said in the press release Mike Gladstone, Global President of Inflammation & Immunology at Pfizer. In the range of drugs that Arena has, it has a range of non-cannabinoid drugs, which is focused in getting potential cures for several types of immuno-inflammatory diseases. The partnership with Arena, has helped Pfizer enter the cannabis medicine industry. Few of the big pharmaceutical companies like Canadian research and development, Canadian Tilray and global biopharmaceutical company have done acquisitions with Johnson & Johnson JLabs, Novartis AG and GW Pharmaceuticals respectively.
With the growth of medical cannabinoid industry, Big Pharma's interest in medical cannabis industry. Research on cannabinoids is achieving exciting results in the treatment application. For this reason, it is will be actively part of the medical cannabis industry in the upcoming years.