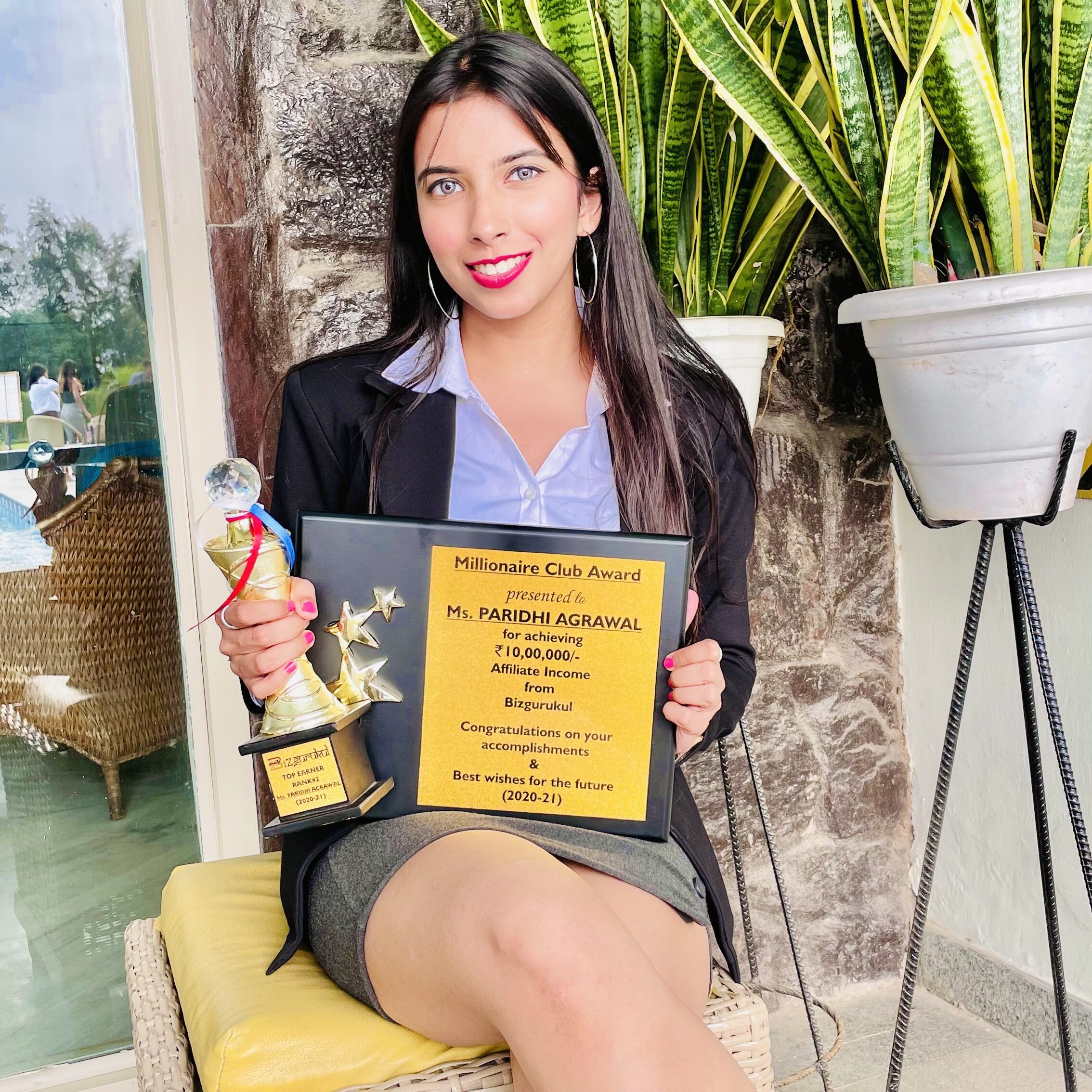 Strong Entrepreneurs are identified in their bad times. In life, ups and downs are constant but it's up to us whether we want to dodge the problems or get buried under the burden of them. Rather than giving up we should always be ready to fight back whatever comes between us and our goals. Tough times tests the courage, patience, self confidence and true personality of a person. It's how we handle ourselves in these tough times of life that portrays our strength.
Today we are going to talk about a 19-year-old girl who became a Millionaire and lives in Delhi. In the last 10 months, when people did not have food to eat and no source of earning, at that time of pandemic. She learned how to do business online properly and has earned more than 1.3 Million Indian rupees from there.
Paridhi Agrawal came to know about an industry in which she can also earn a decent income while learning, Paridhi understood the online business called affiliate marketing and started working on it by learning it. Paridhi won the Affiliate Marketing Top Earner title in her organisation. While doing this business, Paridhi had to face a lot of problems but with her unwavering determination, Paridhi never gave up and gave her 100% in this business. She achieved heights in a very short time. She is running her business part-time with her studies and doing very well in both.
Paridhi is helping thousands of people today to understand this business and to have a good income. Paridhi has so far trained more than 7000 people and is personally training more than thousand students. She Has earned millions of rupees from this business. Paridhi says that she is not going to stop and she will help a lot of people. If Paridhi ever held anyone's hand, she took all her strength in helping others in pursuing their goals with full responsibility.
Along with this, Paridhi also believes in charity. Paridhi believes that if you are capable, then you must help needy people as much as you can and Paridhi is also doing this. She takes out a part from her income with that she helps the children and the needy people. Paridhi wants to create a big organization in the coming time, in which she wants to help a lot of people. Seeing this, a lot of people are inspired and a lot of people in the team have started following this activity and helping people who are needy.
Paridhi is a great example of Women Empowerment, Paridhi says that every girl must stand on her feet, but problems will have to be faced because problems are the part of our life. We should always work with our strengths so that we too can move forward. So that we can give a good life to our parents, so they can feel proud of us. And that's why she wants to help more and more girls and this is the message for you too. If you are a girl and reading this article, first empower yourself and then help other girls so that they can also stand on their feet and make their name in the country and in the society and with this, I would like to make a request that the first step is the most difficult and most of the girls are nervous to take the same, so find a good mentor and start your work under its guidance, it will be much better for you .
She is achieving all her dreams , bringing the best life for her parents and people around her by working hard each day and believes that " We live in a world where women have been thought to be less efficient and capable of working as compared to men but in reality they are not equal to men in every aspect rather they are better in all the dimensions and horizons or walks of life " and thus , she goes on proving this to the world every single day that how good a girl/woman can do , be it successfully running a business or looking after her family and so on.
If you want to know more about Paridhi Agrawal and understand her business concept, then you can follow her on Instagram