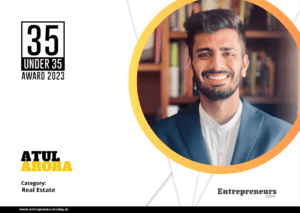 Atul Arora is a visionary entrepreneur and the driving force behind Nature Homes, a prominent real estate startup headquartered in Jaipur. As the company's founder and CEO, Atul has proven to have outstanding skills in designing modern, premium living spaces. His commitment to designing high-end residential apartments and student housings has won him the respect and loyalty of his clientele.
Established in 2021, Nature Homes quickly gained prominence in the real estate industry under Atul's leadership. The company has successfully completed two projects, while two more are currently underway, showcasing Atul's commitment to delivering exceptional living experiences to residents. His expertise in understanding the evolving needs of individuals and families has enabled Nature Homes to carve a niche for itself in the competitive market.
The goal of Nature Homes, as stated by Atul Arora, transcends mere construction. He aspires to build homes that truly reflect the unique values and lifestyles of his clients. Atul makes sure every project offers a seamless fusion of aesthetics, utility, and sustainability with thorough planning, design, and implementation.
Unique Approach to Sustainable Luxury Living Spaces
What makes Nature Homes unique is their unwavering commitment to seamlessly blending luxury and sustainability in their living spaces. They distinguish themselves from competitors by utilizing the latest innovations and environmentally friendly materials to produce buildings that are not only aesthetically pleasing but also energy-efficient and conscientious of the environment. Furthermore, by creating spaces that are practical, adaptable, and functional for their clients' changing needs, Nature Homes place a high priority on their comfort and wellbeing. Their purpose is to provide their clients with extraordinary living experiences since they believe that everyone deserves a house that inspires them and represents their values.
Atul admits, "What inspired me to start Nature Homes was my passion for creating modern and sustainable living spaces for people. I had always been interested in real estate and architecture, and I saw an opportunity to make a positive impact in the industry by creating homes that were not only beautiful and functional but also environmentally conscious. I got started by conducting extensive market research, identifying the needs and preferences of our target audience, and assembling a talented team of architects, engineers, and contractors to bring our vision to life."
Navigating Complexities
While building Nature Homes, the company encountered significant challenges that tested their resilience and adaptability. One of the major hurdles they faced was navigating the complex and ever-changing regulatory landscape of the real estate industry. The process involved obtaining permits, licenses, and approvals while ensuring compliance with local building codes, zoning regulations, and environmental standards. This required thorough research, attention to detail, and close coordination with regulatory authorities.
Additionally, the ongoing COVID-19 pandemic posed unforeseen obstacles. Nature Homes had to contend with disruptions in supply chains and labor shortages, these challenges were mitigated by maintaining open lines of communication with regulatory authorities, partners, and clients and remained flexible and adaptable in their project management approach, making adjustments as necessary to overcome the obstacles caused by the pandemic.
In response to these challenges, Nature Homes made strategic investments in technology and automation. By leveraging these tools, they were able to streamline their operations, enhance efficiency, and mitigate potential disruptions. These investments not only helped them navigate the complexities of the real estate industry but also enabled them to deliver their projects ahead of schedule, showcasing their resilience and determination. Atul further adds,
"Risk management is an essential aspect of our business strategy at Nature Homes. We understand that real estate development involves various risks, including market volatility, regulatory changes, and unforeseen events such as natural disasters and pandemics. To manage these risks, we take a proactive approach by conducting thorough risk assessments, developing contingency plans, and implementing appropriate risk mitigation measures. We also maintain a strong financial position by ensuring that we have adequate reserves and insurance coverage. Additionally, we prioritize transparency and communication with our stakeholders to ensure that they are aware of the risks and the measures we have in place to manage them."
Nature Homes' Yardstick of Success
What does success mean to Atul Arora? He says, "At Nature Homes, we measure the success of our business in terms of our impact on the environment, our clients, and our community. One of our major achievements till now is the completion of our first two projects, which received high praise from our clients for its design, quality, and sustainability. We are also proud of our ongoing projects, which are on track to meet or exceed our clients' expectations. In addition, we measure our success in terms of our contribution to the local economy, our ability to create jobs and opportunities for our partners and employees, and our commitment to giving back to our community through various social and environmental initiatives."
What the future holds
Future aims and objectives for Nature Homes include expanding the company while upholding their dedication to sustainability, innovation, and excellence. They intend to add commercial and mixed-use buildings to their portfolio in addition to luxury housing solutions. To do this, they will make investments in their personnel, infrastructure, and technology to increase their capacity and capabilities. Additionally, they intend to increase their visibility in the market by forming solid alliances with key players, forging a distinctive brand identity, and utilizing digital marketing tools to connect with their intended market. Their ultimate objective is to lead the real estate sector and have a positive impact on the world at large through their endeavors.
Lessons learned 
Atul emphasizes that keeping up with the times is crucial. 
"Staying up-to-date with industry trends and advancements is crucial in the real estate industry, as it is constantly evolving and adapting to new technologies, regulations, and consumer preferences. To stay informed, we leverage a range of resources, including industry publications, conferences and seminars, online forums and networks, and collaborations with other professionals and experts. We also invest in technology and data analytics to enhance our understanding of market trends and consumer behavior, which helps us make informed decisions and stay ahead of the curve. Finally, we constantly seek feedback from our customers and stakeholders to understand their needs and expectations, which helps us adapt and innovate to meet their changing demands."
The journey of entrepreneurship has taught him many valuable lessons. Firstly, he says it's essential to have a clear vision and purpose for his business, as it provides a guiding light for his decision-making and actions. Secondly, perseverance, grit, resilience and humility are critical traits that will help him overcome the inevitable challenges and setbacks that come with entrepreneurship. Thirdly, building strong relationships and partnerships with stakeholders, including employees, customers, suppliers, and investors, is essential for long-term success. Lastly, it's crucial to prioritize sustainability, social responsibility, and ethical business practices to make a positive impact on the world and leave a lasting legacy.