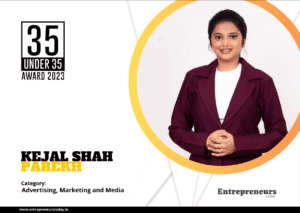 "I'm forever a work-in-progress, always looking to push myself to newer heights. For me, success is not just achieving a certain milestone or goal; it's a never-ending journey of progress and growth."
In a conversation with Entrepreneurs Today, Kejal Shah walks us through what success truly means to her as she talks at length about her journey in the digital marketing industry so far.
The Brains Behind Rainbow Promotions
Meet Kejal, a Chartered Accountant turned tech-savvy entrepreneur who's passionate about branding and marketing. For the past 7 years, she has been the driving force behind Rainbow Promotions, a digital marketing agency that helps businesses of all sizes to reach their full potential through effective strategies and brand building. According to Kejal, every business, no matter how small or challenging, has the potential to succeed with the right approach. Her greatest joy is seeing her clients achieve their desired results through her campaigns. Apart from her love for technology and gadgets, Kejal is a living example of the importance of pursuing one's passions. She says,
"I'm a firm believer in following your passion, which is why I left my career as a Chartered Accountant to start this company."
Currently, Kejal Shah is the founder of Rainbow Promotions, a digital marketing agency that provides a range of services including Social Media Marketing, Web Design and Development, Content Creation, and Branding. 
Rainbow Promotions thrives on innovation and personalization, making them a sought-after agency in the digital landscape. By staying ahead of the latest trends and leveraging emerging technologies, they create customized marketing strategies that resonate with target audiences. Their dedication to pushing boundaries and setting trends sets them apart from the competition.
From CA to Digital Maverick
Kejal Shah was inspired by her father's entrepreneurial spirit and his way of managing things. After joining his business, she had the idea of taking it online and created a website with the help of her brother. This sparked her passion for digital solutions and creative brainstorming. 
Kejal found happiness in this field, unlike her previous academic pursuits. She took the plunge and started learning everything she needed to establish herself in the industry, including law, entrepreneurship, SEO, coding, design, and animations. Kejal's ability to find patterns, solve complex problems, and think outside the box helped her overcome challenges, and Rainbow Promotions expanded to offer a range of digital services. 
Troubled Waters
Kejal's entrepreneurial journey has been filled with challenges, but she has faced each one with grace and determination. From acquiring new business and building a team to meeting deadlines and adapting to market changes, Kejal has had her fair share of obstacles to overcome. The COVID-19 pandemic was an unexpected challenge that required her to pivot her business and navigate uncharted territory.
"Empires are not built by just a few people. I am proud of my team, but I am still hungry for more talent. The COVID-19 pandemic dealt a significant blow to businesses worldwide, including mine. I had to pivot and adapt to new market conditions while ensuring the safety and well-being of my team. It was a trying time, but I remained positive and focused on finding new opportunities for my business."
Her ability to adapt and pivot her business during the COVID-19 pandemic, as well as invest in effective marketing strategies to attract new clients, are achievements that demonstrate her resilience and strategic thinking. However, she couldn't do it all alone. Kejal also expresses gratitude for having her husband by her side and for being the strongest support so far in her life.
Q: How do you find a balance between your personal and professional lives?
Kejal: "It is difficult, as there are days when everything goes down even after planning everything and doing everything in my power, but I try to find the right balance, which is crucial for me to maintain my mental health and relationships. Moreover, hiring the right team and trusting them to handle some of the workload can help lighten the load and free up time for personal obligations. Additionally, technology has also helped me manage my time more effectively. It's important to remember that achieving work-life balance is an ongoing process. What works today might not work tomorrow, so it's essential to remain flexible and adaptable. Entrepreneurs who prioritize their well-being and personal lives will be better equipped to handle the demands of running a successful business."
Celebrating Feats
Kejal's forward-thinking mindset is reflected in her business approach, where she stays agile and adaptable to new challenges while leveraging technology and investing in her workforce. She knows that small victories are just as important as major milestones and takes time to celebrate each success along the way. As she continues to progress towards her ultimate goal of business success, she remains true to her core values of growth and continuous improvement. 
Kejal's journey as an entrepreneur has been filled with inspiring moments, but one that truly stands out is when her business landed a game-changing client. It marked a pivotal turning point for Rainbow Promotions, prompting Kejal and her team to pour their heart and soul into securing the deal. Despite having limited resources and being in the early stages of their business, they toiled relentlessly to prepare a winning pitch and truly understand the client's needs. The waiting period that followed was a nerve-wracking test of patience, but when an email expressing genuine interest finally arrived, it felt like a breathtaking realization of their deepest aspirations. 
For Kejal, this landmark achievement went far beyond a mere acquisition; it served as a profound validation that her ambitions were gradually materializing before her eyes.
Future Looks Bright
Kejal's future plans as an entrepreneur are focused on the growth and expansion of her business. She aims to increase the reach and impact of her business by expanding into new markets and developing innovative products and services. She plans to build strategic partnerships and leverage the latest technologies to achieve this goal.
Another important focus for Kejal is building a strong and talented team that shares her vision and values. She is also committed to providing her team with the training, resources, and support they need to excel in their roles and contribute to the growth and success of the business. Lastly, Kejal wants to give back to the community and make a positive impact on the world around her.
Words of Wisdom
Inspired by her successful father and father-in-law, she learned the significance of adaptability and perseverance. They taught her to embrace change and keep going despite setbacks.

Kejal advises aspiring entrepreneurs to fearlessly take risks and learn from failures. She suggests building a strong support system and finding mentors for guidance. Continuous learning and staying focused on the business vision are essential for success.

"With determination, resilience, and support, entrepreneurs can achieve their goals and make a positive impact."