Jio Financial Services Limited (JFSL), the standalone financial entity spun off from Reliance Industries Limited (RIL), faced a consecutive setback in the trading arena as its shares dropped by 5 percent, invoking the lower circuit mechanism for the second successive trading session.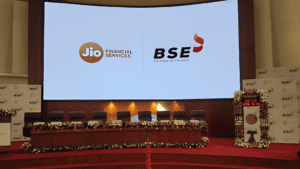 When the markets commenced their trading activities, JFSL's shares were quick to hit the prescribed 5 percent lower circuit limit on both the National Stock Exchange (NSE) and the Bombay Stock Exchange (BSE). 
At precisely 9:28 am, the company's shares exhibited a downward trajectory of 5 percent on the NSE, trading at Rs 236.45 per share. Similarly, on the BSE, the valuation saw a decline to Rs 239.20 per share.
Market analysts have issued a cautionary stance towards trading Jio Financial Services Limited (JFSL) shares. Following JFSL's recent stock market entry, Manish Chowdhury, who holds the position of Head of Research at StoxBox, emphasized the anticipation of volatility in the company's shares. 
He conveyed that heightened fluctuations in both upward and downward directions would not come as a surprise in the immediate trading period.
Following its debut at a price proximate to Rs. 261.85, Jio Financial Services (JFSL) has encountered a subsequent decline, causing a triggering of the 5 percent lower circuit. Observing the unfolding events, experts have positioned the company within the Trade-To-Trade (T2T) segment for an initial duration of 10 days. In response to these dynamics, Manish Chowdhury, the Head of Research at StoxBox, has projected a scenario marked by anticipated volatility, wherein fluctuations in both upward and downward trajectories are deemed likely.
Chowdhury issued a recommendation for investors to approach JFSL with a cautious perspective, treating it as a contemporary business entity. In this context, he underscored the importance of awaiting greater clarity pertaining to the company's strategic direction and pivotal focal points before committing to any substantial trading decisions.
As a consequence of its detachment from Reliance Industries, Jio Financial Services Limited (JFSL) has earned a temporary inclusion in both the Nifty50 and Sensex indices. However, in accordance with exchange regulations, JFSL is slated for exclusion from these benchmark indices at the culmination of the third trading day.
This development has incited market analysts to discern a trend wherein current investors and shareholders are electing to divest their stakes in the company. This collective decision has in turn contributed to a discernible descent in the valuation of JFSL's stock.
Read more: Binny Bansal Ventures into New E-commerce Startup as Flipkart's Landscape Evolves