The name that has been making the rounds in the media for quite some time now is Trishneet Arora. A self-made millionaire by the age of 23 and the CEO of TAC Security, he is also a college dropout.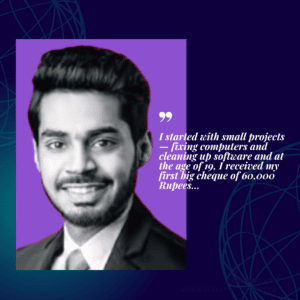 His company, TAC Security, is an IT security firm that aims to provide protection to companies from any kind of security breaches and helps them secure their networks. Some of Trishneet's clients are Reliance Industries, the Central Bureau of Investigation (CBI), and the Gujarat and Punjab Police.
According to Tacxn, their annual revenue as of 2022 is $703K. They currently have 582 competitors in the market. Some of their top competitors are Tenable, Spirent, and Bishop Fox.

Sunil Bohra is currently in the process of making a biofilm on Trishneet Arora, which will be directed by Hansal Mehta. 
Trishneet's Background
Hailing from Punjab, Trishneet began his career way early and has been able to get featured in the Forbes 30 Under 30 2018 Asia List and Fortune India 40 Under 40 2019 List of India's Brightest Business Minds. 
In 2017, GQ Magazine named Arora one of the 50 Most Influential Young Indians, and August 25, 2017 was declared "Trishneet Arora Day" by the Mayor of Santa Fe, New Mexico.
Apart from being an entrepreneur, Tishneet is also an investor and has invested in a range of startups. Currently, he has over four offices in India and one in Dubai. 
In a story that was shared by Humans of Bombay, Trishneet highlighted that he was fortunate that his parents let him drop out of school. He highlighted, 
"In fact, my learning grew threefold! I started with small projects — fixing computers and cleaning up software and at the age of 19, I received my first big cheque of 60,000 Rupees. I used everything I had saved to invest in my own company – TAC Security Solutions." 
He was only 25 when he also became an author. Some of his books include The Hacking Era and Hacking TALK with Trishneet Arora, and Hacking with Smart Phones.
An ethical hacker and the founder of TAC Security, his startup is an India-based company that performs Vulnerability Assessment and Penetration Testing for corporations, and at the same time, looks for any weaknesses in their cyber security. Till now, he has received funding from angel investor Vijay Kedia and support from former VP of IBM, William May.
Regarding why he dropped out of school, he divulged in some interviews that he despised the former educational structure that was there in schools. And even though he did not do that well in 8th grade, it did not really alter the course of his professional path in any way. 
It was his love for computers that kept him going. Eventually, he was able to pick up a lot of new skills and techniques in the domain. The same fascination led him to become an ethical hacker later on. 
How it all started
Trishneet began his career as a Tech Instructor in the IT field. He established a strong network through sessions held at various locations. His efforts led to recognition, and he received referrals to provide training in IT infrastructure and data security to both companies and government organizations.
He kept doing the work that was given to him knowing that one day he would have a bright future with a reputable cyber security company. In 2012, his company, TAC Security Solutions, was founded as a result of his perseverance and hard work.
Trishneet's 2013 lecture made an impression on the officers of the Gujarat Police Department, and they asked him to lead a workshop for their crime division. His journey of dealing with criminals and tackling cybercrime for the law began from that point on.
Creating an impact
Up until now, Trishneet has been invited to numerous training sessions where he has also given talks. He held sessions for the Punjab and Gujarat Police to investigate cyber crimes. His other clients include Reliance Industries and Central Bureau of Investigation.
He held countless seminars, lectures, and workshops based on technical manuals throughout his career.
Jobs for Agniveers
Trishneet Arora recently declared that he will hire Agniveers. Candidates who enlist under the Agneepath Scheme of the Indian federal government are referred to as Agniveers. They will receive 4 years of training in the armed forces of their choice in order to realize their aspirations of enlisting in the Indian Army and defending the country. Trishneet Arora says,
"Agniveers are an important asset to the society, our youth is the strength of the nation that would be an honour to give back, contribute and empower the youth. The people in reference are going to be empowered to be cyber warriors and we are grateful for their services so far."
Achievements so far
Trishneet Arora recently made the announcement that he would hire Agniveers. The candidates who would sign up for the Agneepath Scheme of the central government of India are known as Agniveers. 
Trishneet Arora and his cybersecurity company, TAC Security, have achieved remarkable success in recent years. In the fiscal year 2021-2022, TAC Security received over 100 global awards from esteemed entities such as Forbes and Fortune 500. 
Trishneet Arora's entrepreneurship has also been recognized with numerous accolades, including being listed in Forbes India's Top 100 Great People Managers in 2020, receiving the Entrepreneur of the Year award in 2020, and being named in Fortune India's 40 Under 40 in 2019. Additionally, his accomplishments extend to international recognition, with his inclusion in Forbes Asia's 30 Under 30 and GQ Magazine's 50 Most Influential Young Indians in 2017. 
He received the Punjabi Icon Award from PCHB in 2015 and the State Award from the Chief Minister of Punjab, Parkash Singh Badal, on the 65th Republic Day in 2014.
Read more: Indian Women in Business: 2023