According to the Deccan Herald, a report by NASSCOM reveals that there has been a surge of women-led businesses from 8% to 13% from 2014 to 2019. The numbers have been on the rise ever since. While things have changed for sure in the Indian Startup System, it's still good to be reminded of how far we've all come. More so, what these superwomen can collectively achieve. Here is a curated list of our most admired entrepreneurs:
An alumnus of the National Institute of Design, Ahmedabad, Aditi began her journey almost eight years ago as a menstrual educator.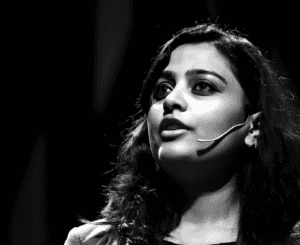 We are all aware of the stigma that is still associated with periods. But more than educating, the most daunting task is probably unlearning all that has been ingrained in our minds since childhood. Menstrupedia is a venture and initiative by Aditi Gupta to address the vices that are still present to this day. 
Her journey began back in 2012, and since then they have designed a range of comic books that make it simpler for people of all ages to understand what menstruation is all about. 
They say, "Behind every successful woman, there is a progressive man," and this holds true for Aditi. 
Aditi preferred not to take on such a responsibility all alone. Currently, it's both of them—her husband, Tuhin Patel, and Aditi—who are shouldering the responsibility. 
White cotton and chiffon sarees with the most beautiful pieces of jewelry one can lay their eyes on- Anu Merton reminds us what it's like to be a Modern Indian woman.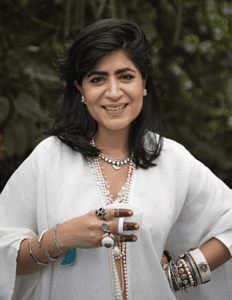 She has cracked the code of storytelling and created a niche for her label on social media platforms. However, it's not some overnight success. Her journey traces back to when she introduced "Traveling Dukaan" back in 2020 during her trip to Rajasthan, where she curated items from the trip and made them available to the public. 
In a chat with Vogue, her revelation about what inspires her is nothing short of poetry. She says,
"India inspires me, the raw beauty every part/region of it has, my childhood, everyday monotonous things in life, my mum, Indian music and how the sun shines differently here- everything comes alive with emotions. Everything starts with a spark of emotion and goes to imagining the moment it will be worn and how it will make the wearer feel."
A single look at the designs is a testament to that. 
With almost 2.7 million followers today, Karishma Mehta's journey began back when she was only 21. The idea was to feature stories and the people she interviewed in the streets of Mumbai.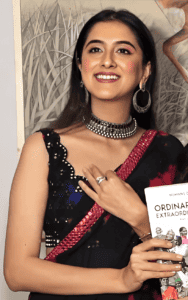 An almost impossible feat, Karishma recalls, "Only one woman agreed; she was in her mid-50s and recently widowed." 
She further added,

"We sat there, two strangers, with the city lights twinkling behind us, knowing that we'd connected far beyond the 'stranger' tag. At the end of it, she said, 'Thank you, it feels like a burden has been lifted off my chest.' We parted ways, but I knew I was onto something special."
What began almost eight years back in the confines of Mumbai, has now grown to include stories of people from all walks of life. The page even helps several people with crowdfunding. 
Read more: Rage Coffee: Brewing Success and Innovation in the Coffee Industry