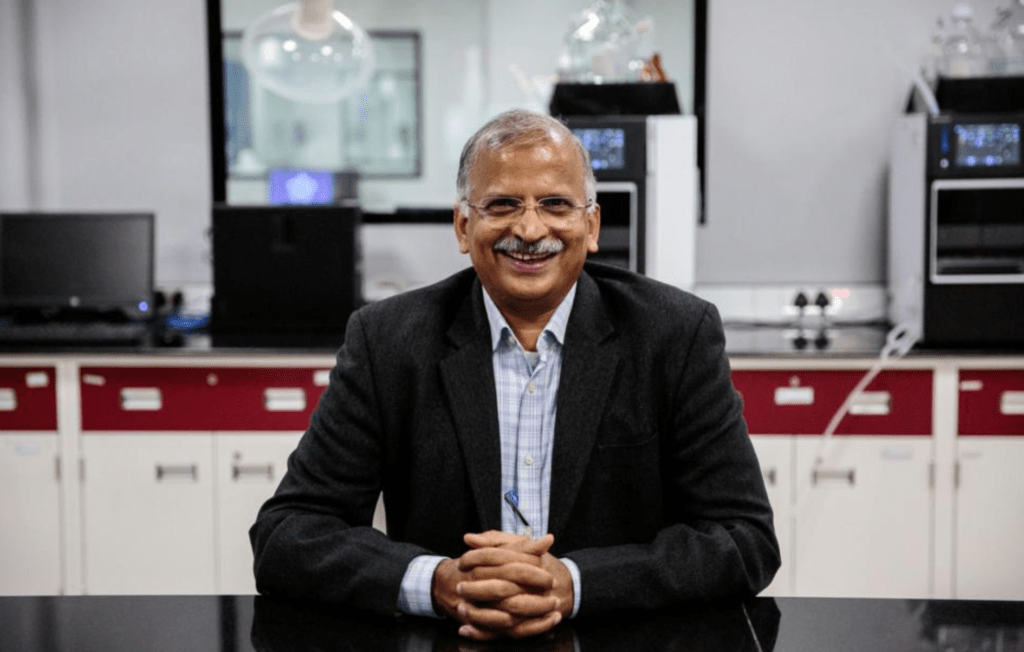 India's pharma sector, which has been in the spotlight during the pandemic, has just minted a new billionaire. Satyanarayana Chava, 60, founder and CEO of the $658 million (revenue) Laurus Labs—an integrated pharma and biotech company which makes everything from pharma ingredients to enzymes and proteins—saw his personal net worth cross $1.1 billion after shares of his company jumped this week. The stock has risen 176% in the past 12 months.
Laurus Labs supplies pharma ingredients for drugs to treat HIV, cancer, asthma and diabetes. The company says that one out of three HIV-infected patients in low and middle income countries are taking meds with ingredients supplied by Laurus Labs. It has marquee clients, including some of the world's big pharma players, who buy pharma intermediates, generics and contract manufacturing research services from Laurus.
For the fiscal year ended March 31, 2021, the company recorded a 70% uptick in revenue and a 286% surge in net profit to 9.8 billion rupees ($135 million) buoyed by rising demand for pharma ingredients, capacity expansions and greater operational efficiencies.
After spending more than two decades in the pharma business, Chava decided to set up his own venture in 2005 at age 44. He founded Laurus in his hometown of Hyderabad as a pharma R&D outfit. He pooled his savings, borrowed money from friends and family and took bank loans to raise the initial capital of 600 million rupees ($14 million).
Chava chose the name "Laurus" as a nod to the botanical name for a class of Mediterranean shrubs and trees as well as the Greek tradition of honoring victors with laurel wreaths. "We wanted the company to represent evergreen victory," says Chava.
As for his strategy of starting off with research,"it always has to begin with R&D," explains Chava, who still spends 25% of his time in labs. "I am a scientist at heart. I am passionate about chemistry." He is listed as an inventor, along with others, in 145 patents granted to the company.
Laurus now has R&D units in Hyderabad, Visakhapatnam and the U.S. as well as eight FDA-approved factories in southern India for contract manufacturing and producing active pharma ingredients and intermediaries.
Chava is also actively involved with the introduction of new products. "I work on what product we should we go after because that will ultimately decide how well we are doing," says Chava, who has brought more than 50 products to market in the last 15 years.
Chava says he is not enamored by his billionaire status. "For me it's just one part of life—it's not the only thing," he says attributing his down-to-earth approach to his modest upbringing.
Chava grew up in the village of Munnaluru on the banks of the river Krishna in the southern Indian state of Andhra Pradesh. (His parents still live there). He walked six miles every day to attend school in the neighboring village. Chava discovered his passion for chemistry in college, which led him to a Ph.D. in bioactive marine natural products and his initial career as a university lecturer.
In 1993, he took up his first corporate job as a research assistant with the erstwhile Ranbaxy Laboratories, a company that was eventually acquired by pharma billionaire Dilip Shanghvi's Sun Pharmaceuticals. In 1995, he moved to Matrix Labs, a maker of pharma ingredients for HIV drugs, where he worked for the next decade in various divisions, eventually becoming COO. Matrix was taken over by global pharma major Mylan in 2006.
Today, Chava says that his goal for 16-year-old Laurus is to retain the company's entrepreneurial spirit. "We believe we are a startup in our thinking, action and in our speed of execution," he says. As the company readies itself for expansion, he says the biggest challenge is people. "We have the money; we have the business but the key is in attracting, identifying, training and retaining talent," he says. Laurus is working with local universities to design courses that are relevant for the industry.
When Chava is not mulling over business strategy or experimenting with chemical ingredients, he spends time in the kitchen whipping up his signature preparations: biryani and Indian sweets such as gulab jamun, mysore pak and kheer.  "I think all chemists are good cooks," he declares. Perhaps not all billionaires.