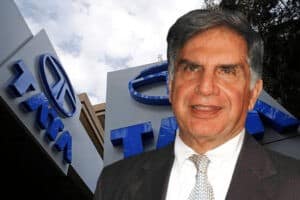 The owner of a multibillion-dollar company, Ratan Tata though born in a wealthy family had a humble beginning. Born on 28th Dec 1937, Ratan Naval Tata did his Bachelors in Architecture from Cornell University and then did a management course from Harvard Business School. In 1962, he joined the Tata group at a low level and worked with the blue-collared people. He was named as the director-in-Charge of the National Radio and Electronics Company Limited (NELCO) in 1971. In 1991, Tata took the reins of Tata Sons. He faced a few hardships with the existing leadership, leading to setting a retirement age for them.
During his 21 years reign, he acquired Tetley, Jaguar Land Rover, and Corus, giving an Indian-centric brand a global presence. It leads to a huge spike in annual turnover. In 2000, Tata tea acquired Tetley an England-based beverage manufacturer for GBP 70 million. One of his major innovations was Tata Nano which even if didn't turn out to be a hit in the Indian market but was the first of its kind. It was made for the common people and had low costs of production. It was Indica that made a major impact on the sales and revenue of Tata Motors, helping it to acquire Jaguar which suffered losses.
Tata being an investor and a visionary invested his personal savings in Snapdeal which is an online retail outlet, Teabox an online premium Tea seller, and Cashkaro.com. He has invested in various companies which according to him will flourish in time.
Read More: Startups in the Future Will Be More About AI: Ratan Tata
The Padma Bhushan and Padma Vibhushan awardee is a private person and stays away from the limelight. He owns a pet and likes his alone time. He is known to support budding talent. He is seen educating the young and believes in startups.
Apart from his contribution to the Tata group, he is a great person with a generous heart. He helped a Pune-based designer to make a water purifier so that the needy can get cheap but safe drinking water. During the 26/11 attacks, he single-handedly helped the victims, extending his support to their families. Tata Consultancy Services as per Ratan Tata's vision contributes a sizable amount to Tata Trusts. Tata Trusts have contributed towards education, Swach Nagar Swach har Ghar initiative in Varanasi provides healthcare facilities in rural areas and provides food to the malnutrition population in various parts of India.
Ratan Tata can be defined as an Industrialist, a philanthropist, and a visionary who has to lead the Tata group to new heights. Starting from a low-level position at Tata steel, he has helped the business grow in a magnitude that is undeniably fast. An Indian brand made global, due to his high impact decisions and risk-taking ability, Tata group has become one of the most trusted names in the world making every Indian proud.