Harsh Mariwala, the revered 72-year-old entrepreneur and visionary, has carved a remarkable legacy with Marico, a domestic consumer goods company. Focused on transparency, governance, innovation, and a consumer-centric approach, Marico thrived in the face of crises and fierce competition, standing tall against multinational giants.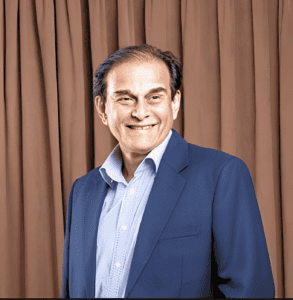 In an interview, Harsh Mariwala shared his remarkable journey of building the company into an enduring institution. With well-defined processes and a strong leadership team, Mariwala ensures Marico's survival beyond himself.
The Zestful Life of Harsh Mariwala
Besides leading Marico to success, Harsh embraces life with passion and vigor. His days are a perfect blend of golf, Pilates, gym workouts, leadership conferences, mentoring sessions, and overseeing strategic plans at Marico. A lifelong learner, Mariwala navigates the fast-changing world with balance and adaptability.
He reflects on his journey of building Marico from Bombay Oil Industries, emphasizing the significance of aligning all stakeholders. Convincing the family elders and involving others in the transition to Marico was a meticulous process that required persistence and collaboration, ultimately leading to a successful transformation.
Turning Crisis into Opportunity
When faced with a looming threat from Unilever attempting a hostile takeover of Marico's coconut oil segment, Mariwala saw an opportunity for growth. Analyzing the situation and identifying their strengths, Marico focused on improving distribution and advertising. This crisis became a catalyst for Marico's progress, enabling them to overcome the challenge and even acquire Unilever's brand that once posed a threat.
Lessons from Harsh Mariwala
Harsh emphasizes the importance of humility and continuous learning for success. Acknowledging that he didn't have a formal management education, Mariwala's hunger for knowledge led to exceptional results and a constant quest for answers.
In the pursuit of innovation, Mariwala's approach involves actively engaging with customers and trade, incorporating their viewpoints to increase the likelihood of successful product launches. Early successes, like transitioning the coconut oil market from tins to plastic, fueled his belief in innovation.
To build a culture of innovation, Mariwala advocates for cultivating diverse and talented teams within a flat organizational structure. Creating an open and trusting environment, encouraging risk-taking, and removing the fear of failure are essential elements that promote innovation.
He also learned a crucial lesson about fairness in negotiations during his early experiences dealing with trade unions. Recognizing the importance of win-win negotiations, he emphasizes that fairness plays a pivotal role in sustaining healthy relationships and avoiding future repercussions.
Commitment to Marico's Legacy
Despite receiving numerous offers to sell his stake in Marico, Harsh Mariwala remains resolute in his decision not to sell. For him, the satisfaction of creating something enduring and the emotional attachment to Marico outweigh any financial gain. Mariwala's vision and meticulous planning have transformed Marico into an institution that will thrive long after his tenure, a testament to his dedication and sense of pride in nurturing the company's growth.
Read more: Ritesh Agarwal: The Visionary Dropout Behind OYO's Billion-Dollar Success