Piyush Bansal's expertise in human capital, organization development, and finance has sparked revolutionary change in his ventures.
"I wanted to do something more customer-focused," Piyush Bansal declares.
A multi-faceted entrepreneur, Bansal's mastery in online entrepreneurship shines through four successful ventures. His influence extends to the eyewear industry, with LensKart reigning as a fierce market leader.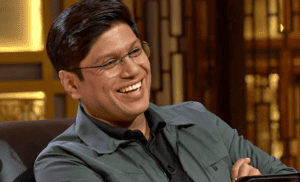 Entrepreneurial Journey
Bansal's journey began with Microsoft, enhancing product features.
Engineering from Canada's McGill University led to Microsoft, where he focused on product enhancement.
In 2007, innovation dawned with India's maiden online campus portal, Searchmycampus.com. Bridging student needs ignited his path.
2008 birthed Valyoo Technologies, a stepping stone. Strategic prowess fueled Lenskart.com's rise in 2010, famed for value and custom eyewear. Horizontal expansion followed: WatchKart.com, JewelsKart.com, BagsKart.com.
LensKart: A New Vision in Eyewear
Having embarked on his first online venture, Searchmycampus, Bansal's focus lay in connecting college students with service providers. Revenue streams flowed from website ads and college-centric web development, while the core model thrived on selling leads to educational institutions and PG accommodations.
Yet, the classifieds framework proved financially limited and lacking scalability. A pivotal juncture arose – a shift towards a more expansive vision. The result: LensKart, an online platform for eyewear, materialized with injected funding and formidable ambitions.
The demands of LensKart's ascent led to the closure of Searchmycampus in 2010. The endeavor was abandoned, deemed impractical to sustain alongside LensKart's rapid growth. The decision to forgo a potential sale underscored the intensity of Bansal's pursuit of a more impactful path.
Diversification and Expansion
The subsequent years witnessed the emergence of a retail ecosystem, encompassing BagsKart, Watchkart, and JewelsKart. This diversification further demonstrated Bansal's pursuit of delivering an array of services, catering to a broader audience.
Bansal's journey from a discontented Microsoft employee to the helm of LensKart, and the subsequent expansion into diverse verticals, showcases his evolution as an entrepreneur who transcended conventional boundaries.
Venturing beyond the confines of eyewear, Bansal's ambitions soared, birthing WatchKart in May 2011, followed by the unveiling of BagsKart in August the same year, and JewelsKart in 2012. This expansion was propelled by LensKart's conquest of market leadership, a triumph that emboldened the foray into new verticals.
Customer-Centric Approach and Retail Evolution
As the custodian of exceptional customer experiences cultivated through LensKart, the inexorable march into diverse horizons became the natural evolution. WatchKart seized its place as a category pioneer, fending off a flurry of e-commerce contenders in the watch sector. On a parallel trajectory, JewelsKart encountered and overcame formidable competition, its ascendancy anchored in competitive pricing, authentic jewelry, and avant-garde designs.
In the tapestry of online commerce, the digital consumer stands distinct, characterized by savvy navigation of the virtual landscape, empowered by the ability to actively compare prices across offline and online realms. A trend emerges wherein consumers explore brands in brick-and-mortar outlets before consummating purchases in the digital domain, an embodiment of the dynamic interplay between traditional and modern retail channels.
The metamorphosis of commerce, catalyzed by the digital era, ushers in a realm of heightened consumer awareness and engagement. A symbiotic relationship between consumers and brands/retailers flourishes in this interconnected realm, heralding a swifter resolution of grievances compared to the conventional retail realm.
LensKart's Unique Position and Innovations
Distinguishing itself from the sprawling landscapes of online emporiums, LensKart occupies a unique niche as the sole purveyor of prescription eyeglasses, underpinned by an unmatched depth of inventory. A vertical retailer, LensKart's specialized focus affords a level of expertise that broad-spectrum marketplaces find challenging to replicate.
Continually amplifying convenience, LensKart augments its repertoire with innovative services, including the coveted home check-up facility, conducted by skilled optometrists across the top eight metropolitan enclaves. A comprehensive eye test, coupled with an array of over 200 premier frames, is brought to the customer's doorstep, ensuring seamless eyewear acquisition. A virtual try-on feature and imminent mobile-based enhancements further enrich the user experience.
Embarking on a journey toward enhanced accessibility, LensKart offers an option to order lenses exclusively, streamlining the process of lens fitting and return. Notably, the 'doctor locator' feature aids in locating eye care professionals, while the home eye check-up service is scaled to a remarkable 24-hour turnaround time.
The innovation surges onward, with LensKart unveiling a service enabling customers to sample and select from five frames delivered via courier, exemplifying a commitment to transformative customer interactions.
Read more: boAt's Rise: A Thriving Journey of Innovation and Entrepreneurship in India's Audio Industry