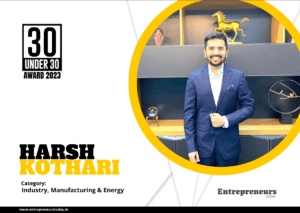 The ubiquity of plastic intrigued Harsh Kothari since he was a child. It was an ever present material that was used in every single product being made and sold in the market, either in its packaging, or in the item itself. So, it wasn't a surprising turn of events when Harsh decided to launch his own business of importing plastic chemicals in 2016, at the exceptionally young age of 22. Since then KOSYNC has seen continued growth, and currently stands as the second largest importer of PVC processing aids in the country.
A Career in Plastic
Harsh decided to pursue his curiosity about plastics into academia, and got a B. Tech degree in Plastic Engineering from a prestigious engineering college. His efficiency in the course quickly landed him a leading position in his familial stabilizer company based out of Indore, M.P. As the Director in this company, he knew that he needed to understand the demands of his customers well in order to successfully serve them. In an effort to accomplish this, he took to travelling across the country, researching the needs and wants of the users of his products. This effort paid off, as the company showed a 25% increase in business by the end of the year. However, Harsh's ambitions exceeded the limitations of working in an established institution. He wanted to launch his own firm and grow alongside it.
Plastic would remain his area of interest, but being  an astute professional, Harsh scoped the market out for a gap that needed filling. He quickly realised that while PVC-WPC industries were a dime a dozen, owing to their products being in constant demand, the chemicals necessary to produce them were not available in India, and had to be imported from beyond the border. Thus, KOSYNC was born as a firm that would provide transparent service and quality products to its clients.
The Demand for PVC-WPC
Harsh had chosen wisely in starting a business as an importer and supplier of PVC processing aids used in PVC-WPC industry. In 2016, the industry was in its first legs, yet to grow into its full, all encompassing potential that we know now. Plastic being a completely artificial product meant that the resources needed for it were not extracted from nature. This appealed to Harsh, as he felt that the use of plastic could be seen as a viable form of conservation.
He essentially took it as a challenge to be one of the pillars of the ever growing plastic industry. Today, as we lead into 2023, the veracity of his belief is apparent. Today, items like furniture, doors and door frames, partitions, hoardings and myriad other things, which used to be made of wood, are now constructed with PVC-WPC. While single use plastics have seen a drop in popularity, hard plastic materials continue to be used with great regularity owing to their durability. It is to Harsh's credit that he was able to foresee this development and successfully capitalise on it with his own business.
Hurdles and Obstacles
KOSYNC has gone through several ups and downs over its relatively short period of existence. 2016, the year of its origin, saw the government of India implement its demonetization policy which was a huge shock to the general cash flow of the industry. As a nascent business, it could have been a fatal blow for KOSYNC, but for Harsh's judicious business practices it managed to sail through.
Since then, each year has brought its own set of challenges. KOSYNC's exponential growth through 2017-18 proved strangely difficult, as it became a hindrance in the way of securing additional funds from the bank, while 2020 was the year the world was quarantined under the impact of the COVID 19 virus. But Harsh Kothari's adventurous habits helped him coast through these difficult times with relative ease.
An avid traveller and adventure sports enthusiast, Harsh extends his love for mobility to his professional life as well, refusing to be stagnant at any point. He echoes Bruce Lee's famous philosophy when he says that the ideal form of existence is like water, continuously flowing, and finding its path and shape through whatever trajectory comes in the way. Added to that is his disciplined and in depth market research that allows him a solid grasp of the demands of the industry, and tailor his services accordingly.
Growth and Future
Beyond PVC processing aids, KOSYNC is also a supplier of PVC Resin, Titanium Dioxide, Foaming Agent, PVC stabilizers, Lubricants, CPE, and other plastic raw materials. Harsh's diligence has made it the second largest importer of PVC processing aids, with about 15-20% of total national market coverage.
Going forward Harsh sees his company expand into the largest importer and supplier in India. Having quickly and decisively built a trustworthy reputation in the market with effective and quality service, he wants to diversify the range of his products. As a connoisseur of plastic and plastic goods, he has a fittingly malleable mindset as a business person, and it is sure to bring him success in whatever he endeavours to accomplish.